MIND MUTATION - Tickets/Brethren LIVE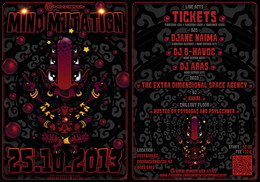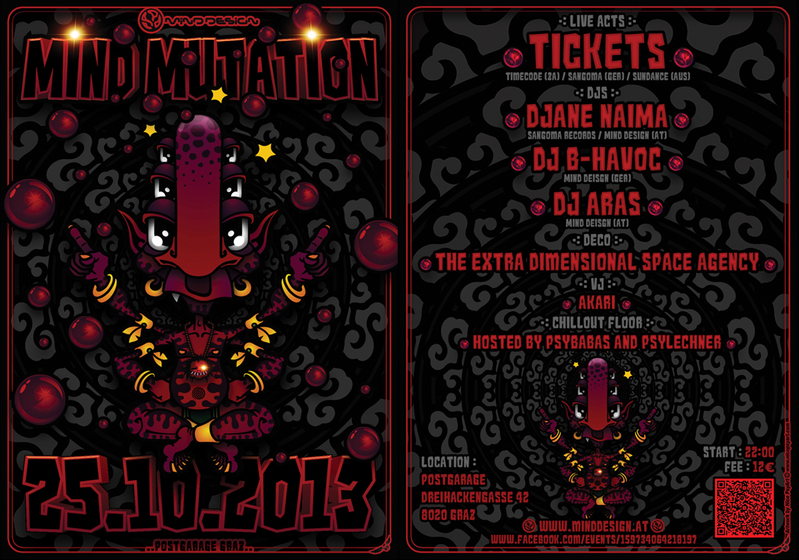 Line Up
▂ ▃ ▅ ▆ ▇ TICKETS/BRETHREN ▇ ▆ ▅ ▃ ▂
............Timecode (ZA) / Sundance (AUS)............
soundcloud
Tickets is the solo project created in 2002 by Josef-Ashton Summs in Cape Town South Africa. With over 100 releases on various compilations on labels like Timecode, Beyond Logic, Nexus-Media, Spectral, Crystal Matrix, Planet BEN and Bio Mechanix. He has 2 albums under his belt and is the youngest producer from the Timecode Crew. Tickets has played all over the globe in countries such as Japan, Belgium, Finland,USA, France, Portugal, Germany, Switzerland, Spain, Mexico and South Africa. Mr Tickets lives in Marburg/Germany at the moment, where he is currently working on his 3rd Tickets album due to be completed by December 2013.
In February 2012 Tickets moved to Europe to be closer to a good friend (Till Kuhn aka. Dj Daksinamurti) whom currently runs Timecode with his partner Emiel aka Gata Freak who lives in Dubai. Together these two good friends and work partners manage and run the label known as Timecode records. Tickets has 3 other projects, Brethren which is the combined duo of himself and his older brother Phyx ( 1/3 of the South African Project Twisted System) and his other psy project is "Android Spirit" which is the new formation of Tickets and Daksinamurti, his other project is a chill out project known simply as "Innnit Patch". In 2012 Tickets released 2 new EPs one on Planet BEN Records "The Slayer of the Jabberwocky" and another later on in 2012 on Bio Mechanix Records "Black Mind Thoughts" both are available on beatport to buy.
Most of Mr Ticket's time in school was invested in the music department where he studied piano, flute, guitar. He studied to grade 8 royal schools of london classical music theory. His music has been known to be full on and dark at some points. But his interest mostly is to create melody, lots of meticulously placed sounds that in a whole create winding rhythms and very unusual leads.
DJs
▇ DJane NAIMA ▇
- Sangoma Records / Mind Design (AT) -
soundcloud
▇ DJ B-Havoc ▇
- Mind Deisgn (GER) -
▇ DJ ARAS ▇
- Mind Deisgn (AT) -
Chill
DJ Psylechner
- Mind Design (AT) -

DJ ProTuberance
- DigitalFrequenz-Records/Mikro (AT) -
Info
lets start the season with the last mind mutation for this year
we hope all of you had a amazing festival summer and you are ready to go back inside!
this time we have some great specials for you
first of all, we are proud to present you: tickets - timecode rec. from south afrika
an artist and his music we love personally since many years

we also like to introduce you djane naima from sangoma rec., b-havoc from germany and dj aras!
our brand new mind design members.

for the decoration this time we are so happy that we can show you one of the
greatest deco team that we know, THE E.D.S.A (Extra Dimensional Space Agency)
some of you will remember there work from Ozora, S.U.N, Paradise and many more.

all we have left to say is ... GET YOUR ASS ON THE DANCEFLOOR ;) BoOom
Location
Postgarage Graz
Dreihackengasse 42
Added

9y 8m

· Update

9y 5m

·

/ 84