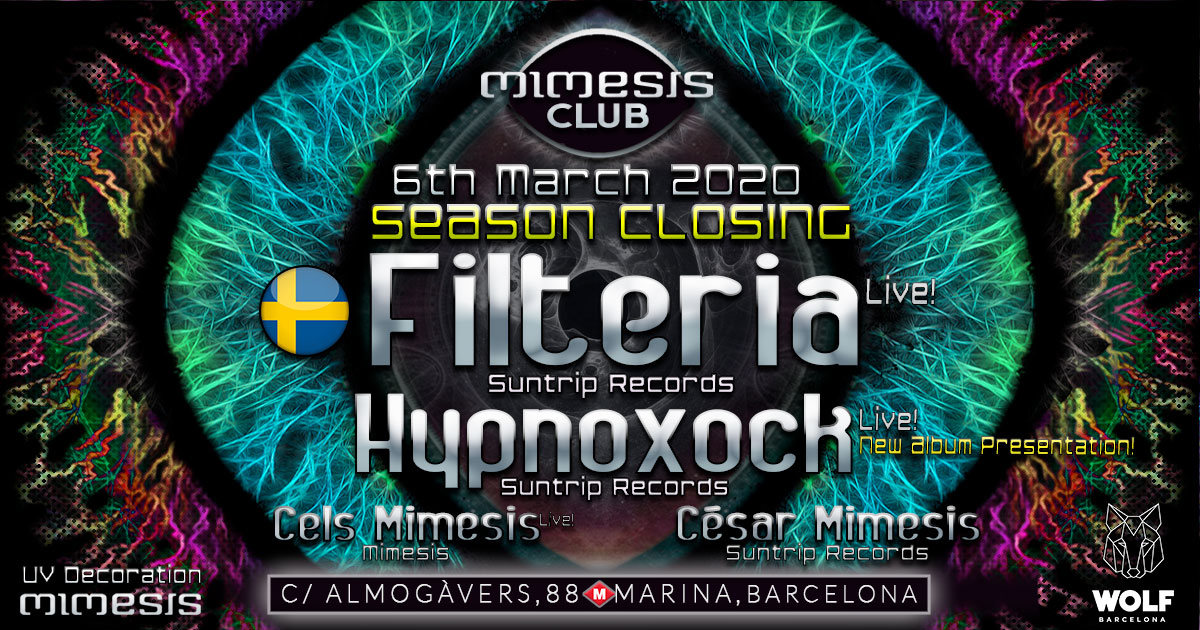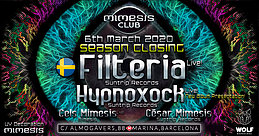 Line Up
★ FILTERIA [Live!] ★ SWE ★ Suntrip Records ★
soundcloud
★ HYPNOXOCK [Live!] ★ Suntrip Records ★ NEW ALBUM PRESENTATION!
soundcloud
★ CELS MIMESIS [Live!] ★ Mimesis ★
soundcloud
★ CÉSAR MIMESIS ★ Suntrip Records ★
soundcloud
Info
And arrives the moment of saying farewell to the third season, seems unreal that with how complicated is to program alternative events in Barcelona we succeed on arriving in such a nice shape to which will be the 18th edition of this project, so we have a lot to be thankful for and celebrate, and want to do it on a big way!
And who knows us know good that when it comes to celebrate properly, quickly comes to our mind one of our favourite artists, probably the biggest specialist on blasting dancefloors in the Goa scene, dad of the "Newschool" and usual representative at the biggest festivals of the world, there isn't really needed much introduction for the great...
FILTERIA!!
And with even more reasons to celebrate, one of the big local names worldwide, who is also celebrating his entrance and new album release at Suntrip Records and will make its official presentation at the club! another classic for who introduction isn't really needed...
HYPNOXOCK!!
And of course our resident DJ's will complete the night and make sure that you enjoy a great trip every minute :D
As always all this surrounded by our exclusive MIMESIS CLUB DECORATION, the bodypainting of Pintacaritas to melt you with the decoration, the great performance of Eklipsy Lights and an Adamson Systems sound specially boosted with extra speakers for this night…
ARE YOU READY?
=================ஜ۩۞۩ஜ===============
●ૐ● SOUND + SOUND BOOST SPECIALLY FOR MIMESIS CLUB NIGHTS ●ૐ●
★ ADAMSON SYSTEMS ★
[martin-audio.com]
Location
Location
MIMESIS CLUB (WOLF BCN)
C/ Almogàvers, 86-88, 08018 Barcelona

●ૐ● PUBLIC TRANSPORT ●ૐ●
<M> Marina (L1)
Entry
Entry
★ ENTRY PRICE ★
NEW!! ► Online presale; 8€ + platform costs, sale here:
[eventbrite.es]
► GATE Before 1:30h ; 10€
► GATE After 1:30h ; 12€