Backend
Mimesis CLUB THURSDAY - April w/ Khaoscope & Toxic!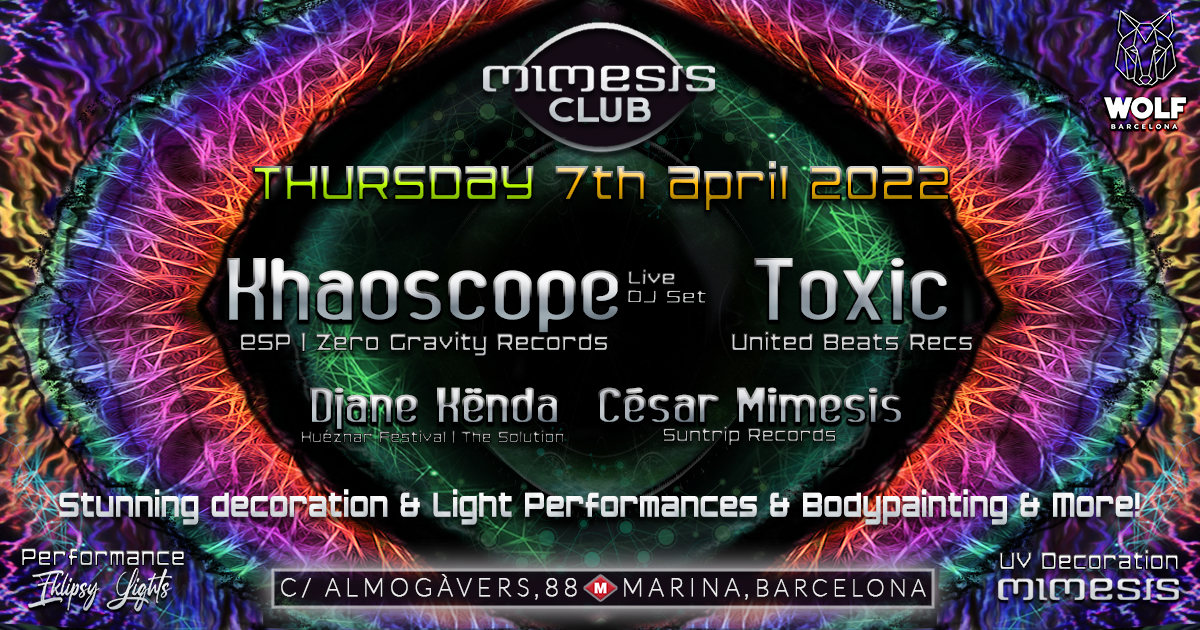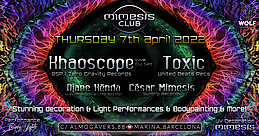 Line Up
Line Up
★ KHAOSCOPE [Live DJ Set] ★ ESP ★ Zero Gravity Records ★
soundcloud
★ TOXIC ★ United Beats Records ★
soundcloud
★ CÉSAR MIMESIS ★ Suntrip Records ★
soundcloud
★ DJANE KËNDA ★ Huéznar Festival ★ The Solution ★
soundcloud
Info
After entering the 4th season of Mimesis CLUB full power and setting up a Thursday blast that is gonna be remembered, we're back with the next event keeping our idea of bringing nice and variated lineups with proper progressions that make every trip unique!
And for this one we're having such a rollercoaster, from the most shiny and uplifting Goa and Oldschool to the depths of the Twilight, by the hand of some of the most experienced and respected artists from our catalan scene, like the masters Khaoscope and Toxic! And of course surrounded by our special decoration and lighting for the club, an even more improved sound (finally on the March event there wasn't time to have installed already the mid room subwoofers, but now they will be! so get ready to feel the pressure at every corner of the dancefloor! ;) ), bodypainting, performances... as usual all the elements to make this events unforgettable! so just save the date and get ready for the next Mimesis CLUB...
THURSDAY 7TH APRIL!!
=================ஜ۩۞۩ஜ===============
●ૐ● DECORATION ●ૐ●
★ MIMESIS - PSYCHEDELIC ART ★
[mimesisproject.com]
=================ஜ۩۞۩ஜ===============
●ૐ● SOUND SYSTEM (JUST UPGRADED!!) ●ૐ●
★ ADAMSON SYSTEMS ★
[adamsonsystems.com]
=================ஜ۩۞۩ஜ===============
●ૐ● PERFORMANCE ●ૐ●
★ EKLYPSY LIGHTS ★
[facebook.com]
=================ஜ۩۞۩ஜ===============
●ૐ● BODYPAINTING (FREE UNTIL 1:00h!) ●ૐ●
★ YÜYI NE0N ★
[instagram.com]
•●●•٠•●●•٠٠•●●•٠٠•●●•٠٠••●●•٠•●●•٠٠•●●•٠٠•●●•٠٠••●●•٠•●●•
★ ENTRY PRICE ★
► Online presale; 8€ + platform costs,
get tickets at
[mimesis.club]
► GATE Before 0:30h ; 10€
► GATE After 0:30h ; 12€
Location
Location
MIMESIS CLUB (WOLF BARCELONA)
C/ Almogàvers, 86-88, 08018 Barcelona

●ૐ● PUBLIC TRANSPORT ●ૐ●
<M> Marina (L1)