Mimesis CLUB Season Opening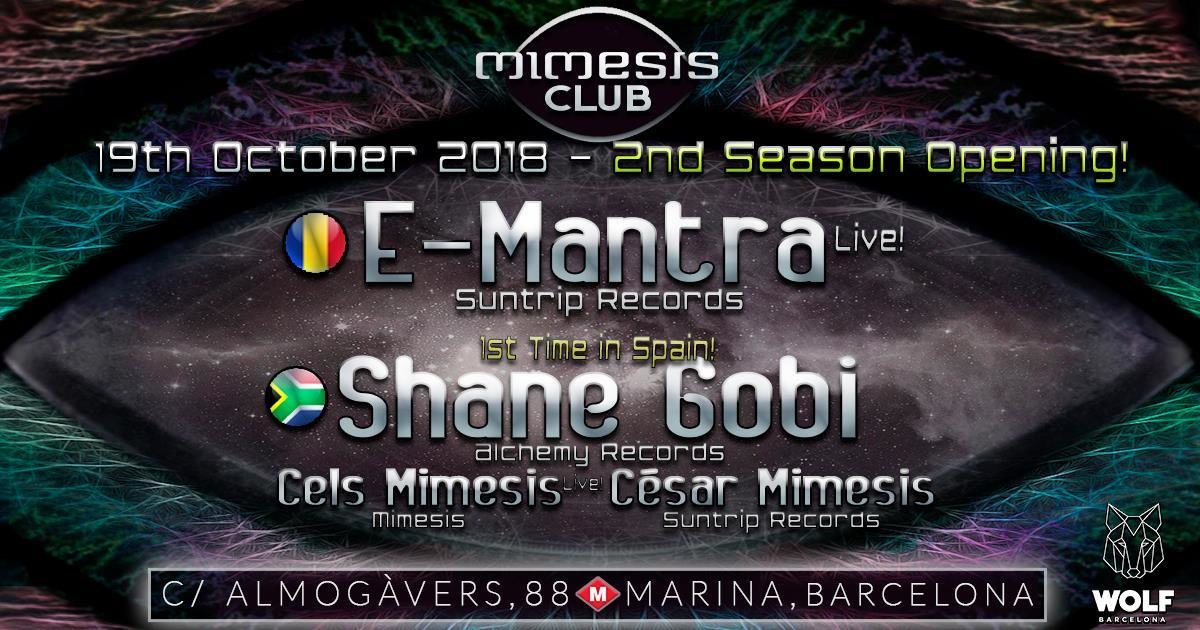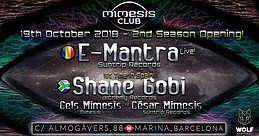 Line Up
★ E-MANTRA [live!] ★ Suntrip Records ★ RO
soundcloud
★ SHANE GOBI ★ Alchemy Records ★ ZA ★ FIRST TIME IN SPAIN!!
soundcloud
★ CELS MIMESIS [live!] ★ Mimesis ★
soundcloud
★ CÉSAR MIMESIS ★ Suntrip Records ★
soundcloud
Info
And finally approaching! after the summer break touring festivals we head to the opening of the second season of Mimesis CLUB!!
Probably few words are needed; during the last dreamly season many of you came to experience and share the amazing energy beating on this monthly events… so now you might know what to expect!! …or not :P get ready cause there are improves being made on the club to surprise you again, starting by a brand new amazing sound by ADAMSON SYSTEMS!! ♥
And for such an special ocassion, opening the season + using for first time the new sound, we again needed to face the challenge of keeping the usually high artists level, and we're convinced we nailed again!! :P get ready cause we will have one of the biggest references of the Newschool Goa, with nonetheless than 11 (!!!) albums on his back, last of them recently launched on Suntrip Records and beating right now all the charts of sales and listens…

E-MANTRA!! :D ♥

And how to close such a special night? for sure we wanted to bring one of the best DJ's of the world, but also something different and never seen here, so there was a clear option on our head, an usual blaster of the biggest festivals in the world as BOOM, OZORA… who made us dance so many times since our first festivals attendances… we present for first time in Spain…

SHANE GOBI!! :D ♥

And of course our resident DJ's will complete the night and make sure that from the first minute you enjoy a great trip :D

As always all this surrounded by our exclusive Mimesis CLUB decoration, an Adamson Systems sound… and if wasn't enough, for the ocassion we're prepairing some other special surprises that will be unvealed on the event when day comes, stay tuned!
We wait for you all to welcome properly this second season!!
19th OCTOBER MIMESIS CLUB 2ND SEASON OPENING, WE AWAIT YOU! ;)
Location
Location
MIMESIS CLUB (WOLF BCN)
C/ Almogàvers, 86-88, 08018 Barcelona

●ૐ● PUBLIC TRANSPORT ●ૐ●
<M> Marina (L1)
Entry
Entry
► Before 1:30h ; 12€ long drink included.

► After 1:30h ; 15€ long drink included.