Mimesis CLUB - March w/ COSMOSIS + PIETER PAN & PETE MUSH!!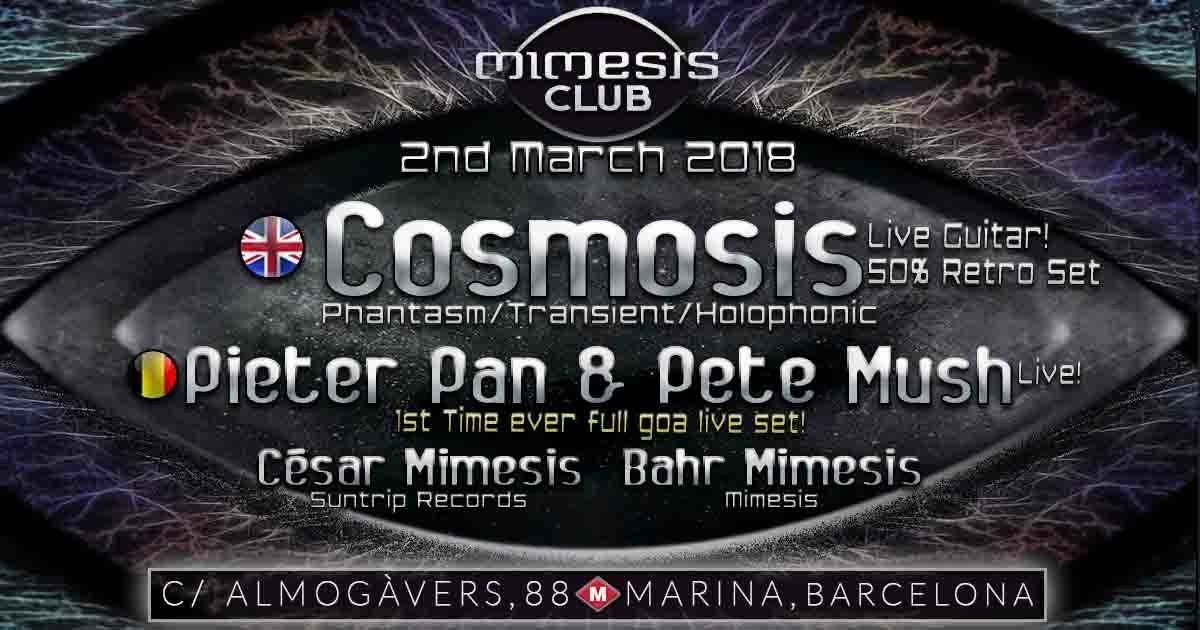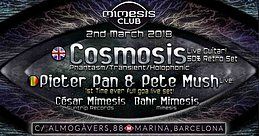 Line Up
★ COSMOSIS [full guitar live! 50% retro set] ★ Phantasm/Transient/Holophonic Records ★ UK ★
soundcloud
★ PIETER PAN & PETE MUSH [live!] ★ BELGIUM ★
soundcloud
★ CÉSAR MIMESIS ★ Suntrip Records ★
soundcloud
★ BAHR MIMESIS ★ Mimesis ★
soundcloud
Info
Mimesis CLUB doesn't stop, 4 events, 4 success, now as always already heading for the next and working to keep providing the best of ourselves for each event ♥
For the next date, on 2nd March, we make another dream come true inviting another of the true pioneers of this genre which stayed making new music constantly until today. A living legend who will provide us a full live set with live guitar on stage, and half of it will be a pure retro goa set ♥
He doesn't need so much more words as introduction… just one:
COSMOSIS!! ♥
And as this special ocassion deserve an equally special guests, we're super happy to welcome back two artists who already won our hearts and of many of the public who attended to some of our previous events, like Trip To Mimesia, Biotrance… and blasted with the best possible closing last year's Solstice Synergy ♥ now they come for first time to our CLUB, to make for first time ever a full uptempo Goatrance set:
PIETER PAN & PETE MUSH!! ♥
and to complete the night, our resident DJ's CÉSAR MIMESIS and BAHR MIMESIS will make sure of generate the best possible frame for them ♥
ARE YOU READY? :D
=================ஜ۩۞۩ஜ===============
●ૐ● SOUND BOOST ●ૐ●
★ MARTIN AUDIO ★
[martin-audio.com]
Location
Location
MIMESIS CLUB (SR. LOBO)
C/ Almogàvers, 86-88, 08018 Barcelona

●ૐ● PUBLIC TRANSPORT ●ૐ●
<M> Marina (L1)
Entry
Entry
► Before 1:30h ; 12€ long drink included.

► After 1:30h ; 15€ long drink included.