Mimesis CLUB - December / Special Retro Vinyl Edition!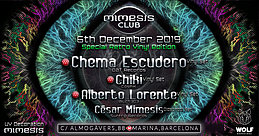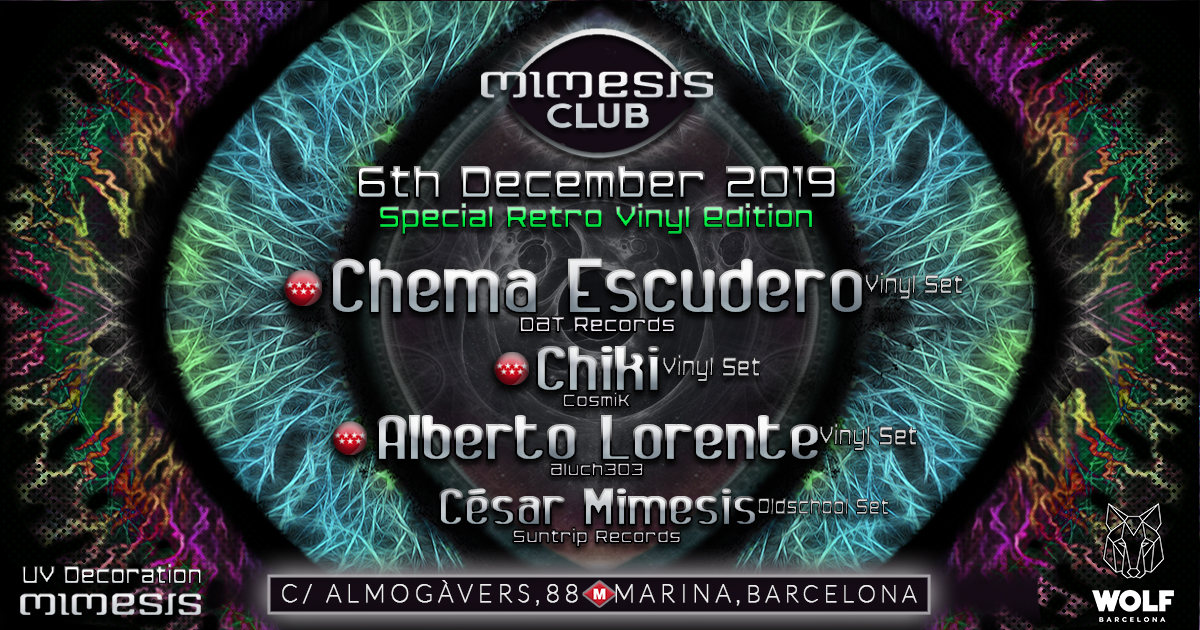 Info
Following the sequence of great nights, we head to our December's date with the compromise of try to offer really different and special nights this season! And that's why for the ocassion we bring you something that we're sure will surprise everybody and offer us one of the most musical quality nights we had...
There are very few DJ's who still nowadays acting only with Vinyl, specially of Goa, but in Madrid a group of oldschool myths resist active and also streaming to the world... we bring a trio who is spreading the Goa Trance for all their lives and still have energy for long, to take over the Mimesis CLUB spaceship the only way they always did; WITH VINYL SETS!!
Starting with one of the most recognized and experienced Oldschool DJ's of the peninsula, part of the mythical DAT Records;
CHEMA ESCUDERO!!
And another well known for keeping the oldschool alive with his collective Trancefuxion and now Cosmik, also recognized for its participation at the Goa/Acid Stage of Overdrive;
CHIKI!!
And completing with another mythical of the scene and of the Goa, Hard Trance and Acid Techno spreading, well known also for his project Punkitech;
ALBERTO LORENTE!!
And our resident CÉSAR MIMESIS will warm up the night and make sure that from the first minute you enjoy a great trip! :D
As always all this surrounded by our exclusive MIMESIS CLUB DECORATION, facepainting, an Adamson Systems sound specially boosted with extra speakers for this night…
ARE YOU READY?
=================ஜ۩۞۩ஜ===============
●ૐ● SOUND + SOUND BOOST SPECIALLY FOR MIMESIS CLUB NIGHTS ●ૐ●
★ ADAMSON SYSTEMS ★
[martin-audio.com]
Location
MIMESIS CLUB (WOLF BCN)
C/ Almogàvers, 86-88, 08018 Barcelona

●ૐ● PUBLIC TRANSPORT ●ૐ●
<M> Marina (L1)

●ૐ● PUBLIC TRANSPORT ●ૐ●
<M> Marina (L1)
Entry fee
Entry fee
NEW!! ► Online presale; 8€ + platform costs, sale here:
[eventbrite.es]
► GATE Before 1:30h ; 10€
► GATE After 1:30h ; 12€
Added

3y 7m

· Update

3y 6m

·