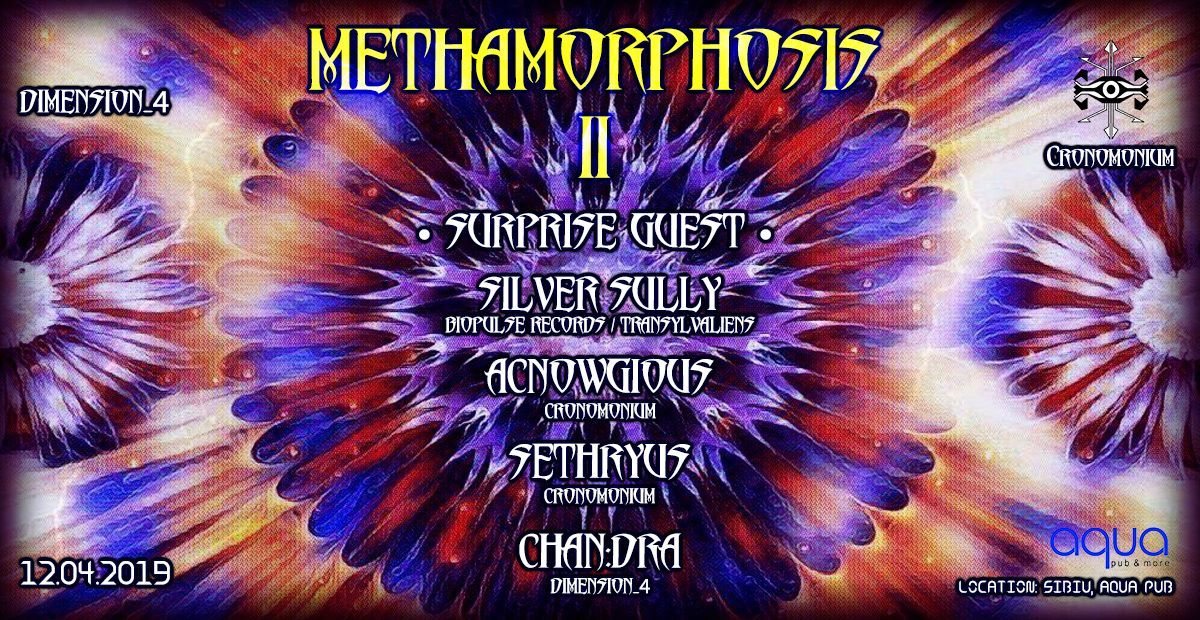 Line Up
A morphosis is a biological process by witch a species physically develops after birth, ivolving a conspicuous and relatively abrupt change in the body's structure through cell growth and differentiation. Metamorphosis is an ancestral feature that we believe also humans can process in the times of spiritual and mental ascension. As this been said we'll take this ideea to guide us as an emblema of the event, moving forward from an inferior state of consciousness through out a more evolved, loving, caring and revealing form of our bodies and souls.We invite you to celebrate along with us in a journey that represents both the old and the new part of the transformation. Once a year we unite our crews to create a magical space for all the curious dancers that feel like welcoming the spring is a deep profound ritual. Let yourself be transformed.
• • • Methamorphic Providers • • •
***** Surprise Guest *****
►Silver Sully [ Biopulse Records / Transylvaliens ]
[facebook.com]
mixcloud
►Acnowgious [ Cronomonium ]
soundcloud
[facebook.com]
►Sethryus [ Cronomonium ]
[facebook.com]
soundcloud
mixcloud
►Chan:dra [ Dimension_4 ]
soundcloud
Sound system provided by KANNON SOUND
-------------------------------------------------------------------------------------------
• This is a concept party so please leave all the bad things at home and come for dancing and having fun!
• We promote good will but also discipline!
• Don't drink and drive!
• Come early leave late!
• We ask you to leave the space as you found it, don't steal or destroy the decorations.
• We also ask you to rave consciously and not to get into any kind of fight or argument. We all come here because we love peace and understanding between us, don't ruin that for other people :)
Info
Info
Goa trance based party
Entry fee
Entry fee
Entry fee: 15 RON > 00:00 > 20 RON, you have a drink included in this price.
Organizer
Organizer
Cronomonium
A Patra Dimensiune ( Dimension_4 )