METACORE Festival TEASER MEXICO with Ek'kiben Team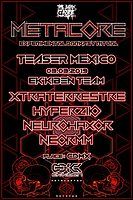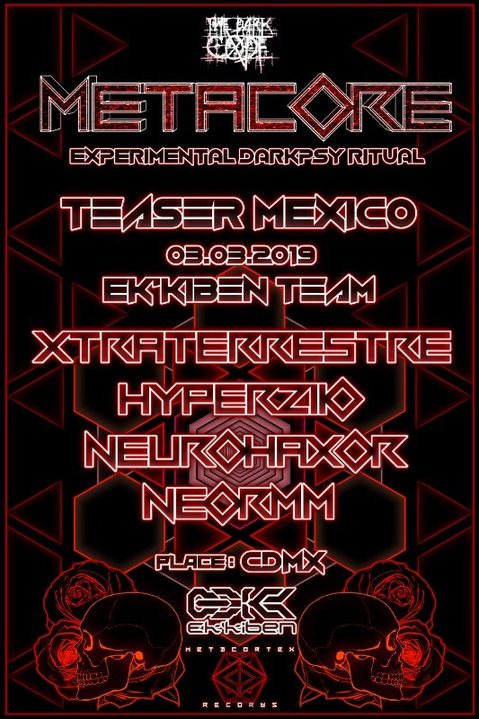 Line Up
METACORE TEASER MEXICO LINEUP
✺ XTRATERRESTRE ≜ 〔MX〕GDL〔LIVE〕
〔 Discordia CREW〕
〔 Twenty-five Records〕
♬
soundcloud
☫ HYPERZIIO ≜〔MX〕GDL〔LIVE〕
〔 Discordia CREW 〕
♬
[bandcamp.com]
☫ NEUROHAXOR ≜〔MX〕〔LIVE〕
〔 Discordia CREW〕
〔 Twenty-five Records〕
♬
[bandcamp.com]
☫ NEORMM ≜〔MX〕〔LIVE〕
〔 Voodoo Hoodoo Records - The DARKPSY Channel〕
♬
soundcloud
Deco
䷃ DECO: Ek' Kiben

䷃ MAPPING: Helium Visual Art

䷃ LIVE PAINTING: Coyote & Hirk Art - Raúl Patistan
Info
The Dark Code and Metacortex Records will have an epic festival Metacore 2019 this summer in Turkey!
This winter we want to meet in different places and have some pre meetings for reach more friends who love experimental sounds! We will have several Metacore Teasers in Turkey(The Dark Code), London(BrainFarm Family), Germany(PsyCore Family) and Mexico(Ek' Kiben Team) !
As Metacore Festival, this year we choose Mexico as guest country! We will have 50 free tickets for Mexican Citizens for Metacore 2019!!
Please apply if you want to join our festival by sending email to
metacortexrecords@gmail.com
with your Mexican passport photocopy and your full name! Also you can give your name to Ek' Kiben Team in Metacore Festival Teaser Mexico!!
In Mexico we have very special collaboration with Ek' Kiben Crew!!! With their support we will have an amazing lineup for our teaser! XTraterrestre, Hyperziio, Neurohaxor and Neormm will play in Metacore Teaser MEXICO !! Dont miss this special gathering!!! Hope to see some friends from Mexico in MetaCore Festival 2019!!! Boom!!!
*
The Dark Code y Metacortex Records realizaremos un Festival épico el próximo verano en Turquía Metacore 2019 !!!
Este verano queremos hacer distintas reuniones en diferentes lugares y tener pre-fiestas para tener más amigos que amén los sonidos experimentales!!! Tendremos varios Metacore Teasers en Turquía (The Dark Code), Inglaterra (BrainFarmFamily ), Alemania (PsyCore Family) y Mexico(Ek' Kiben Team) !
Este año Metacore Festival escogió a Mexico como país invitado! Tendremos 50 tickets gratuitos para la gente mexicana que quiera asistir a Metacore 2019!
¡Solicítala si deseas unirte a nuestro festival enviando un correo electrónico a
metacortexrecords@gmail.com
con fotocopia de tu pasaporte y tu nombre completo! ¡También puedes darle tu nombre al Equipo Ek' Kiben en Metacore Festival Teaser México!
¡En México tendremos una alineación muy especial para nuestro teaser! Tendremos Xtraterrestre, Hyperziio, Neurohaxor y Neormm !! No te pierdas esta reunión especial !!! Espero ver a algunos amigos de México en Metacore Festival 2019!
¡¡¡Boom!!!
Location
Ek'kiben Center CDMX MEXICO
Entry fee
Entry fee
Price pre sale $100
At gate $150 Mexican peso