METACORE Festival TEASER Germany with PSYCORE FAMILY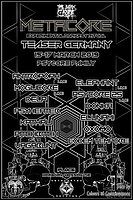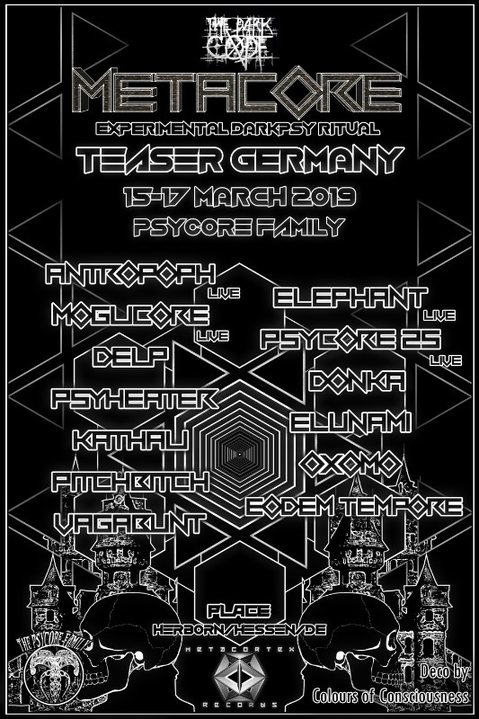 Line Up
♮ LIVE ACTS ♮
✺ ELEPHANT ≜〔DE〕
〔 Popol Vuh Records〕
〔 Voodoo Hoodoo Records - The DARKPSY Channels〕
♬
soundcloud
✺ KONTATON ≜〔DE〕
〔 Popol Vuh Records 〕
〔 Zeakon Records 〕
♬
soundcloud
✺ MOGLICORE ≜〔DE〕
〔 Sacred Sound 〕
〔 Squamata Records 〕
〔 Popol Vuh Records 〕
♬
soundcloud
✺ PSYCORE 25 ≜〔DE 〕
〔 PsyCore Family〕
〔 Mitnal Records〕
♬
soundcloud
☬ DJ's ☬
✺ DELP ≜〔DE〕
〔 Mitnal Records 〕
〔 PsyCore Family
〔 Anomalistic Records 〕
♬
soundcloud
☫ EŌDEM TEMPORE ≜〔TR 〕
〔 Metacortex Records 〕
♬
soundcloud
☫ ELUNAMI ≜〔NL〕
〔 CyberBay Records 〕
♬
soundcloud
☫ KATHALI ≜〔DE〕
〔 PsyCore Family〕
〔 Mitnal Records 〕
♬
soundcloud
☫ OXOMO ≜〔TR 〕
〔 Metacortex Records 〕
〔 Voodoo Hoodoo Records - The DARKPSY Channel〕
〔 Popol Vuh Records 〕
♬
soundcloud
☫ PITCH BITCH ≜〔DE 〕
〔 PsyCore Family 〕
〔 Mitnal Records〕
♬
soundcloud
☫ PSYHEATER ≜〔DE 〕
〔 PsyCore Family 〕
〔 Mitnal Records 〕
♬
soundcloud
☫ VAGABUNT ≜〔DE 〕
〔 PsyCore Family 〕
〔 Mitnal Records 〕
♬
soundcloud
Info
METACORE TEASER PSYCORE FAMILY
The Dark Code and Metacortex Records will have an epic festival Metacore 2019 this summer in Turkey! As Metacore Festival want to meet in different places and have some pre meetings for reach more people who loves experimental sounds! This year we will have several Metacore Teasers in Turkey with The Dark Code Team Antalya, Ankara, Eskişehir, Istanbul, İzmir Teasers also in other countries London with BrainFarmFamily, in Mexico with Ek' Kiben Team and here our first teaser in Germany with PsyCore Family!!
The party will be in vaulted cellars of an old castle in the middle of Hessen in Germany !!! will be amazing lineup with PsyCore Family artists and some artists from Metacortex Records !
Dont miss this epic event in fantastic castle with killer lineup!!
In this parties you can buy your Metacore 2019 Festival tickets from our team from pre-sale prices! Hope to meet and have a winter ritual in this pre-events!
-
ABOUT METACORE FESTIVAL 2019 TURKEY
Metacore Festival organized by Metacortex Records will take place between the dates of 5 – 9 June 2019 in Turkey!
We invite music lovers to this off-center, extraordinary gathering, with a line-up from the edges of Darkpsy and experimental. In this ritual that will take 5 days with 30 live acts and 20 dj performances, the sonic Funktion One stage will be set up by Amygdala. Sound System & Solutions that will also allow us to listen different types of Darkpsy with Producers and Djs from all around the world. Don't miss this killer festival!!
Event page:
[facebook.com]
Festival Page:
[facebook.com]
Website:
[metacorefestival.com]
Location
The party will be in vaulted cellars of an old castle in the middle of Hessen in Germany !!!
Lahn-Dill-Kreis/ Hessen/ Germany
Glockenwelt Burg Greifenstein
Talstraße 19, 35753 Greifenstein
[goo.gl]
####DRIVERS PLEASE TAKE CARE#####
Parking is not allowed directly at the location.
We have enough secure parking spaces about 10-15 minutes walking distance from the location.
Please note that the parking space is only for parking and not for partying.
So also please don't disturb the local residents and keep your energy for the party ;)
Here also a link to google maps if you need to plan your route.
[google.com]
Entry fee
Opening is tomorrow evening at 10 o'clock.
Tickets are available at the gate.

Available are:
-> Weekendticket from friday 10 PM till end (sunday 12PM) = 20€
-> Ticket for one night, friday 10 PM till saturday 12 PM or saturday 12 PM till end (sunday 12 PM) = 10€

Camping isn't possible but we have a second room available where is space for sleeping.
It opens after the first night.
Please bring your own sleeping accessoires like sleeping bag & a mattress.
Added

4y 6d

· Update

3y 11m

·