Backend
METACORE Festival TEASER Eskişehir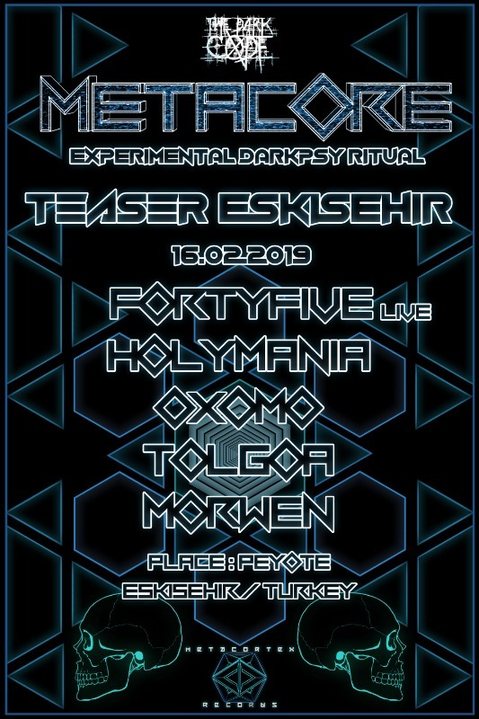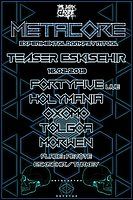 Line Up
✺ FORTYFIVE ≜〔TR〕〔LIVE〕
〔 Metacortex Records〕
〔 COSMIC CREW RECORDS〕
♬
soundcloud
☫ HOLYMANIA ≜〔TR〕
〔 Metacortex Records 〕
〔 Voodoo Hoodoo Records - The DARKPSY Channel〕
♬
soundcloud
☫ OXOMO ≜〔TR〕
〔 Metacortex Records 〕
〔 Voodoo Hoodoo Records - DarkPsy Portal 〕
〔 Popol Vuh Records 〕
♬
soundcloud
☫ MORWEN ≜〔TR〕
〔 Metacortex Records 〕
♬
soundcloud
☫ TOLGOA ≜〔TR〕
〔 Metacortex Records 〕
♬
soundcloud
Deco
TheDarkCode
[facebook.com]
Cover work and flayer design by Dolan MinDelve!!!
Info
The Dark Code and Metacortex Records will have an epic festival Metacore 2019 this summer in Turkey!

This winter we want to meet in different places and have some pre meetings for reach more friends who love experimental sounds! We will have several Metacore Teasers in Turkey(The Dark Code), London(BrainFarm Family), Germany(PsyCore Family) and Mexico(Ek' Kiben Team) !
Here is our pre-event for Metacore Festival in ESKIŞEHIR / TURKEY!
In this parties you can buy your Metacore 2019 Festival tickets from our team!
Hope to meet and have a winter ritual in this pre-events!
Booooom!

*

The Dark Code ve Metacortex Records bu yaz Türkiye'de gerçekleşecek olan epik ve tamamen experimental bir festival olan Metacore 2019 için hazırlanıyor! Festivalden önce 2019 kış ayları boyunca bir çok farklı ülke ve şehirde yapılacak pre eventlerle daha çok müzik severe ulaşmak istiyoruz!
Bu yıl Türkiye'de The Dark Code ekibi ile Antalya, Ankara, İstanbul ve İzmir gibi şehirlerde düzenlenecek olan pre-eventlerden sıradaki Eskişehir'de 16 Şubat 2019'da gerçekleşiyor!
Ardından Londra'da BrainFarm Family, Almanya'da Psycore Family ve bu yıl Metacore Festival'in Guest ülkesi olan Mexico'da Ek' Kiben Team birlikteliği ile gerçekleşecek olan pre eventlere tüm experimental müzik dinleyicilerini davet ediyoruz!
Pre eventlerde Metacore Festival biletlerinizi indirimli olarak ekip arkadaşlarımızdan alabilirsiniz!
Metacore Teaser'ları yakalayarak kış rituellerimize katılmanızı bekliyoruz!!!
Booooom !