Backend
METACORE Festival TEASER Ankara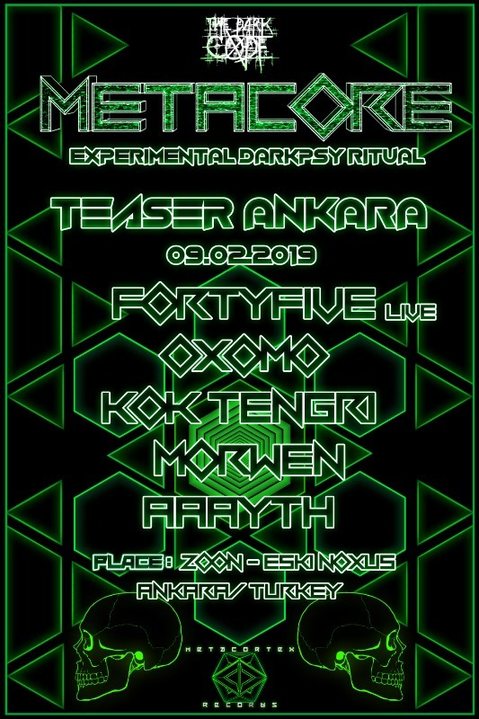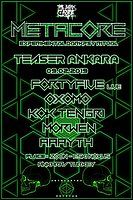 Line Up
METACORE TEASER ANKARA LINEUP
✺ FORTYFIVE ≜〔TR〕〔LIVE〕
〔 Metacortex Records 〕
〔 COSMIC CREW RECORDS〕
♬
soundcloud
☫ KOK TENGRI ≜〔TR〕
〔 Metacortex Records 〕
♬
soundcloud
☫ OXOMO ≜〔TR〕
〔 Metacortex Records 〕
〔 Voodoo Hoodoo Records - DarkPsy Portal 〕
〔 Popol Vuh Records 〕
♬
soundcloud
☫ MORWEN ≜〔TR〕
〔 Metacortex Records 〕
♬
soundcloud
☫ AAAYTH ≜〔TR〕
〔 Metacortex Records 〕
♬
[facebook.com]
Info
Info
The Dark Code and Metacortex Records will have an epic festival Metacore 2019 this summer in Turkey!

This winter we want to meet in different places and have some pre meetings for reach more friends who love experimental sounds! We will have several Metacore Teasers in Turkey(The Dark Code), London(BrainFarmFamily), Germany(PsyCore Family) and Mexico(Ek' Kiben Team) ! Here is our pre-event for Metacore Festival in ANKARA / TURKEY!

In this parties you can buy your Metacore 2019 Festival tickets from our team! Hope to meet and have a winter ritual in this pre-events! Booooom!
Location
Location
Place Metacore Teaser ANKARA:
ZOON (Eski NOXUS)
Selanik caddesi 78 / A , Kızılay Ankara, Turkey
Entry
Entry
Tickets : 30 TL / 5 Euro