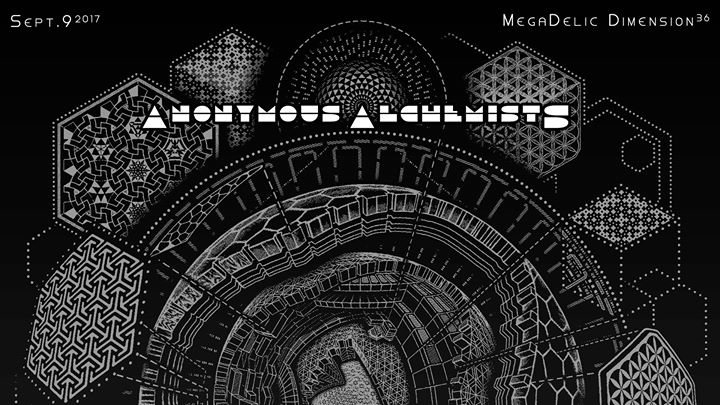 Line Up
Gibson's 36st Bday party!
----------------------------------
:Intro:
You unlock this door with the key of imagination. Beyond it is another dimension - a dimension of sound, a dimension of sight, a dimension of mind. It is a dimesion as vast as space and as timeless as infinity. It is in the middle ground between light and shadow, between science and superstition, and it lies between the pit of man's fears and the summit of his knowledge. This is the dimension of imagination. You're moving into a land of both shadow and substance, of things and ideas. You've just crossed over into DIMENSION36!!!
-----------------------------------
:Info:
Sept 9th, 2017, we return to the Bruxelles area. Since the last AA meeting, we've prepared the house to better set up the deco, as well as putting finishing touches on the artwork. As you know, we try to take the level up each time we do it. This time we have 2 sound systems, upstairs in the Saloon with techy grooves and the Roadhouse downstairs with the spiral style.
We will start in the afternoon with a birthday BBQ meet and greet and public art exhibition. Come early and have a drink and take some time to look at the artwork of Neil Gibson and Thomas Duchene (The Friends of the Fractal Foundation) which will be on display. Show your support for the artists by grabbing a tshirt or poster before the party starts.
Featured artist this round we welcome back Mr. Thomas Duchene, Friends of the Fractal Foundation freedom fighter, who will showcase his large canvases of exploding fractal flower power in the bar. Our Italian friend Andrea will make connections with his abstract string creations, bridging the two worlds. The Roadhouse will covered wall to wall, floor to ceiling with multi- dimensional hyper-cubist artwork by yours truly, spiced up again with more customized video zapping. Topping it off, the Mystical Forest canopy floats above our heads with their magnificent string mandalas to keep it cosy. The excellent bartenders will provide good spirits as usual! And our friendly door folk will welcome you. We all know the rules by now so lets keep it tight, folks!
IN THE ROADHOUSE
**HIGHKO**
(Blast Records) Germany
soundcloud
**PETRAN**
(Parvati Records) Greece
soundcloud
**AUDIOSYNTAX**
(Alice-D Records) Germany
soundcloud
**JAIRAM**
(Lost Theory Rec.)Germany
soundcloud
**MAYATEKK**
(Popol Vuh, Quantum Digits) Guatemala
soundcloud
**CHAZZ25**
(Anonymous Alchemists) Russia
soundcloud
**ANNUNAKEY**
(Squarelab music) Belgium
and in THE SALOON with:
CHILLIN BERLIN and friends...
Stay tuned!
Location
Location
Vilvoorde, Flemish Region, Belgien
Vilvoorde
Organizer
Organizer
Anonymous Alchemists