Backend
Meeting of the Minds Vol 1.0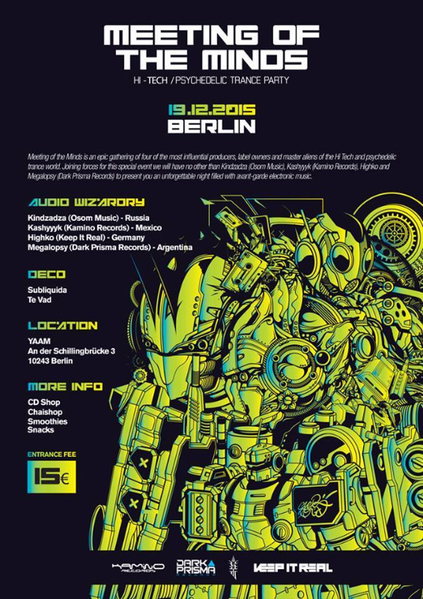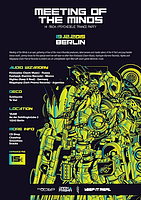 Line Up
▲AUDIO WIZARDRY

KINDZADZA •●• LIVE •●• RUSSIA
Osom Music
soundcloud.com/kindza
facebook.com/OsomKdd/?fref=ts

KASHYYYK •●• LIVE •●• MEXICO
Kamino Records
soundcloud.com/kashyyyk-kamino
facebook.com/kashyyyk-124734814214626/?fref=ts

HIGHKO •●• LIVE •● GERMANY
Keep It Real
soundcloud.com/highkonoisepoison

MEGALOPSY/ZIGURAT •●• LIVE •● ARGENTINA
Dark Prisma Records
facebook.com/Megalopsy/?fref=ts
soundcloud.com/megalopsy
Deco
Deco
▲DECOR & VISUALS

SUBLIQUIDA •●• Italy •●• New Lycra Set Up - 1st time in Berlin!
facebook.com/subliquidaproject/

TE VAD •●• Romania •●
facebook.com/o.m.tevad/?pnref=lhc
Info
Info
▲Meeting of the Minds Vol 1.0 : Berlin

Saturday 19th December, 2015, Berlin

Meeting of the Minds is an epic gathering of four of the most influential producers, label owners and master aliens of the Hi Tech and psychedelic trance world. Joining forces for this special event we will have no other than KinDzaDza (Osom Music), kashyyyk (Kamino Records), Highko and Megalopsy/ Zigurat (Dark Prisma Records) to present you an unforgettable night filled with avant-garde electronic music.

We will have a Chaishop with smoothies, chai and snacks and a cd shop with releases from Osom Music, Noise Poison, Kamino Records and Dark Prisma Records.

See you there!
Location
Location
YAAM Berlin
An der Schillingbrücke 3, 10243 Berlin, Germany
Entry
Entry
The entry is 10 euros until 1am, and 15 euros after that.