Maharetta Records Label Night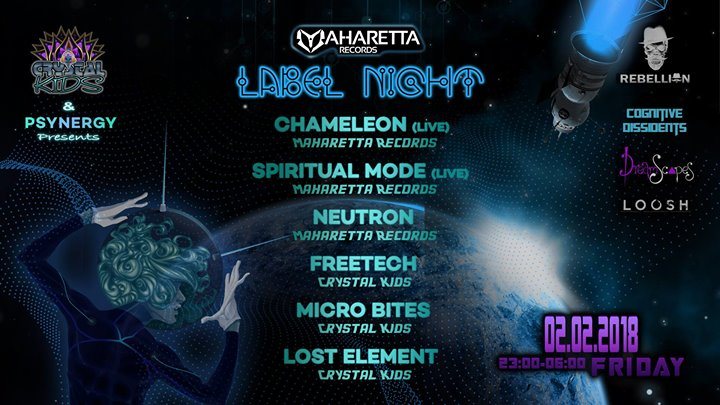 Line Up
✫✫✫ Manchester`s Brand New Psytrance Party
✫✫ Mind Blowing Psychedelic Decor & Visuals
✫ Massive Fresh Beats
▓ MAHARETTA RECORDS LABEL NIGHT ▓
Crystal Kids and Psynergy are proud to present their brand new psychedelic trance night in Manchester. We have been working hard and fast to bring all the right elements together to prepare an absolutely epic night, with just one flavour: PSYCHEDELIC !
Teaming up with Maharetta Records, we present you 3 massive headliners from one of the freshest and most cutting record labels out there: Chameleon, Spiritual Mode and Neutron.
Not stopping there, we have guest sets from Crystal Kids head honcho Freetech as well as residents Micro Bites and Lost Element. Prepare for a full on, full power and full spectrum night of banging psychedelic trance.
Music is but one of the elements that makes up a killer party and we are pulling out all the stops on the 2nd of February 2018. Artistic masters Cognitive Dissidents UV Active Decor will be bringing the most out of this world decor to turn Rebellion into a space as you've never seen it before.
Join us in Psynergy for a proper psychedelic rave!
--- • LINE UP • ---
❂ Chameleon - Live
( Maharetta Records )
soundcloud
❂ Spiritual Mode - Live
( Maharetta Records )
soundcloud
❂ Neutron
( Maharetta Records )
soundcloud
❂ Freetech
( Crystal Kids )
soundcloud
❂ Micro Bites
( Crystal Kids )
soundcloud
❂ Lost Element
( Crystal Kids )
soundcloud
--- • DECOR • ---
✫ Cognitive Dissidents UV Active Decor
✫ DreamScapes
✫ Crystal Kids
--- • ART GALLERY & LIVE ART • ---
✫ LOOSH
[instagram.com]
--- • VISUALS • ---
✫ Magiclantern Audiovisual
vimeo
--- • STALLS • ---
✫ Bonnie Stitch
( UV Face Painting, Jewelry & Hippy Clothing )
[facebook.com]
✫ Woven Gipsy Clothing
( Hand Crafted Warrior Artwear )
[facebook.com]
✫ Tribal Tramp
( Hand Painted & Crafted Clothing )
[facebook.com]
--- • TICKETS • ---
✫ Phase 1: £8 + BF
✫ Phase 2: £10 + BF
Pre-sale link: skiddle.com/e/13096324
✫ At the door: £15
Organized by Crystal Kids & Psynergy
[facebook.com]
[facebook.com]
♥ RESPECT, UNITY, PEACE & LOVE ♥
★•••• B I O G R A P H I E S ••••★
❂ CHAMELEON ❂
Chameleon began his journey in mid nineties when the Goa Trance scene was in its infancy, and having moved to London in 1999 to study sound engineering he's been dj'ng and learning to produce psychedelic music. Since 2008 he has released 3 Eps and many singles on various labels including Liquid Records, Nano and Neurobiotic, including a Beatport no.1 Ep. "Reptilian Genetics". The past couple of years has been spent working relentlessly to create an album which will define his unique interpretation of the music he's been so passionate about for more than half of his life. After his recent live gig in Mexico at the Alebrije festival, the forthcoming Chameleon album - " Wild Life" looks set to rock dancefloors around the multiverse. Album release date - 29th MAY 2017 on Maharetta Records.
[facebook.com]
❂ SPIRITUAL MODE ❂
Spiritual Mode is the psychedelic trance project by Slovakian producer Marek Polak.
4 years In the making Marek has experimented with all a variety of styles within the psychedelic spectrum.
In 2016 Spiritual Mode joins the Maharetta Records roster of artists, working alongside Hypnoise. Yarzaa. Overload and manager Neutron.
[facebook.com]
❂ NEUTRON ❂
UK Based DJ, Zac Lee known as Neutron, Began his journey Into the world of music from the day he was born, with the help from highly Influential parents, The Rolling Stones, Jimi Hendrix, Deep Purple and Pink Floyd, James Brown, Howlin' Wolf and Muddy Waters, where all familiar records whilst growing up.
This undoubtedly contributed towards the enthusiasm and obsession Zac carries with him today. By around the age of 8 years old, he managed to cobble together his first pair of belt driven turntables. Falling apart and weighted with a penny, this was where he very slowly experimented with different types of electronic music.
Today, that same meticulous taste, and Instant recognition for a great record has lead him to become the manager for successful Psychedelic Trance label, Maharetta Records, where he continues to look for, and push Inspiring, Innovative music.
With one foot firmly In the past, Zac's trance roots extend back to the days of Dragonfly Records, T.IP, Flying Rhino and early Nano Records sound, and still holds a small record collection of the very same music that originally captivated him, all those ago.
[facebook.com]
❂ FREETECH ❂
Ozzy Cetin aka Mysticism, Ramizes & Freetech was born in 1984 in Istanbul and discovered psy-trance at the age of 18 through the artists Kox Box, Cosmosis, Hallucinogen, Goa Gil, Astral Projection etc. Since then he has been gathering a psy-trance archive, which still continues. Whilst studying towards a BA, Ozzy organized various indoor parties and performed under the alias 'Ramizes' between 2004 – 2007. Meanwhile, he helped out his producer friends by giving them ideas and loops for their new tracks.
Since 2006 Ozzy has been involved in some of the most well respected international festivals such as Ozora (Hungary), Psy-Fi (Holland), Sonica (Italy), Earthcore (Australia), Free Earth (Greece), IllumiNaughty (UK).
Within Turkey he performed at, and worked with many festival organizations including Tree of Life, Mind Manifest Project, Neon, Ayata, Freaks in Love and Soulclipse Festivals.
He now dedicates himself to his Istanbul & Manchester based psy-trance events organizer community; CRYSTAL KIDS; to spread to word through the minds & souls which are ready to UNITE with RESPECT, PEACE & LOVE.
As a freelancer, Ozzy is also doing artist liaison and music management at Ayata Festival (Turkey); production management at Free Earth Festival (Greece); general coordination at Psy-Boutique Festival (Turkey); ambassadorship of Shankra (Switzerland) & Tree of Life (Greece) Festivals to the UK.
Along with outdoor festivals, Ozzy performed over 150 gigs including indoor events since 2004 around the globe.
Ozzy, as a resident DJ at Crystal Kids mixes; Psychill, Psybient, Chillgressive as MYSTICISM; Progressive, Dark Progressive, Fullon, Psytrance as RAMIZES and Twilight, Forest, Hitech styles as FREETECH.
ALL FOR ONE ♥
[facebook.com]
❂ MICRO BITES ❂
Micro Bites is the name of the Deep Melodic Techno project from Juri Ceresato, who has started in the earliest 2010 when Juri decided to make psy-trance music. Music has always played a big part of his life, as from a young age he performed as a guitarist in metal bands, until he found a big interest and passionate attraction to electronic dance music.
His debut album "Gateways of the Mind" was released in 2014 on Talismat Records, and in 2015 "High Voltage" was released on Synergetic Records, gaining him instant international recognition and securing him performances at some clubs and festivals at Italy, Germany, France, Swiss…
At the end of the 2016 Juri decided to convert his style of music in Deep Melodic Techno. Always assuring fans that the best is yet to come…
[facebook.com]
❂ LOST ELEMENT ❂
DJ and Producer since 2008, with a passion for psy-prog, morning and full on styles of psychedelic trance. Resident for Crystal Kids, and a regular at Sunrise, Tribal Sphere and Remedy.
[facebook.com]
Location
Location
Rebellion Manchester
2B Whitworth Street West
M1 5WZ Manchester