°+ [ - MAGNETIKA - ] +° - [AUDIOMATIC live - FROM GERMANY!]
Nel paese delle fiabe ·
Italy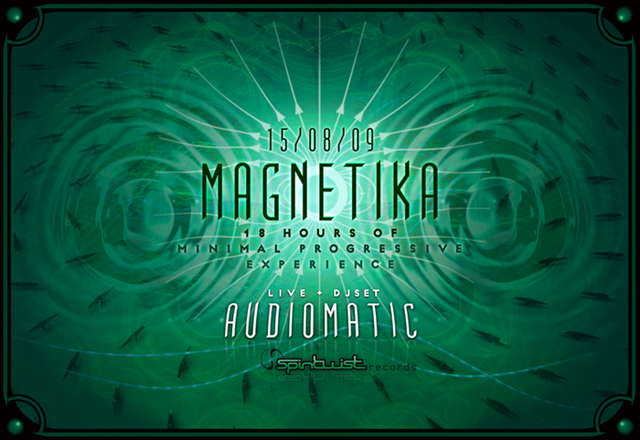 Line Up
++++++++++++++++++++++++++++++++++++++++++++
:::::::::::::::::::: SPECIAL GUEST FROM GERMANY :::::::::::::::::::
+ + + A U D I O M A T I C + + + 2 HOURS (LIVE + DJ SET)
(Spin Twist Rec.) - Hamburg -DE-
_MySpace
[myspace.com]
[myspace.com]
Audiomatic is Benjamin Halfmann from Bocholt (Germany), born on April, 17th, 1983. He had his first public appearances as a DJ in 1999, but he soon realized that his creativity enabled him to compose his own music. Thus, in the summer of 2001, Benjamin started to produce his own music and founded the "Audiomatic" project.
It took him less than a year to release his first track "Woodstock" on the "Leviathan Music" label, quickly followed by his next tracks on "AP Records", "Nova Tekk" and "Tatsu Records". In February 2004, "Tokyo Dance" released his debut album "Multiplayer".
After a great number of gigs in Germany, he started to get engagements abroad. Since then he has had gigs in Japan, Brazil, Greece, Sweden, Denmark, France, Italy, Austria, Switzerland, Netherland and Poland. In the days between his gigs Benjamin produced more tracks and remixes for "Sinn Tec Records", "AP Records", "Spintwist Records" and "Solarsiv Records" and worked as A & R for two labels. In 2005 he compiled a CD for "Sinn Tec Records", which became one of the best selling CDs of this label, followed by another compilation for "Spintwist Records" a year later.
Together with Stefan "Magnetrixx" Lewin, Benjamin created the project "Audiomatrixx" and after getting very positive feedback to their first releases, they decided to intensify their cooperation in order to record an album and to appear as a live act together.
At the moment, Benjamin is busy with his second album, to be released by "Spintwist Record" in June 2008.
+++++++++++++++++++++++++++++++++++++++++++++++
AUTOMATIC CHOICE (live!)
[myspace.com]
(Multiplex rec\Psy Fly Project)
MR TRIP (live!)
[myspace.com]
>>>New Live<<<
(Jumping Project) - Padova
DADODANDY (live!)
[myspace.com]
(MK Rec) - Bologna
SEBULBASS (live!)
[myspace.com]
(indipendent) - Cesenatico
.
Deco
>>> DECO by <<<

* Psycho
* MK Rec
* Psy Fly Project


>>> Psychedelik Video Show By <<<

*Panoramix (MK rec)

.
Info
BUON FERRAGOSTO A TUTTI !!!
************************************

= 30.000 watt MARTIN AUDIO SOUND SYSTEM =

= ROBOT LIGHT SHOW =

= RIVER =

= PSYCHEDELIC VIDEO SHOW =

= PSY SHOP =

= PIZZAAAAA =

= FRUIT SHOP =


...and mooreeeee...


VERY THANKS TO:

- Spin Twist Rec. -
- Psy Fly Project -
- MK Rec. -
- Jumping Project -
- Minimal Tribe -


...AND ALL THE MINIMAL CREW!!


.
Organizer
Organizer
================================
CONCEPT BY: Psy Fly Project - MKrec
================================
Hotline
347\0129877 - 333\5437613 - 348\6732443 -