Backend
MAGIK FESTIVAL-Full Moon Festival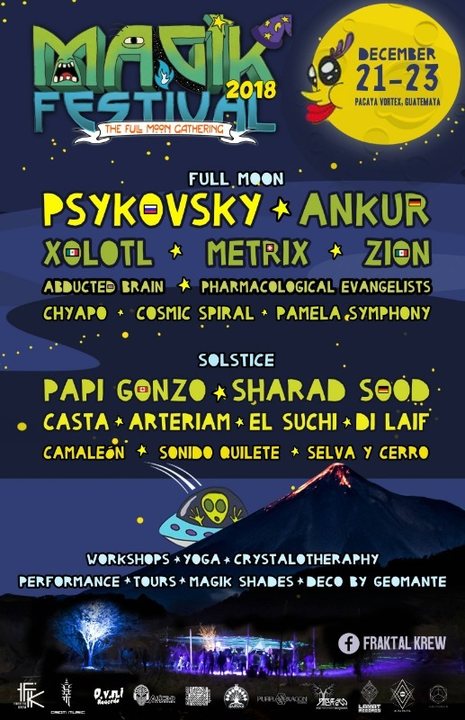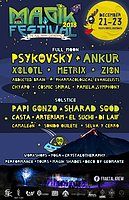 Line Up
-*- MAGIK FULL MOON-*- 22 DECEMBER
LINE UP:

-*- PSYKOVSKY -*- (Osom Records RU) – Special FULL MOON Extended set.
-*- ANKUR -*- (Biomechanikal Records GER)
-*- XOLOTL -*- (Banyan Records. MX)
-*- METRIX -*- (Purple Hexagon Records SW)
-*- ZION -*- (Dream Crew Records. MX)
-*- ABDUCTED BRAIN -*- (Isotropic Recprds. CR)
-*- PHARMACEUTICAL EVANGELISTS -*- (Lamat Reordcs. GT)
-*- CHYAPO -*- (Fraktal Krew GT)
-*- COSMIC SPIRAL -*- (OVNI Recs. GT)
-*- PAMELA SYMPHONY -*- (Fraktal Krew GT)

-*- MAGIK SOLSTICE -*- 21 DECEMBER
LINE UP:

-*- PAPI GONZO -*- (Techgnosis Records CN)
-*- SHARAD SOOD
-*- (Quintessence Records GER)
-*- CASTA -*- (Cube Records GT)
-*- EL SUCHI -* -(Fraktal Krew)
-*- ARTERIAM -*- (Fraktal Krew GT)
-*- DI LAIF -*- (Fraktal Krew GT)
-*- CAMALEÓN -*- (Fraktal Krew GT)
-*- SONIDO QUILETE -*- (Fraktal Krew GT)
-*- SELVA Y CERRO -*- (Fraktal Krew GT)
Deco
Geomante Deco, VJ Kamikazee, Monkey Vision and more.
Info
Info
Magik Festival is a small psychedelic family reunion that takes place in one of the most astonishing volcanic landscapes of Guatemala. The place makes us feel as if we travel back to the beginning of time, closer the core of the earth.

We wish to create a safe space for psychedelic experiences and to bring you closer to (your) nature. It our highest aim to build a culture of peace in a country that has suffered years of conflict and oppression. Love, peace, tolerance, solidarity and respect are our basic principles.

Through out the years we have brought the finest forest and dark psychedelic producers from all over the world to open the energy vortex and reset our mind/spirit and elevate our consciousness to realize that we are all one (in this together).

In this edition we raise awareness for the water of our planet, the water in our bodies, we will co-create a sonic ritual with the full moon and come together with of other parts of the world to heal the torrents of fresh and salty water.
Location
Los pocitos, Villa Canales, Guatemala
Entry
Entry
PRESALES

Now to October 15th. Q. 350.00 | $50.00
October 15th to November 15th Q. 400.00 | $55.00
November 16th to December 20th Q. 450.00 | $60.00
At the Gate Q. 500.00 | $65.00
Check facebook for sales in Guatemala.
From 1st october visit web page where visa and pay-pal will be available.
Organizer
Organizer
Fraktal Krew is 100% Guatemayans creating The Magik Festival for the global psyfamily.