Magical Minimal, Progressive & Psychedelic Melodies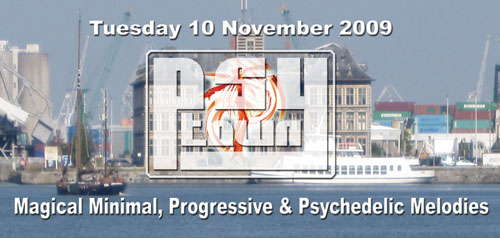 Charlotte DC (MiMaZu)

Dj Tension (Unio Mystica)

Ishtar vs. Rdeem (Purple Snow productions)

Jharu (Naturall Productions)

Hypnosis vs. Psylosopher (Psytown)

Electric Lord (Madhatter/Dissonant)
Chill
Chill music provided by Prolectro
Info
Info
This edition will be located at one of the most beautifull parts in and around Antwerp city. Most of you will remember this place as the former "Fake bar", next to the old fire department.
For the actual party we strike down at the ship "Flandria 24", layed at the Kattendijkdok.
You want to be part of this future legend? Join us at Tuesday the 10th of November for a night of Minimal, Progressive and Psychedelic trance, brought to you be some of the finest artists in their scene's !!
For more information plz visit
[psytown.com]
Location
Location
Flandria boat @ Kattendijkdok - Antwerp (Mexicostraat)
Entry
Entry
Entrance: 8€ <00.00h> 10€