ॐ MAGIC MUSHROOMS 2016 ॐ BUBBLE Live!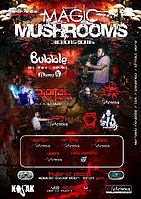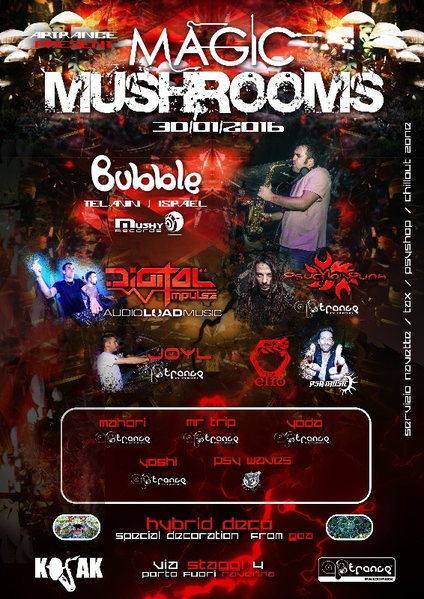 Line Up
▀▀▀▀▀▀▀▀▀▀ ▀▀▀▀▀▀▀▀▀▀ ▀▀▀▀▀▀▀▀▀▀
Artrance Records are proud to present
his third official event of winter season 2015/2016:
┏╮╱╲╰┛┗╯╱╲╰┛┗╯╱╲╭┓
► ॐ MAGIC MUSHROOMS 2016 ॐ◄
┗╯╲╱╭┓┏╮╲╱╭┓┏╮╲╱╰┛
▀▀▀▀▀▀▀▀▀▀ ▀▀▀▀▀▀▀▀▀▀ ▀▀▀▀▀▀▀▀▀▀
►PROGRESSIVE PSY TRANCE MAINSTAGE◄
▀▀▀▀▀▀▀▀▀▀ ▀▀▀▀▀▀▀▀▀▀ ▀▀▀▀▀▀▀▀▀▀
●» INTERNATIONAL LIVE ACT:
═════════════════════
► BUBBLE √
[Mushy Records] PsyTrance
Jerusalem / Israel
▸
[myspace.com]
▸
[youtube.com]
▸
[psyshop.com]
Bio:
Since we´ve met in 2004 we´re producing all kind of Music. One of our main Style is Psytrance.
We´re keeping our minds open for all music genres and combine it with traditional psytrance.
With the years we´ve developed our unique Music style and composing Technics.
We´ve uploaded all of our muscial experiments,from 2004 until these days, to YouTube, so you can hear that developent pretty clear.
in 2005 we´ve released our Debut Album "Airless", shortly after in 2006 "Sound of Silence" our second album was on.
After the second LP we started to build our new studio,it took 1,5 years and alot of our Muse.
After recovering, and changing our Ways we started in 2008 to work on our third Album called "Cold Sun", which is out now on Psyshop.
[psyshop.com]
A story matched by 12 different pieces, one completing the other and each piece influenced differently by their multi cultural homeland.
All this together makes the of essence 'Coldsun' to a different story.
Enjoy some sneak previews of the new Album in our Live Performance Videos on Youtube.
═════════════════
●» NATIONAL LIVE ACTs:
═════════════════
► DIGITAL IMPULSE √
[Audioload Music / Artrance Rec.] Offbeat
Ravenna / Italy
▸
soundcloud
► PSYCHO PUNK √
[Artrance Records] PsyTrance
Cesena / Italy
▸
soundcloud
► JOYL -(Happy Birthday)- √
[Artrance Records] PsyTrance
Forlì / Italy
▸
soundcloud
► ELFO √
[PSR Music] Offbeat
Forlì / Italy
▸
soundcloud
═════════
●» DJ SETs:
═════════
► MAHORI √
[Artrance Records] Offbeat
Ravenna / Italy
▸
soundcloud
► Mr.TRIP √
[Artrance Records] Offbeat
Padova / Italy
▸
soundcloud
► YODA √
[Artrance Records] Offbeat
Cesenatico / Italy
▸
soundcloud
► YOSHI √
[Artrance Records] PsyTrance
Verona / Italy
▸
soundcloud
► PSY WAVES √
[Evil Corp] PsyTrance
Reggio Emilia / Italy
♫ TIME TABLE ♫
═══════════
22-00 Yoshi
00-01 Psy Waves
01-02 Psycho Punk -Live
02-03 Joyl -Live
03-04 BUBBLE -Live
04-05 Digital Impulse -Live
05-06 Yoda
06-07 Mahori vs Trip
07-08 Elfo -Live
══════════════════════════
◎ DECORATION: ◎
═════════════════════
►•• ┐㍿ HYBRID DECO ㍿┌ ••◄
═════════════════════
╚►https://www.facebook.com/pages/Hybrid-UV/570357859746518
●» From India - Goa
════════════════════
╚► PSY SHOP
●» Arteatomica
●» Pzr Shop
●» Magika Boutique
══════════════════════════
Info
▀▀▀▀▀▀▀▀▀▀ ▀▀▀▀▀▀▀▀▀▀ ▀▀▀▀▀▀▀▀▀▀
••◄ █ P A R T Y - A R E A █ ►••
● 1 MAIN BIG STAGE GOA - 15kw Line Array
● FLUO DECORATION FROM INDIA - GOA
● LASER MULTICOLOR SHOW
● VIDEO MAPPING SHOW
● ROBOT LIGHT SHOW
● PSY VISUAL
● SMOKING MACHINE
● PHOTO by ZARRELLI MANUEL
● FOOD POINT
● BIG PARKING CONTROLLED
● LEGAL PARTY
● GOOD VIBES
●» Open: 22.00
-------------------
Last Editions:
-------------------
-> Magic Mushrooms 2009:
- * O.o Magic MushroomS -…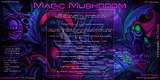 24 - 25 Jan 09 · Indoor · Inside The Mountain (BOLO ZONE), Italy

Line Up:

** GOA STAGE ******* - ***** DAY DIN (Spin Twist Rec) ***** [Progressive] 2 ore di live! PRESENTING HI…


Info:

- PER AVERE LA STRADA CHIAMARE LE INFOLINE DA SABATO M. PROJECT : 338\4217 TURA : 334\1313882 YODA : 348\6732443 ----…


Location:

Legal party!!... --- Autostrada A14 Esci autostrada bo…
Over:

14y 1m

·

8,745

· Added by (¯`*•. YODA .•*´¯)
-> Magic Mushrooms 2012:
[ MAGIC MUSHROOMS ] Querox…

28 - 29 Jan 12 · Indoor · Ravenna Town, Italy

Line Up:

----- QUEROX [Prog on Syndicate]…


Info:

--- [Tura Happy B-day] [Joyl Happy B-day] ---


Location:

----- HAREM CLUB - Ex Baraonda / Savarna - Prov. di Ra…
Over:

11y 1m

·

4,071

· Added by ArTrance Crew
-> Magic Mushrooms 2013:
[facebook.com]
-> Magic Mushrooms 2014:
[facebook.com]
-> Magic Mushrooms 2015:
Photos:
[facebook.com]
Aftermovie:
youtube
Location
▀▀▀▀▀▀▀★ LOCATION & ENTRY ★▀▀▀▀▀▀▀
>>> KOJAK CLUB - RAVENNA <<<
» Via Staggi 4 - Porto Fuori - Ravenna
●» TICKET: 15 Euro + 1 Free Drink
●» PRESALES: 15 Euro + 2 Free Drink
_________________________________
►• NO TESSERE •◄
══════════════════════════
COME ARRIVARE :
═════════════
► GOOGLE MAPS:
[google.it]
► TAXI RAVENNA:
0544 33888
▀▀▀▀▀▀▀▀▀▀ ▀▀▀▀▀▀▀▀▀▀ ▀▀▀▀▀▀▀▀▀▀
Added

7y 6m

· Update

7y 1m

·

/ 279