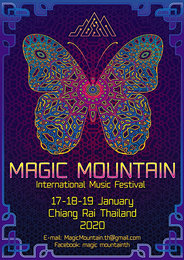 Line Up
-Scotty (VuuV/DE)
-Boom Shankar (BMSS/De)
-Pzychobiz (Magic Mountain/BMSS /TH)
-Patt (Full Moon party Tommy Resort/TH)
-Eddy Psycodomo (Magic Mountain/TH)
-PsyAtmah (Magic Mountain/TH)
-Jafar (Samaa Rec/Palestine)
-Goa Gummy (Psyhead/TH)
-John Lee (Lost in paradise/purple hexagon/TH)
-Blader Hypnotize (Psyhead/TH)
-Apnea (Magic Phangan/Belgium)
-Suddha (Purple Hexagon /Sri Lanka)
-Originz (Outrance/Sangoma /FR)
-Moonwave (Outrance/FR)
-Viadonks (GoaProductions/China)
-Fugui (Yuanqui/China)
-Charlie (Dekdoi/UK)
-Baptist (Dekdoi/FR)
-Saikot (Epictribe/RU)
-Mellow Monks(Psychedelic happiness/DE)
-Mantis (Vive Noctem/CH)
-Oddicon (Vantara Vichitra/MY)
- Space Spirit (Argenpsy/Argentina)
-SsongG (Playground/South Korea)
-Koi (Playground /Magic Phangan/Thailand)
-Heimya (BMSS/FR)
-Tommy Rocker (TH)
-Radikal Moodz(Looney Mon Recs/FR)
Info
MAGIC MOUNTAIN 2020 – GENERAL INFORMATION
PRESALE TICKETS:
[ticketmelon.com]
FOOD & DRINKS:
We offer a fully-stocked bar and kitchen where you can enjoy authentic local Thai food and proper drinks. Vegetarian food will also be available for all veggie lovers! you can support the bar and help us keeping making parties in the process.
WEATHER:
Expect the cold weather in the night times in north of Thailand at this time of year. Temperatures at night could drop to 12degrees. The daytime should be hot and sunny we hope.
Please bring warm clothes with you. Camping grounds are available at the party. The location has toilet and shower facilities for everyone to use.
TRANSPORT:
LOCATION WILL BE TBA
DON'T FORGET!
Bring your own tent or hammock. Tents can be purchased cheaply from Tesco Louts, Big C or other shopping malls in Chiang Rai if you don't already have one when you arrive.
FURTHER INFORMATION:
E-Mail:
magicmountain.th@gmail.com
Phone: +66 (0)815837566 (Jannipa)
Location
Location
Chiangrai,Thailand
More events from
Fr, 14 Feb '20 ·
Kanchanaburi