Backend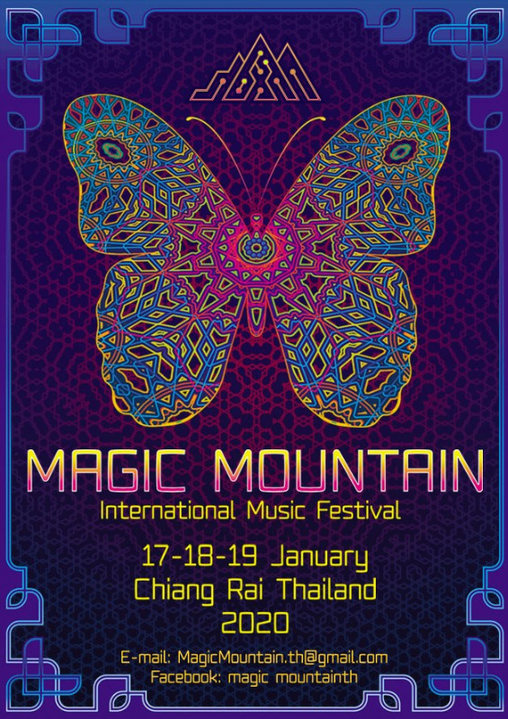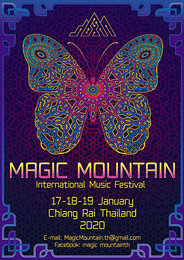 Line Up
The line up
-Scotty (VuuV/DE)
-Boom Shankar (BMSS/De)
-Pzychobiz (Magic Mountain/BMSS /TH)
-Patt (Full Moon party Tommy Resort/TH)
-Eddy Psycodomo (Magic Mountain/TH)
-PsyAtmah (Magic Mountain/TH)
-Jafar (Samaa Rec/Palestine)
-Goa Gummy (Psyhead/TH)
-John Lee (Lost in paradise/purple hexagon/TH)
-Blader Hypnotize (Psyhead/TH)
-Apnea (Magic Phangan/Belgium)
-Suddha (Purple Hexagon /Sri Lanka)
-Originz (Outrance/Sangoma /FR)
-Moonwave (Outrance/FR)
-Fugui (Yuanqui/China)
-Charlie (Dekdoi/UK)
-Baptist (Dekdoi/FR)
-Saikot (Epictribe/RU)
-Mellow Monks(Psychedelic happiness/DE)
-Mantis (Vive Noctem/CH)
-Oddicon (Vantara Vichitra/MY)
- Space Spirit (Argenpsy/Argentina)
-SsongG (Playground/South Korea)
-Koi (Playground /Magic Phangan/Thailand)
-Heimya (BMSS/FR)
-Tommy Rocker (TH)
-Radikal Moodz(Looney Mon Recs/FR)
-Spacesun (Play Festival / S.Korea)
-AKKHA (Lost project/ Thailand)
-Earth M (Sweden)
Info
MAGIC MOUNTAIN 2020 – GENERAL INFORMATION
PRESALE TICKETS ARE SOLD OUT, You can only buy ticket at the gate,one day ticket is only sell on Sunday from 11am. for 700 THB
As we have an license from police we can make party and use speaker only til midnight then we have to stop music from midnight til 6 am, (we have plan B by the lake,more info update soon)
so we will run party til Monday 20 January til 12 pm.
FOOD & DRINKS:
We offer a fully-stocked bar and kitchen where you can enjoy authentic local Thai food and proper drinks. Vegetarian food will also be available for all veggie lovers! you can support the bar and help us keeping making parties in the process.
WEATHER:
Expect the cold weather in the night times in north of Thailand at this time of year. Temperatures at night could drop to 12degrees. The daytime should be hot and sunny we hope.
Please bring warm clothes with you. Camping grounds are available at the party. The location has toilet and shower facilities for everyone to use.
TRANSPORT:TBA
DON'T FORGET!
Bring your own tent or hammock. Tents can be purchased cheaply from Tesco Louts, Big C or other shopping malls in Chiang Rai if you don't already have one when you arrive. If you don't want to camp, Chiang Rai town has lots of guest houses and hotels to suit every budget. There are many website to booking the accommodation,The Party venue is far from the city Clock tower about 15 mins ,เหมืองคำรีสอร์ท
176 หมู่ 5 Mae Yao, Mueang Chiang Rai District, Chiang Rai 57100
Telephone numbers :
081 594 3864
[g.co]
(Mueng Come Resort)
is the party venue.
*THE GATE WILL BE OPEN FROM 11AM ON 17 JANUARY 2020 AND ON 20 JANUARY BY 13PM WE KINDLY ASK EVERYONE TO LEAVE THE VENUE.
FURTHER INFORMATION:
E-Mail:
magicmountain.th@gmail.com
Phone: +66 (0)815837566 (Jannipa)