Backend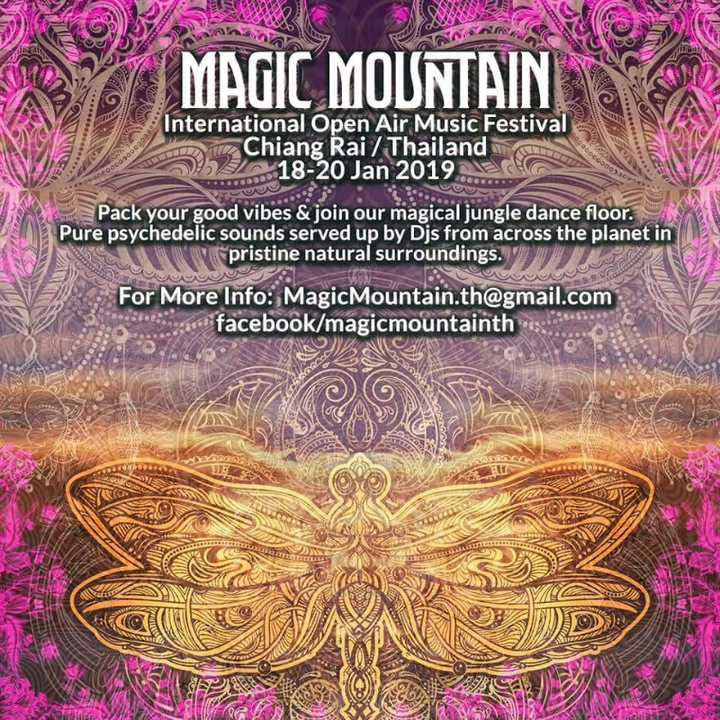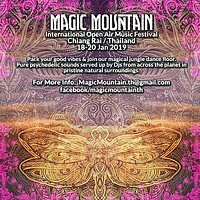 Line Up
Live Act
-Shred'er ( Transubtil rec/ Nataraja Rec/FR)
-Project Tasty Gecko (Twisted Lotus Records / Australia)

DJ set
-Boom Shankar (BMSS / S.U.N. / Germany)
-Suddha (Purple Hexagon / UK)
-Tsunamix (Freak Records / Switzerland)
-Tommy Rocker (Full Moon Party / Tommy Resort / Thailand)
-Pzychobiz (Magic Mountain / BMSS / Thailand)
-PsyAtmah (Magic Mountain / Thailand)
-Patt (Full Moon Party / Tommy Resort / Thailand)
-John Lee (Lost in Paradise / Purple Hexagon / Thailand)
-Goa Gummy (Psyhead Community )
-Psycodomo (Magic Mountain / Thailand)
-Mantis (Vive Noctem / Switzerland)
-SsongG (Playground / South Korea)
-Koi (Magic Phangan / Playground / Thailand)
-Liquidsound (Headroom Productions / Austria)
-Sabaii Sabaii (Spirit Zone / Thailand)
-Evo (Goa Production / Slovakia)
-Daksinamurti (Sangoma Records / Germany)
-Pieman (Tribe of Frogs / Bom Shanka / UK)
-Fohat (BMSS / Germany)
-Originz (Outtrance / France)
-Fugui (Yuanqi / China)
-DK (GoaProductions / China)
-Sebidelica (Mutagen Records / Belgium)
-HotzenPlotz (Kinematic Records / Germany)
-Viandoks (GoaProductions/FR)
Info
FOOD & DRINKS:
We offer a fully-stocked bar and kitchen where you can enjoy authentic local Thai food and proper drinks. Vegetarian food will also be available for all veggie lovers! you can support the bar and help us keeping making parties in the process.
WEATHER:
Expect the cold weather in the night times in north of Thailand at this time of year. Temperatures at night could drop to 12degrees. The daytime should be hot and sunny we hope.
Please bring warm clothes with you. Camping grounds are available at the party. The location has toilet and shower facilities for everyone to use.
TRANSPORT:
There will be a Songtaew ,a local pick up between The old clock tower in the Centre of Chiang Rai town directly to the party venue เหมืองคำรีสอร์ท (Mueng Come Resort). It's 50THB each way.
DON'T FORGET!
Bring your own tent or hammock. Tents can be purchased cheaply from Tesco Louts, Big C or other shopping malls in Chiang Rai if you don't already have one when you arrive. If you don't want to camp, Chiang Rai town has lots of guest houses and hotels to suit every budget. There are many website to booking the accommodation,The Party venue is far from the city Clock tower about 15 mins ,เหมืองคำรีสอร์ท (Mueng Come Resort) is the party venue.
*THE GATE WILL BE OPEN FROM 11AM ON 18 JANUARY 2019- (IF YOU ARE CAMPING PLEASE LEAVE THE VENUE BEFORE 11AM ON 21 JANUARY 2019 )
FURTHER INFORMATION:
E-Mail:
magicmountain.th@gmail.com
Phone: +66 (0)815837566 (Jannipa)
รายละเอียดการจำหน่ายตั๋วมีดังนี้ค่ะ
All Presale ticket จำหน่ายหมดแล้วค่ะ ท่านสามารถซื้อตั๋วได้ที่หน้างาน
ราคา 2,300 บาท
ตั๋วเข้าแค่วันเดียว700บาทต่อวันค่ะ
กางเต๊นที่พักในงานได้ค่ะมีห้องน้ำห้องอาบน้ำ
หรือสำรองห้องพักในตัวเมืองจากเว็บไซค์สำรองที่พักต่างๆ สถานที่จัดงานอยู่ที่เหมืองคำรีสอร์ท ห่างจากหอนาฬิกา ประมาณ15 นาทีค่ะ
Location
Chaing Rai,Thailand เหมืองคำรีสอร์ท MuengKham Resort
[goo.gl]
Entry
Entry
PRESALE TICKETS:

ALL PRESALE TICKETS 1-3 PHASE HAD BEEN SOLD OUT

ONLY TICKETS AVAILABLE AT THE GATE.

Ticket at the gate 2,300THB

One day ticket pass 700 THB per day
Organizer
Organizer
Magic Mountain Team and Friends