Mabon - Permaculture meets Psycadelic Forest Music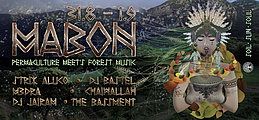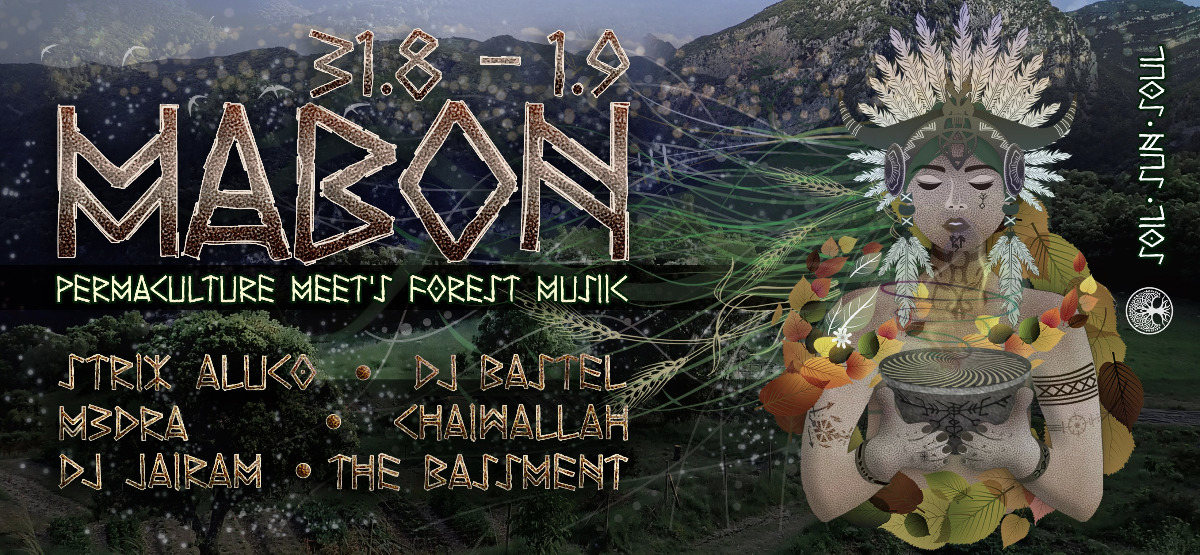 Line Up
Mabon is a harvest festival, the second of three, that encourages pagans to "reap what they sow," both literally and figuratively. ... The holiday is named after the Welsh God, Mabon, son of Earth Mother goddess Modron.
In a small piece of land at the foot of the Pyrenees, plants grow animals and human souls in a common space they share, where they meet and learn from each other and in which they celebrate, dance and laugh together! ☼☼☼☼☼☼☼☼☼☀☀☀☀☀☀☀☀☀☼☼☼☼☼☼☼☼☼
Here is a place that is characterized by permaculture. Free spirits and warm workers turn this place into a little paradise. In order to give the creation of the "farm" the proper place, we invite you to a celebration in the name of Freya and Freyr, which is celebrated both as a thanksgiving and homage to the past and the already harvested, but also as a happy tune to one fertile and joyous future wants to be celebrated !!! ☼☼☼☼☼☼☼☼☼☀☀☀☀☀☀☀☀☀☼☼☼☼☼☼☼☼☼
In the sign of Freya and Freyr, psychedelic forest sounds will connect the worlds and open spaces into hidden spheres where Devas, animal spirits, humans, spirits, our ancestors and all nature beings will unite and happily dance, laugh, celebrate and connect to celebrate the fertile future of the planet Place and all its fruits to manifest.
☼☼☼☼☼☼☼☼☼☀☀☀☀☀☀☀☀☀☼☼☼☼☼☼☼☼☼
There will be food from our own Permaculture and Agroforestry System ecological Gardens and some eggs from our own organic production. All the food we use comes from our own organic and sustainable production or from organic and fair trade goods! At the square, there will be the following for cheap prices to buy: ☀☀☀☀☀☀☀☀☀ food ☀☀☀☀☀☀☀☀☀ ☼☼☼ stone oven pizza ☼☼☼ ☼☼☼ Quiche ☼☼☼ ☼☼☼ Omlette ☼☼☼ ☼☼☼ Porridge ☼☼☼ ☼☼☼ Salads ☼☼☼ ☀☀☀☀☀☀☀☀☀ Drink ☀☀☀☀☀☀☀☀☀ ☼☼☼ Beer ☼☼☼ ☼☼☼ wine ☼☼☼ ☼☼☼ schnapps ☼☼☼ ☼☼☼ water ☼☼☼ ☼☼☼ juice ☼☼☼ ☼☼☼ delicious CHAI tea :) ☼☼☼
Come and celebrate with us a grandiose party in the middle of a small paradise and an oasis of the heart ❤❤❤❤❤❤❤❤❤
The place offers enough space for all free spirits to recover, to take a breath of the hectic everyday life, a heart-oasis of relaxation for all, tents or other accommodation facilities can be set up, herbal collections can be started,nature walks are possible. Toilets and showers are available.
Psychedelic Music Stage ❤❤❤❤❤❤❤❤❤☼☼☼☼☼☼☼☼☼❤❤❤❤❤❤❤❤❤ 🔱🔱🔱🔱🔱🔱🔱🔱🔱 LIVE MUSIC 🔱🔱🔱🔱🔱🔱🔱🔱🔱
*** Strix Aluco (Auwald Records) ***
[click here]
***
M3DRA (Auwald Records / DopeDeer Records) ***
soundcloud
🔱🔱🔱🔱🔱🔱🔱🔱🔱 DJ - MUSIC 🔱🔱🔱🔱🔱🔱🔱🔱🔱
*** DJ Jairam (Real Vision Music) ***
soundcloud
*** DJ Bastel (Auwald Records / Gylfaginning Records) ***
soundcloud
***
Chaiwallah (Sun * Soil * Soul Music) ***
soundcloud
*** The Bassment (Sun*Soil*Soul Music) ***
soundcloud
stay tuned -> more do be announced , , ,
Location: The little paradise is about 1 to 1.5 hours drive northeast of the grandiose Barcelona and north of the beautiful city of Girona. Exact information and a travel plan is available by PM after purchase or order a ticket. The number of tickets is limited to 80 tickets! Date: 31.8.2019 to 01.09.2019 Time: 6:00 pm to open end!
Entrance fee: ❤❤❤❤❤❤❤❤❤ donation ❤❤❤❤❤❤❤❤❤
Location
Please write us a email or pm for getting the details on how to arrive
From
Syntropic FrEEquencies ·
411