Backend
Luna Cósmica
Matalascañas (Huelva) ·
Spain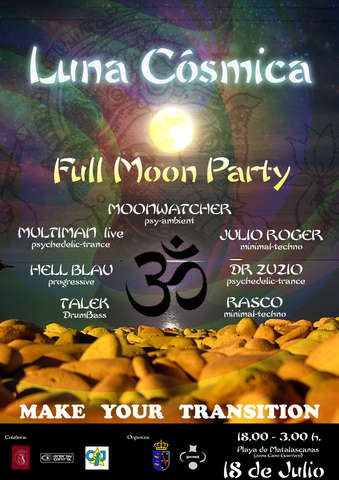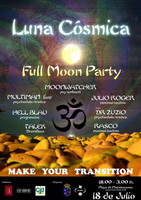 Chill
MOONWATCHER (Psy Ambient).... for the high moment of the Cosmic Moon (Full Moon at 3 am)
Deco
Deco
Laser Shows

Visuals: Super 8 VJ

String Art (Transition Crew)
Info
This party is focused on a experience between human and nature. The Cosmic Moon will be in her most enlightened position, and we will have the opportunity to bath in the beauty of mother nature. This gathering aims to get an altered state by all the natural elements, enjoying a beautifull sunset and the final process of the full moon. Then, the sand, water, moon, sky and colours will mix in tune with the music, which will be present all the time to guide us among different states of mind. Take all you need to spend the best sunset of the summer with us !!! .... before VuuV !!!
:::...LINE UP...:::
18:00 Talek
19:30 Julio Rodriguez
21:00 Rasco
22:30 Hell Blau
24:00 Multiman Live!
01:30 Doctor Zuzio
03:00 Moonwatcher
Energy Control
[energycontrol.org]
Food & Drinks in "Ambos Mundos Bar", next to the party!!
This open air party will happen at the beach in the middle of a town, so please take into account these advices:
* Peace, Love Unity & Respect
* Dont bring your pet to the beach, police can fine you!
* No drug abuse (there will be some police presence around the area)
* Trance because of Dance, not because of drugs
* No glass, No fire!
* Try to meditate in the high moment of the full moon
* Be happy
Location
Location
Take the A-49 to Almonte, and then take the directions to Matalascañas (Huelva). Once you arrive the town turn left on the first round. Then straight on about 4 kms (you will see the town at your right). Then you will pass through 3 or 4 rounds and will arrive to the last one, after the golf-camp. Straight on and on and follow the signs to the beach. You can park the car in a big parking and go down to the beach...
Entry
Entry
The beach belongs to everyone...