Backend
Luminopolis (Formerly The Synergy Project)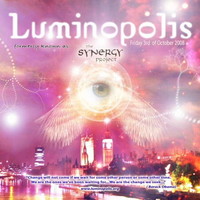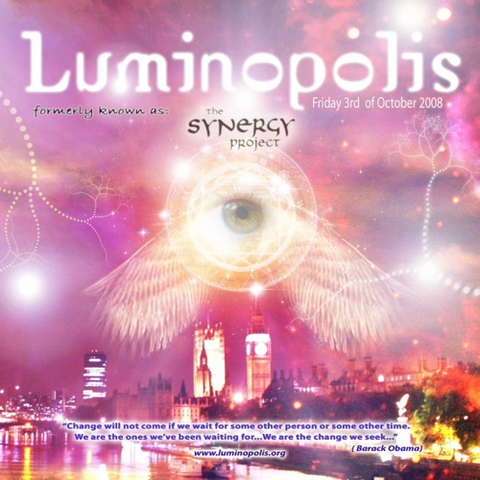 Line Up
In the main room…
Furthur Project
A collaboration of new and exciting projects brings you an evening of new-age progressive trance, with a splash of techno from the outer realms. Hosted by Echo System Productions and Furthur Project Recordings, who are combining to bring you an evening of aural entertainment and visual stimulation with some of the finest artists from across Europe.
Echo System Productions & Furthur Project Recordings presents...
.
Insane Creation (Live)
(Domo/Blue Tunes)
Hypnotic melodic progressive trance
[insanecreation.ch]
Maelstrom (Live)
(Iboga)
Fusion of house, electro and progressive elements.
[myspace.com]
Ignorant Fairy (Live)
(Furthur Project)
New direction in upbeat techno.
[myspace.com]
Emok
(Iboga)
Mix of the finest techno progressive electronica.
[myspace.com]
Hamish
(Alchemy/Furthur Project)
Rolling, energetic progressive grooves.
[myspace.com]
Sinan
(Atlantis)
Effortless progressive combining psychedelic effects, melodies and percussion.
Niquid
(Psychedelicious)
Phat and funky bass driven music
[myspace.com]
Decor: FluffyMafia
Visuals: Extra Dimensional Space Agency
[furthur-project.com]
***
in the red room...
Future Music
Future Music events host club nights aimed at promoting some of the most cutting edge sounds present in the contemporary world of Electronic Music. Future Music will bring to Luminopolis producers and Djs from the world of Tech-Funk, Breakbeats, Electro and PsyBreaks all presented in a full immersive cutting edge multimedia environment…
Producers:
Rogue Element
(Exceptional Records)
Pumping breakbeats from the award winning producer
[myspace.com]
General Midi
(Distinctive Records)
Heavy beats and bass from the Bristol producer
[myspace.com]
Rektchords
(Ruff Dog/Brighton Breaks)
Cornwell based Tech-Funker hits the London dancefloor
[myspace.com]
Atomic Drop
(Liquid Records)
'Pimpin' Psychadelic Breaks'
[myspace.com]
Djs:
Phidelity
(Native State Records – US)
'IDM infused PsyBreaks'
[myspace.com]
Justin Chaos
(Point Red / Indica)
Electro Breakbeat mishup from the Spanish Dj
[myspace.com]
Hylu
(X-ing Records)
'A journey through dubstep: Past, Present and Future'
[myspace.com]
[futuremusicevents.com]
[myspace.com]
Deco & Video by Extra Dimensional Space Agency and Inside Solutions
***
in the Blue room...
Folktronica
Folktronica events gather artists from sophisticated contemporary forms of music born from the encounter between traditional live instrumentation and computer generated sound manipulation. A harmonious blend of the organic with the synthetic, which has given birth to a new evolution of sound.
Featuring:
Kettel
(Sending Orbs)
The Netherlands' finest brings his melodic IDM sound to the UK
[myspace.com]
Higher Intelligence Agency
(Headphone Records)
Minimal beats and atmospheric frequencies
[myspace.com]
Digitonal (live)
(Toytronic / Seed / Just Music)
Live cinematic glitchy electronica
[myspace.com]
Son Ver (live)
(Disconnected / Line Out Records)
Full live experimental ambient quartet
[myspace.com]
Halogen (live)
(Maternity / Folktronica)
Post-rock IDM textures, celebrating the launch of his first EP
[myspace.com]
Djs:
Giani
(Native State / Folktronica / Future Music)
[myspace.com]
WhipperslackeR
(IDSpiral / Blood Tribe / Maternity)
[myspace.com]
Fluid
(Fluid Radio)
Downtempo set from the man behind Fluid Radio
[co.uk]
[myspace.com]
Deco & Video by idLite and Inside Solutions
***
in the Cream room...
Small World
One of the UK's finest festival shows.
Returning from a mindblowing Summer Season.
The best festival Bands, cheekiest DJ's, Cabaret and Walkabouts.
Live Acts, an eclectic upbeat salad of Swing, Balkan, Gypsy & World ,
Funk, Ska and general Boogaloo.
Interwoven by dj's dropping from Breaks, Electro and Trance back to Balkan,
Latin and Swing with everything fun inbetween.
Live
The Great Apes
Invited to headline Luminopolis after storming at Glastonbury
[myspace.com]
Planetman and the Internationalz
Afrobeat Reggae and Carnival Party
[myspace.com]
Gypsydellica
Psychedelic Gypsy, Funk, and North African 6 piece.
[myspace.com]
Spearmint Jackson
Upbeat Swing and Jitterbug
[myspace.com]
DJ's
Tall Will, Pony, Wanton Eric, and Charlston
Fair Trade Café, Comfy Sofas, Carpeted Chill-out areas.
[smallworldsolarstage.org]
in the deep blue room...
Luminopolis Inspiration Hall
Inspiration Hall presents an inspiring collection of talks, debates, workshops, performances, and art, giving insights to where we have come from, where we are now, and where we are going. Featuring:
Talks/debates/presentations: hosted by Alex Lee, Jeff Laster, and Susanna LaFond
20 years ago today - the birth of Rave symposium with Fraser Clarke, Kate Magic, Mark Heley and more
Matt Morris - Performers Without Borders
Richard Reynolds - Guerilla Gardening
Leo Plaw - visionary artist
Oxfam - Climate Change
Tibet protests
Open Mic with Brian Viziondanz
Plus entertainment from:
Hang Playing Hedge Monkeys - the beautiful and unique sound of the hang drum
Paradox - one-legged existential stand-up beat poetry
Ben Mellor - climate activist poetry sensation
Karine - enchanting contact juggling
and workshops:
Guerilla Gardening - make a seed bomb
Leo Plaw - visionary art workshop
Things We Love - draw what you love
Whale of a Time - clay modelling of endangered animals
with amazing artwork from:
Leo Plaw -
[leoplaw.com]
Jarah Tree -
[jarahtree.com]
plus dedicated healing area to recharge your body and spirit
***
Info
Info
With another summer has gone by and after many adventures in the fields the we are preparing for another magical season of your favourite indoor festival!

Following a trademark dispute earlier this year with the Camberwell-based Synergy Centre, The Synergy Project has agreed to change its name to Luminopolis (meaning "city of light"). Although often confused due their similar names and shared roots, The Synergy Project and The Synergy Centre have always been separate organisations - our name change simply reflects this and clears up the confusion - The Synergy Project is dead! Long live Luminopolis!!

However rest assured that nothing about the event itself will change and Luminopolis will still be organised by us - the same production crew that ran The Synergy Project. We will continue to gather an ever growing community of creative, and pro-active organizations involving musicians, producers, Djs, Vjs, performers, healers, organizers, activists, intellectuals, and forward thinking individuals, coming together to promote and support the work of NGO's and charities, and hopefully inspire many to get involved in the ever growing movement for social and environmental regeneration.
Location
SeOne Club, Weston Street, London Bridge
Nearest tube: London Bridge
Entry fee
Limited number of cheaper advanced tickets are available for £15 plus booking fee from our website until Sunday the 28th of September, or for £20 thereafter and on the door, £17 concessions are only available on the door with valid proof.
If you do not have enough money for the ticket please get in touch with us and find out how you can get involved! =)
Please bring ID if you look like you still might be in your teens.
Please do not buy from touts! You will not get admitted to the club
Online tickets are available via the online shop @
[luminopolis.org]
or also
[accessallareas.org]
Order over the phone from +44 (0)20 7267 8320
Physical Tickets from:
Access All Areas - 2nd Floor, 30c Camden Lock Place, London NW1 8AF
Inspiral Lounge – 250 Camden High Street, Camden Lock, NW1 8QS
StarTessa - unit 522 Camden stables market (former Psychedelic Dream Temple)
for questions please email
info@thesynergyproject.org
FREE ENTRY with a "Green Card"
Every other home in the UK can save money by changing to a green energy tariff.
It tariff takes just 5 mins, slashes your CO2 footprint and could save
you £192/year.
Visit
[realpeoplepower.org]
NOW to see if you can
change to green. Make the change by 2 weeks prior to the event to gain Free Entry to Luminopolis!
From
The Synergy Project ·
1,490
Added

14y 2m

· Update

3m 26d

·