Lucid Mind Events - this is not a joke!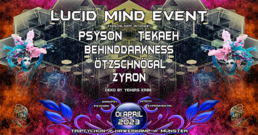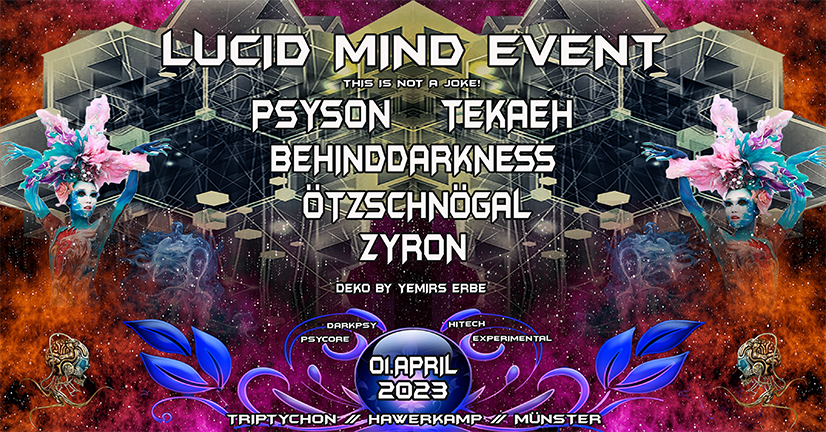 Info
Eine einzigartige Feier- und Tanzkultur erblühte in den 90ern und verbindet seit jeher die Leute mit einem Gefühl der Zusammengehörigkeit die uns prägte wie keine andere zuvor. Wir wollen diesen Spirit auferleben lassen und bieten ein breites Spektrum von Forest Darkpsy bis Hi-Tech, Psycore um unsere Geister zu entfesseln und auf eine Reise der Einigkeit und Klarheit zu schicken und in neue Sphären aufzusteigen. Auf der Tanzfläche werden diese Energien gebündelt und erfüllen euch mit einem neuen Lebensgefühl des Feierns, getreu dem Motto:
WE ARE ONE.

ॐॐॐॐॐॐ ॐॐॐॐॐॐ ॐॐॐॐॐॐ

ॐॐॐ Chill Zone / Kunst Zone ॐॐॐ

hier bieten wir Künstlern (regionl) eine Fläche um sich und ihre Kunst zu präsentieren ala Vernissage.

details soon!

ॐॐॐॐॐॐ ॐॐॐॐॐॐ ॐॐॐॐॐॐ

Snacks fruits & more
Chai Tee - hausgemachtes Rezept 🙂
oder unser Lucid Mind Spezial
= Chai + Schuss Absinth
(wärmt nicht nur von Innen) 🙂
by Lucid Mind & Friends 🥰
+ Shops
by Lizzy // by Mäxchen
+ Fotos / Videos
+ Visuals
+ Fresh Fruits
+ Garderobe
+ 5 KW Soundsystem

ॐॐॐॐॐॐ ॐॐॐॐॐॐ ॐॐॐॐॐॐ

Unsere Szenekundigen und sehr freundlichen Türsteher werden auch dieses mal mit dabei sein um für einen reibungslosen und fröhlichen Abend zu sorgen, in dem ihr unbeschwert feiern könnt!

ॐॐॐॐॐॐ ॐॐॐॐॐॐ ॐॐॐॐॐॐ

Welcome to a new Event!
Welcome to Lucid Mind!

ॐॐॐॐॐॐ ॐॐॐॐॐॐ ॐॐॐॐॐॐ

Eintritt: !!! (NUR Abendkasse)

ॐॐॐॐॐॐ ॐॐॐॐॐॐ ॐॐॐॐॐॐ

Geburtstagskinder (01.04/02.04.2023) haben wieder freien Eintritt

ॐॐॐॐॐॐ ॐॐॐॐॐॐ ॐॐॐॐॐॐ

TIMETABLE NUR VOR ORT !!!

ॐॐॐॐॐॐ ॐॐॐॐॐॐ ॐॐॐॐॐॐ

*** Einlass ab 18 Jahren ***
*** Kein Mutti Zettel ***

ॐॐॐॐॐॐ ॐॐॐॐॐॐ ॐॐॐॐॐॐ
No Kids, No Drugs, No Racism
Music is the Answer!!
Location
Triptychon
am Hawerkamp 31, Münster
48155 Münster
Organizer
Organizer
Lucid Mind Events
Added

1m 13d

· Update

1m 11d

·