Lucid Mind Events - Lucid Dreams - Hitech Dreams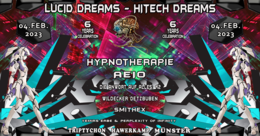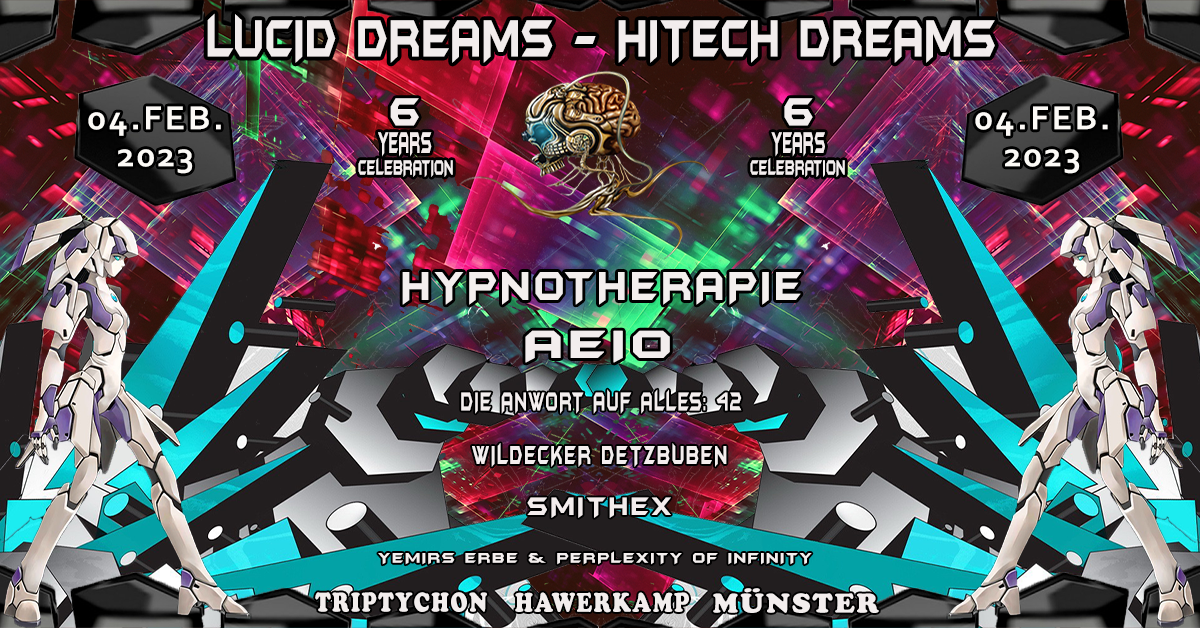 Info
Lucid Dreams
"tauche ein in einem intensiv lebendigen Traum, erlebe eine Nacht wo du dich aktiv in deinem Klartraum steuern lässt von Audio und Visuellen Momenten" 🙏
Mit diesem Event feiert Lucid Mind Events ihr 6 jähriges bestehen und wir laden wieder alle herzlich dazu ein.
ॐॐॐॐॐॐ ॐॐॐॐॐॐ ॐॐॐॐॐॐ
Deko by Yemirs Erbe & Perplexity of Infinity
[facebook.com]
[facebook.com]
ॐॐॐॐॐॐ ॐॐॐॐॐॐ ॐॐॐॐॐॐ
Chill Zone / Kunst Zone
hier bieten wir Künstlern (regionl) eine Fläche um sich und ihre Kunst zu präsentieren ala Vernissage.
Darius, der unter dem Namen autsch_clothing schon in Münster bekannt ist und PAM aus Bielefeld zeigen hier auf ihre charakterische weise, zb auf Leinwand, Schallplatten oder ähnlichen untergründen erstellte Kunst.
Geprägt sind beide durch die Graffiti Szene und bringen ihren eigenen Stil mit so wie ein, welcher zusammen sehr gut harmoniert.
Instagramlink Darius:
[instagram.com]
Instagramlink PAM (tante.petunia):
[instagram.com]
ॐॐॐॐॐॐ ॐॐॐॐॐॐ ॐॐॐॐॐॐ
Snacks fruits & more
Chai Tee - hausgemachtes Rezept 🙂
oder unser Lucid Mind Spezial
= Chai + Schuss Absinth
(wärmt nicht nur von Innen) 🙂
by Lucid Mind & Friends 🥰
Shops by Lizzy´s & by Dahlia
ॐॐॐॐॐॐ ॐॐॐॐॐॐ ॐॐॐॐॐॐ
+ Fotos / Videos
+ Visuals
+ Fresh Fruits
+ Garderobe
+ 5 KW Soundsystem
ॐॐॐॐॐॐ ॐॐॐॐॐॐ ॐॐॐॐॐॐ
Unsere Szenekundigen und sehr freundlichen Türsteher werden auch dieses mal mit dabei sein um für einen reibungslosen und fröhlichen Abend zu sorgen, in dem ihr unbeschwert feiern könnt!
ॐॐॐॐॐॐ ॐॐॐॐॐॐ ॐॐॐॐॐॐ
Welcome to a new Event!
Welcome to Lucid Mind!
ॐॐॐॐॐॐ ॐॐॐॐॐॐ ॐॐॐॐॐॐ
Eintritt: 15€ (NUR Abendkasse)
ॐॐॐॐॐॐ ॐॐॐॐॐॐ ॐॐॐॐॐॐ
Geburtstagskinder (04.02/05.02.2023) haben wieder freien Eintritt
ॐॐॐॐॐॐ ॐॐॐॐॐॐ ॐॐॐॐॐॐ
TIMETABLE NUR VOR ORT !!!
ॐॐॐॐॐॐ ॐॐॐॐॐॐ ॐॐॐॐॐॐ
*** Einlass ab 18 Jahren ***
*** Kein Mutti Zettel ***
ॐॐॐॐॐॐ ॐॐॐॐॐॐ ॐॐॐॐॐॐ
No Kids, No Drugs, No Racism
Music is the Answer!!
Location
Triptychon
am Hawerkamp 31, Münster
Münster
Added

5m 13d

· Update

7d 4h

·