Backend
Lucid Mind Events - Halloween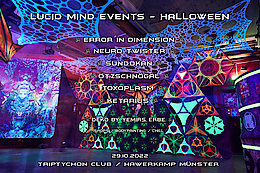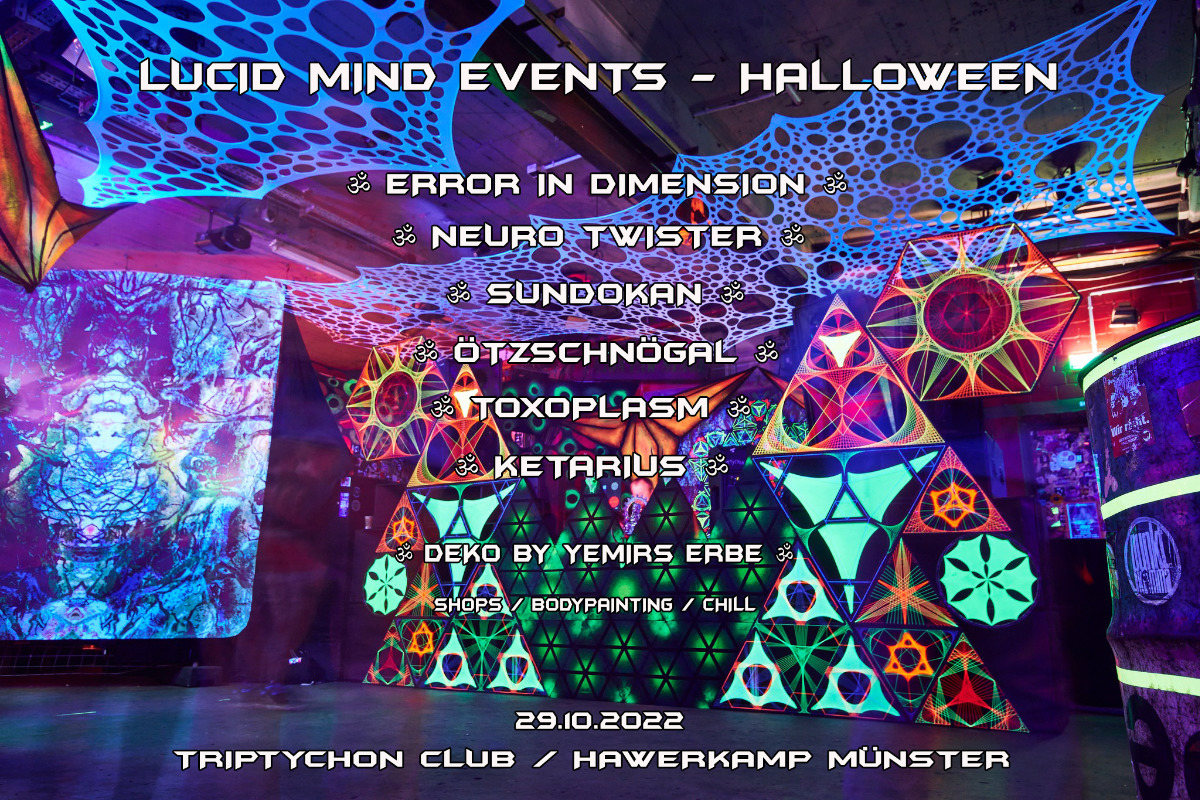 Info
Deko by Ymirs Erbe
[facebook.com]
ॐॐॐॐॐॐ ॐॐॐॐॐॐ ॐॐॐॐॐॐ
ॐ Chill Out Zone ॐ
with Snacks fruits & more
Chai Tee - hausgemachtes Rezept 🙂
oder unser Lucid Mind Spezial
= Chai + Schuss Absynth
(wärmt nicht nur von Innen) 🙂
by Lucid Mind & Friends 🥰
ॐ Bodypainting ॐ
ॐ Shops: diverses von Schmuck sowie Tabaktaschen ॐ
ॐ Graffiti-Art and more - Offene Ateliers 2022 ॐ
ॐॐॐॐॐॐ ॐॐॐॐॐॐ ॐॐॐॐॐॐ
+ Fotos
+ Visuals
+ Fresh Fruits
+ Garderobe
+ 5 kw Soundsystem
ॐॐॐॐॐॐ ॐॐॐॐॐॐ ॐॐॐॐॐॐ
Unsere Szenekundigen und sehr freundlichen Türsteher werden auch dieses mal mit dabei sein um für einen reibungslosen und fröhlichen Abend zu sorgen, in dem ihr unbeschwert feiern könnt!
ॐॐॐॐॐॐ ॐॐॐॐॐॐ ॐॐॐॐॐॐ
Welcome to a new Event!
Welcome to Lucid Mind!
ॐॐॐॐॐॐ ॐॐॐॐॐॐ ॐॐॐॐॐॐ
Geburtstagskinder (29.10/30.10.2022) haben wieder freien Eintritt
ॐॐॐॐॐॐ ॐॐॐॐॐॐ ॐॐॐॐॐॐ
TIMETABLE NUR VOR ORT !!!
ॐॐॐॐॐॐ ॐॐॐॐॐॐ ॐॐॐॐॐॐ
*** Einlass ab 18 Jahren ***
*** Kein Mutti Zettel ***
ॐॐॐॐॐॐ ॐॐॐॐॐॐ ॐॐॐॐॐॐ
No Kids, No Drugs, No Racism
Music is the Answer!!
Location
Triptychon
am Hawerkamp 31, Münster
48155 Münster
Added

3m 16d

· Update

1m 14d

·