*LUCID DREAMS* PSYCHEDELIC ADVENTURE KIRIYAMA LIVE!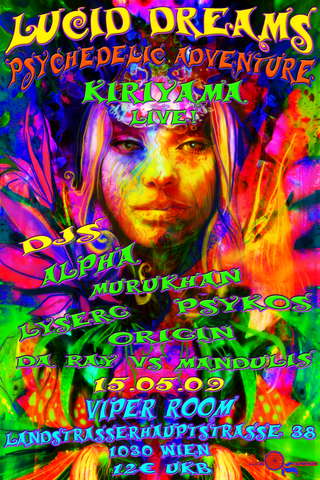 Line Up
KIRIYAMA (Devils Mind Records,swe) LIVE!!!!!! presenting his debut album!
When the skateboard culture grew strong in Sweden during the mid 90s, Alex
picked up his guitar and formed a skatepunk band with some of his friends. Later,
after having moved to the famous Swedish city Orebro, he began writing electronic music
and the Kiriyama project was born. The Kiriyama sound could be described as Swedish
forest music with influences from a great number of genres, primarily mid-90s goa trance,
jazz and psychedelic music from the 1960s.
Alex founded Devils Mind Records together with Dennis The Menace in 2004, a label which
specialises in releasing contemporary night music in limited editions. He frequently
collaborates with Hishiryo and is right now working on his debut album.
Alex has performed in numerous countries besides Sweden such as Japan, USA, Spain, Russia,
Italy, Austria, Switzerland, Germany, Belgium, Ukraine, Hungary, and Norway.
[myspace.com]
[checkpoint-music.com]
~~~~~~~~~~~~~~~~~~~~~~~~~~~~~~~~~~~~~~~~~~~~~~~~~~~~~~~~~~~~~~~~~~~~~~~~~~~~~~~~~~~~~~~~~~~~
ALPHA (Interzone.pa,ger)
[myspace.com]
&
[interzone-pa.com]
Alpha's activity in the Trance-Movment (since the beginning of the 90's) are different: DJ (Dark Psytrance), Musician (-Z-/Alienbabies/E-Chip -R.I.P.-/..Till 2005 Star Sounds Orchestra/Mad Contrabander feat. Alpha/Element feat. Alpha/Akanoid feat. Alpha/A Million Lights feat. Alpha/Acan & Alpha/Space Twats Triggerfish & Alpha-/T.A.S.C.-The Alpha Sangeet Connection -R.I.P.-), Journalist (Mushroom Magazine till 2002, V.I.B.E.Z. Magazine till 2005), O.Z.O.R.A.Producer, Organizer (Interzone.pa), Moderator of ALPHA..S CRAZY SOUNDS (Every Thursday 20.00 - 22.00 CET Trance-Show on
[CHROMANOVA.FM]
) and Stagemanager (VUUV Festival, O.Z.O.R.A. Festival, BOOM Festival..)
MURUKHAN (HippyFlip,esp)
[myspace.com]
PSYKOS (Triplag Music/Psyence rec./Scared Evil rec.,aut)
[myspace.com]
LYSERG (Lucid Crew,aut)
[myspace.com]
ORIGIN (Interplay of Forces,aut)
[myspace.com]
DA RAY vs MANDULIS (untied fraggles,aut)
[myspace.com]
[myspace.com]
***TIMETABLE***
21:00-22:00 Lyserg Djset
22:00-23:15 Origin Djset
23:15-00:45 Da Ray vs Mandulis Djset
00:45-02:00 Psykos Djset
02:00-03:30 Alpha Djset
03:30-05:00 Kiriyama LIVE :)
05:00-06:30 Murukhan Djset
kann natürlich noch kleine änderungen geben!
Chill
hosted by Bernis Würstlbude mit Sound und Ketzup!!!!
Freakquelizer (Independent,aut)
Monica Moë (Independet,aut)
[myspace.com]
Trick Cyclist (Lucid Crew,aut)
[myspace.com]
more tba
Deco
Deco
by CIRKAS VISUELL & LUCID CREW

Special VJ Performance by:

????
Info
LYSERG's & AOKIJI's BIRTHDAYBASH
Chai by che.manfred ****Chai,Cake,Fresh Fruits:)****
PIX der letzten Party am 10.04.09
[myspace.com]
Please NO Dogs NO Drugs
Werbung:)
--> Fraggle Fire Festival vom 31.july-02.august
goabase
hosted by LUCID DREAMS & UNITED FRAGGLES
--> Party am 31.Okt
goabase
mit Jellyheadz (FRA) LIVE!!!
Organizer
Organizer
Lucid Crew & Friends