*LUCID DREAMS* meets PSYCROWDELICA with SELECT PROJECT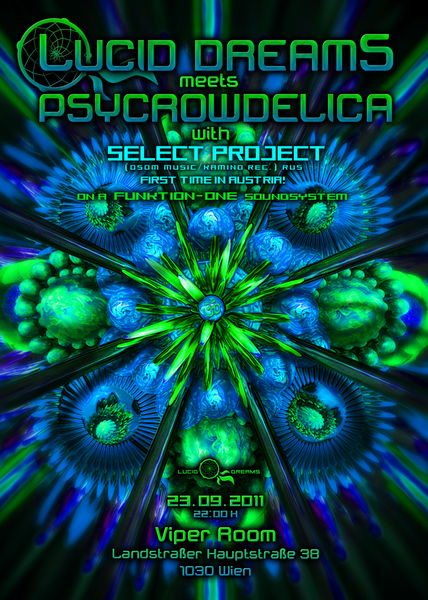 Line Up
we are proud to present:
SELECT PROJECT (Osom Music/Kamino Rec.) -RUS 2h Live!!!
FIRST TIME IN AUSTRIA!!!
presenting his 2nd Album
[myspace.com]
soundcloud
+++FUNKTION ONE SOUNDSYSTEM+++
[funktion-one.com]
**TIMETABLE**
21:00-23:00 Lyserg
23:00-01:00 Kri
01:00-03:00 Cannibal Crow
03:00-05:00 Select Project LIVE!!
05:00-07:00 Marok
CANNIBAL CROW
(PSYCROWDELICA) -GER

MAROK
(APURUAMI REC.) -GER

LYSERG
(LUCID DREAMS/WILD SEVEN REC./SOUNDLAB PIRATES)

KRI
(LUCID DREAMS)
hosted by SOUNDLAB PIRATES

TRAVELLER
(Soundlab Pirates)

mayaXperience
(Soundlab Pirates/Lucid Dreams)

PINOCIO
(Soundlab Pirates/Lucid Dreams)

DJIBRIL
(Soundlab Pirates)

GIPSY SOUL
(Independent)

22:00-00:00 ~ Traveller and Gipsy Soul (electro, minimal)
00:00-01:30 ~ Pinocio
01:30-03:30 ~ mayaXperience
03:30-ENDE ~ Djibril
Info
Chai by CHE.Manfred - Chai, Cake & fresh Fruits
Offizielle Afterhour with a Specialguest ZUVUYA LIVE!!! -->
goabase
Event on Facebook -->
[facebook.com]
only 18+ (Ausweis nicht vergessen!!) Please NO Drugs, NO Dogs & NO Trash outside of the Viper Room
!!Werbung/Promo!!!
28.Oct 4 Years Anniversary with PSYKOVSKY & KINDZADZA 8h Bash!!!!
goabase
7. Jan *LUCID DREAMS* HIGHWAY TO HELL with WILL O WISP, GLOSOLALIA & QUANTUM MECHANICA LIVE!!
goabase
Location
Location
Viper Room Vienna
Landstrasser Hauptstrasse 38
1030 Wien

Öffentliche Anreise/Public Transport:

U3 Rochusgasse - ca 3min von der Ubahn ist die Location/
Entry fee
Entry fee
15€

Geburtstagsfraggles bekommen einen Guestlistplatz ( mit Ausweis)
Organizer
Organizer
Lucid Dreams & Psycrowdelica