*LUCID DREAMS* FROM DUSK TILL DAWN with KALILASKOV AS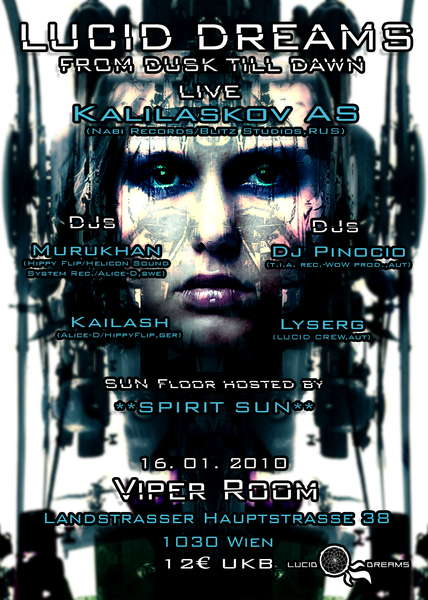 Live
Line Up
KALILASKOV AS
(Nabi Records/Blitz Studios,RUS) FIRST TIME IN AUSTRIA!!!!!!
will blast our minds with a 3h LIVE Performance!!:D :D :D
Striking like a drop of acid in a Virgin's brain, K.AS.
( Vadim C.) is one of the new leading project of the psychedelic trance underground. Russian born, he moved to Israel in the 90's to settle down. In 1998, he got involved very fast in the electronic music scene when he had his first psychedelic experimentation's (Another Dr Hoffman disciple). ''Kalilaskov AS'' project started in 2000 and for the next 5 years, his time and efforts were spend on creating original sounds and trying crazy stuffs. It's now the time for ''Kalilaskov AS'' to make you experience this crazy new vibes design to take you to another realm of awareness. After his first release on ''NAbi-recs'', Vadim's music , as a computer virus, sprayed among the listeners and became very quickly a new standard of quality in Israeli psychedelic trance. Now playing in parties and festivals all-over the world. His music and his talent are now recognized and being supported by many other independent labels:
[nabi-records.com]
[hypnoticarecords.org]
[sonic-dragon.com]
[psyshark.com]
[nuclear-force.com]
[millenniumrecords.de]
[moonsun-records.com]
[troya-music.com]
(aka knows as like Evil Knivel Records)...
[myspace.com]
MURUKHAN
(Hippy Flip/Helicon Sound System Rec./Alice-D,swe)
[myspace.com]
KAILASH
(Alice-D/HippyFlip,ger)
[myspace.com]
DJ PINOCIO
(t.i.a. rec.-WoW prod.,aut)
LYSERG
(LUCID CREW,aut)
[myspace.com]
SOKRA
(Bass Intoxication Innsbruck,aut)
[myspace.com]
****TIMETABLE*****
21:00-22:15 Lyserg Dj
22:15-23:30 Sokra Dj
23:30-01:00 Pinocio Dj
01:00-02:30 Kailash Dj
02:30-05:30 Kalilaskov AS 3h LIVE!!!!
05:30-?????Murukhan Dj
SUN Floor hosted by **SPIRIT SUN**

Sun Experience
(Spirit Sun/Zero Gravity Rec.)

Maya
(Spirit Sun/Zero Gravity Rec.)

Traveller
(Spirit Sun)

Psyankali
(Spirit Sun)

1,6kw HK Soundsystem by S P I R I T SUN
Deco
Deco
LUCID CREW & CIRKAS VISUELL
SPECIAL VJ PERFORMANCE by FARBENTEUER
[myspace.com]
Info
and again into the dark :)
Symbiosis,Maya's & Just an Ordinary Dude's Birthdaybash :) :)
Chai by CHE.manfred chai, cake and fresh fruits :)
Please NO Dogs NO Drugs!
kindzadza @ lucid dreams 16.10.09
youtube
hehe
*******************************************************************************
HELP FOR TRIPLAG!!!!
WEBRADIO-->
[triplag.com]
Here it is, a call for help to those who loves Triplag and enjoys broadcast from our darkpsy and trip chill channels.
With recession hitting Ireland and taxes are on a raise I simply do not have enough money to support webradio for next year. It cost 1200 euro to maintain 2 streams. Money comes directly from my pocket and I can no longer afford to keep it going. Unfortunately I have no other option as to close 2 Triplag webradio channels at the end of this year.
Will it be last days of Triplag?
However there are few options available to save the radio.
- Donations and Subscriptions. A simple fact that if every listener donates 5 USD per month webradio can function without a problem and we can plan further improvements.
- Buy Triplag CDs and T-shirts from Triplag shop
[triplag.com]
All income from the sales will go directly to Triplag webradio fund.
[triplag.com]
- become a sponsor of Triplag webradio. With all appropriate credits. Based on details of a sponsorship we can place your name on triplag.com, on Triplag Music CDs etc...
Vic (Triplag)
Please post comments here:
[triplag.com]
LUCID DREAMS will organize a small CHARITY for TRIPLAG, all donations are welcome!!!!!!!
LET TRIPLAG STAY ALIVE!!!! :)
noch ne erfreuliche nachricht nebenbei, die komplette party wird aufgenommen und am 23.01.10 auf triplag gestreamed
"
Dear Triplagers ~
There will be a special day at triplag on Sat. Jan the 23 2010 *Long Live Triplag webradio*
Featuring:
Recorded sets of "LUCID DREAMS - FROM DUSK TILL DAWN" triplag charity party.
Orgonized by Lyserg and his crew from Lucid Dreams"
More of show program details and line up, will be announced soon.
Stay tuned.
"
BOOOOOM
*******************************************************************************
Werbung ;)
06.März *LUCID DREAMS* SEX,DRUGS&DARKPSY with 1rugum 3urgum & Enichkin LIVE!!
goabase
15. Mai *LUCID DREAMS*-DARK DU SOLEI-DEVILS MIND RECORDS LABEL PARTY with KIRIYAMA,HISHIRYO,VEGETAL,KA-SOL LIVE & DJ ANDERS, LYSERG DJSET!!!!
goabase
11.Sept *LUCID DREAMS* meets HIPPYFLIP "STILL DREAMING" in BARCELONA with INSIDER,MURUKHAN,SPIRITUZ,AENIMA LIVE!!!!! & NEKO,VASUDEVA,AE,LYSERG,PACIFIST DJset
goabase
:) :) :)
Location
Location
Viper Room
Landstrasser Hauptstraße 38
1030 Wien