*LUCID DREAMS* ~3 YEARS ANNIVERSARY~ vs ***PSYKOVSKY***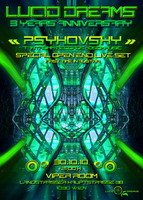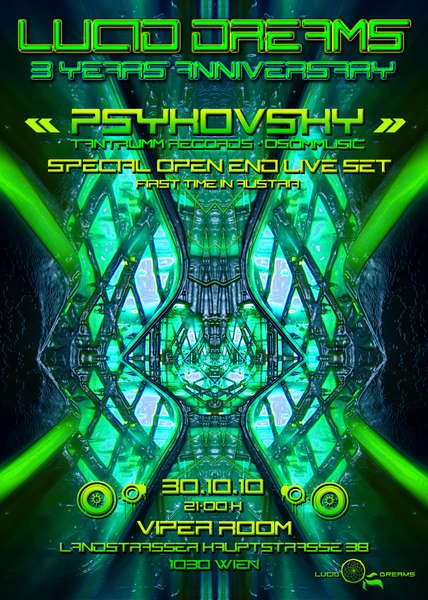 Line Up
*LUCID DREAMS* proudly presents:
PSYKOVSKY
(Tantrumm Records/Osom Music) -RUS FIRST TIME IN AUSTRIA!!!
SPECIAL OPEN END LIVESET :) :)
Psykovsky aka Vasily Markelov a maverick Russian psytrance producer.
from Russia began playing in groups as early as 12 and first achieved success as the member of Transdriver.
Since 2000 Vasily has worked with a number of different solo and collaborative projects, and is nowadays acknowledged as one of the most auspicious psytrance artists.
After a few compilation releases in the beginning of his solo career, soon in 2005 Psykovsky appeared on Vertigo Records with a superlative Debut album.
His long-awaited second CD rebounds to the glory of the great predecessor and tends to suit different palates and minds.
With undiminished enthusiasm Vasily continues to engross listeners and successfully performs all over the world.
[tantrummrecords.com]
[osom-music.com]
***TIMETABLE***
21:00-22:30 Lyserg vs Vasudeva Djset
22:30-00:00 Alautun Djset
00:00-01:30 Alpha Djset
01:30-03:00 Cannibal Crow DJset
03:00-????? Psycovsky SPECIAL OPENEND LIVESET :D :D :D
SUN Floor hosted by **RHF SOUNDLAB**
LIVE:
KLANGMASSAGE
(RHF Soundlab/Zero Gravity Rec.)
[myspace.com]
[myspace.com]
DJ's:
SUN EXPERIENCE
(RHF Soundlab/Zero Gravity Rec.)
[myspace.com]
[myspace.com]
MAYA
(RHF Soundlab/Zero Gravity Rec/Lucid Dreams)
[myspace.com]
[myspace.com]
TRAVELLER
(RHF Soundlab)
[myspace.com]
PSYANKALI
(Spirit Sun)
[myspace.com]
TRIPPY HOLLOW
(Indepentend) -AUT
21.00-23.00 psyankali
23.00-01.00 Sun Experience
01.00-03.00 Trippy hollow
03.00-02.00 zeitumstellung LIVE ;);)
02.00-03.30 maya
03.30-05.00 klangmassage LiveSet
05.00-??.?? Traveller
Info
3 Years Anniversary from LUCID DREAMS :D :D lets celebrate!!!!!!!!
FOOOL ON TV from Hungary will come and do a partyvideo with Interviews and Scenes from the Party ;)
[youtube.com]
CHAI by CHE.manfred - Chai,Cake and fresh Fruits :D
Sundaychaizelt SPECIAL - 10 Years Part One 31.10 @ FLEX club vienna! -->
party
for all who wants to party on sundayevening in one of the oldest and most famous clubs in town!!!!
[flex.at]
Please NO Dogs, NO Drugs and NO Trash outside of the Viper Room :D
WERBUNG ;)
18.Dez *LUCID DREAMS* DARK PSYNACHTEN with MIND DISTORTION SYSTEM & MURUKHAN LIVE!!!!
party
16-20.Feb 11 ARICHIPELAGO Art Dance Festival @ Isla Contadora, De Las Perlas / Panama
party
Locationpix -->
[archipelago-festival.com]
BOOOOM BABY!!!! :P
Entry fee
Entry fee
15€ UKB

Geburtstagskinder vom 30.10 erhalten einen Gästelisteplatz (mit Ausweis)!!!! :D :D :D
Added

13y 1m

· Update

12y 4m

·

/ 216