*LUCID DREAMS* 2 YEARS ANNIVERSARY vs *KINDZADZA* LIVE!!!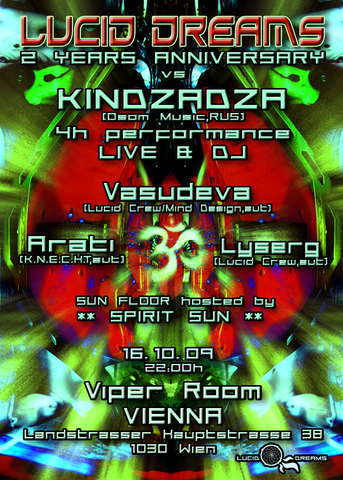 Line Up
*LUCID DREAMS* proudly presents:
KINDZADZA (Osom Music,RUS) :) FIRST TIME IN AUSTRIA!!!!!!!!!!!!!!!
[myspace.com]
[kindza.net]
[osom-music.com]
will blast our minds with a 4h performance!!!!!!! :) LIVE and DJset :) :)
Leo aka KINDZADZA : He was born in Russia, Moscow. The exact time is not yet known by scientists. Little Leo really enjoyed to take clocks and watches apart. When he got bored of that, he began to build computers. Once he found out that computers can make nice sounds. Later he came to Goa India, met with full power and learned how things are organized in time and space. Since that time he has been creating psychedelic trance for powerfull dancing. He thinks that the dance is the most available way to reach harmony with inner and outer space, proved to be true by centuries. Throughout the path his soulfriends enriched and delighted his experience. Among them are: grandma Murzik Vlad CPC Jaffa and Monno Grapes Of Wrath Alex and Zolod Parasense Vasya Psycovski his big family and everything that is around.
Kindzadza (Osom Music,rus)
[myspace.com]
Lyserg (Lucid Crew,aut)
[myspace.com]
Arati (K.N.E.C.H.T,aut)
[myspace.com]
Vasudeva (Lucid Crew / Mind Design,aut)
[myspace.com]
Da Ray vs Mandulis (United Fraggles,aut)
[myspace.com]
[myspace.com]
**TIMETABLE**
21:00-22:30 Lyserg Dj
22:30-24:00 Arati Dj
24:00-01:30 Vasudeva Dj
01:30-05:30 Kindzadza LIVE & Dj :D :D :D
05:30-???? Da Ray vs Mandulis Dj
kann natürlich noch kleine änderungen im timetable geben :P
SUN Floor hosted by **SPIRIT SUN**
Sun Experience (Spirit Sun/Zero Gravity Rec.)
[myspace.com]
Maya (Spirit Sun/Zero Gravity Rec.)
[myspace.com]
Trick Cyclist (Spirit Sun/Lucid Crew)
[myspace.com]
Symbiosis (Lucid Crew)
[myspace.com]
1,6kw HK Soundsystem by S P I R I T SUN
Deco
Deco
CIRKAS VISUELL
&
LUCID CREW

Special VJ Performance by ????
Info
2 years Anniversary of LUCID DREAMS!!!! BOOOOOOM
Chai by CHE.manfred chai, cake and fresh fruits :)
22.12.1967 - 23.7.2009 Mocki R.I.P. :(
Please NO Dogs NO Drugs & NO Trash outside of the Viper Room !
Werbung :)
21. Nov. OLDSKOOLGOASESSION von *LUCID DREAMS* 604 Reloaded
goabase
16. Jan. *LUCID DREAMS* From Dusk till Dawn
goabase
with Murukhan, Kailash and Kalilaskov AS LIVE!!!!
wir mussten leider aus locationtechnischen gründen und dem canceln von jellyheadz (wegen 3 monatiger usa tour,dem wir natürlich nicht im wege stehen wollen...) die party auf den 16.10 vorverschieben, hoffe das ist ok für euch!!!
boooooom
ps: jellyheadz wird auf jeden fall nachgeholt ganz fest versprochen :D
Entry fee
Entry fee
13€ UKB

Die ersten 50 Gäste erhalten einen Willkommensshot Jägermeister!!!:)