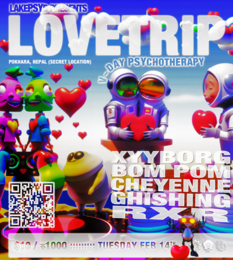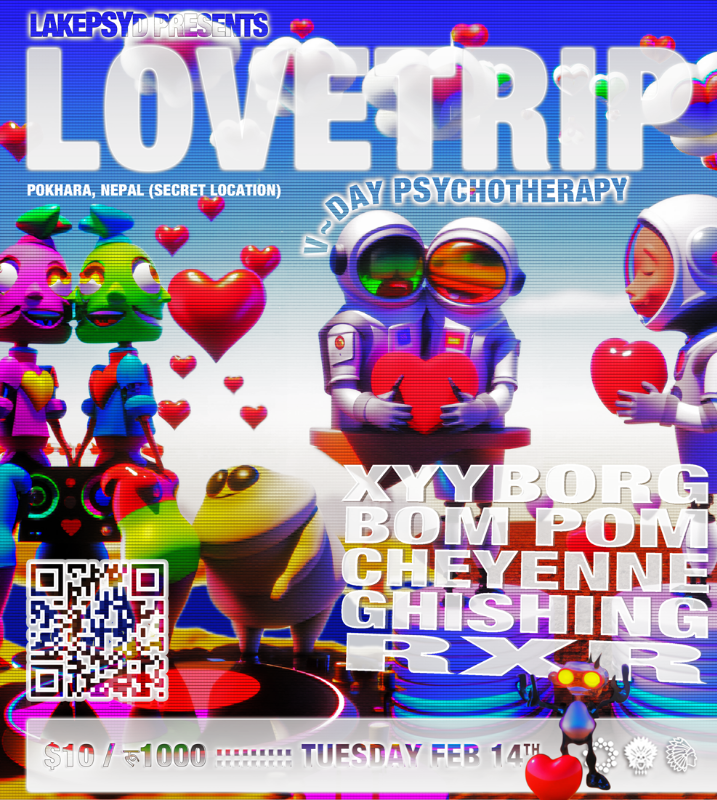 Line Up
Xyyborg - Dark Forest // Hi-tech (XMBL)
soundcloud
Bom Pom b2b Cheyenne - Dark Ritual (Digital Nomad Records)
soundcloud
RxR - Progressive Grooves
DJ Ghishing - Full-on / Prog Tribe
More to come...
Info
A Valentine's Day psychotherapy sesh in Pokhara Nepal
Hark! Good friends, come and join the merriment,
In Pokhara, Nepal, where a secret location is meant,
To be revealed to ticket holders and broke-ass family,
Where beats doth pound, with love, spirit, and quality.
Xyyborg, seeker of the harmonies of the decks,
Will set the night alight with deep bass that simply wrecks,
Brother Bom Pom, the beat shaman, will join forces with Cheyenne,
To bring a B2B set that will leave you breathless, blessed,
and feeling a little bit bubbly.
RXR, the love machine duo, shall keep you on your feet,
With progressive that will leave you feeling complete.
Ghishing, the reverse bringer of rivers, shall stay so strong,
With waves to make you groove so long,
Cheyenne is a multi-talented performer, who shall also astound,
With visuals to leave you slippin' and spellbound,
Further, stage decorations most trippin and out of this dimension,
From these hearts to yours, to release all that tension.
An audio delight that shall stimulate thy mind,
Leaving thee in awe with what thou shall find.
So pack thy goodies and come forth,
To Pokhara's semi-secret and super safe location, just a bit North.
We shall dance past the morning, forgetting our woes, foes, and toes
Until and long after the psytrance love overflows.
_____
Message us:
[whatsapp.com]
Buy tickets with extra sound support:
[stripe.com]
Entry fee
Entry fee
If you'd like to add funds towards more sound, use this link instead and throw in what you please. We'll get the best sound possible with total budget! Use this payment link instead:
[stripe.com]
Added

22d 10h

· Update

22d 9h

·