loaded & lifted - the 9th planet // shut up & dance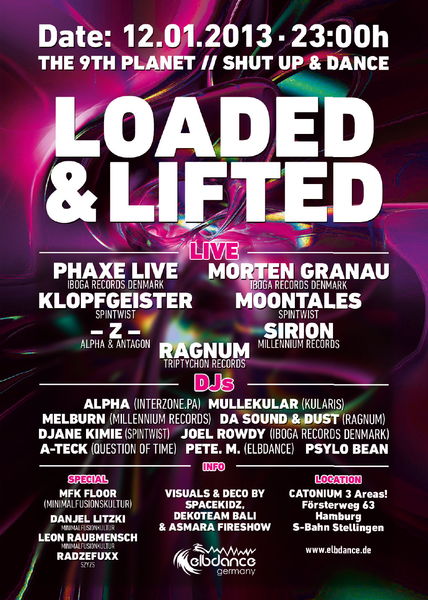 Line Up
From Denmark:


**** Phaxe Live ****

**** Morten Granau Live ****




From Germany:


**** Klopfgeister Live ****

**** -Z- (alpha & antagon) Live ****

**** Moontales Live ****

**** Sirion Live ****

**** Ragnum Live ****
Alpha
Mullekular (Kularis)
Melburn
DJane Kimie
Joel Rowdy (Denmark)
DjA-Teck (Question of Time)
Da Sound & Dust (Ragnum)
Pete. M.
Psylo Bean

Special MFK Floor by MFK:

Danjel Litzki // minimalfusionkultur
Radzefuxx // SzYzs
Leon Raubmensch // minimalfusionkultur
Chill
somewhere in the middle of nowhere!
Deco
Deco
Visuals, Deko, and VJ by Dekoteam Bali (Berlin) & SpacekidZ (Amazing Visual Light Show)
Live Visual Show by Asmara Fireshow
Info
**ASMARA FIRESHOW // MINIMAL FUSIONS KULTUR (TECHNO) FLOOR // 3 Areas // 7 Live // 20 Acts // Best Progressive Beats // 13 hours // SERVERAL DECO TEAMS // INTERNATIONAL TOP LIVE ACTS // in Hamburg // Special drink offers **
3 floors + chill
bei face:
[facebook.com]
-- German -- / English below
Hey Folks,
das Line Up ist komplett, der Timetable steht die letzen Vorbereitungen laufen auf Hochtouren..
Die nun 6te LNL hat eine neue Größenordnung erreicht und wir verkünden hiermit, dass es die LNL künftig nur noch einmal / Jahr geben wird, dafür um so besser größer durchdachter und absolut erlebenswerter als je zu vor!
Mit 7 Live-Acts und insgesamt 20 Acts auf 3 Floors werden wir die erste Proggiparty des Jahres gebührend feiern..
Die neue Location bietet ausreichend Platz, so dass wir getrost auf einen VVK verzichten konnten auch auch weiterhin verzichten können..
Floorwärts geht es 23:30 mit dem Opening-Live-Set von MORTEN GRANAU!
Einlass wie gehabt eine halbe Stunde vorher mit chilligem Sound.. Come In get your drink.. and pleeeeaseee SHUT UP... and DANCE!!!
-- English -- / Deutsch siehe oben
Hey Folks,
the line up is already complete, timetable is set and everything else is in work!
We are proud to present the 6th edt. of LNL bigger and better than every LNL before!
Notice that LNL will be just once / year in the future..
The Night & Day will offer 7 Live-Acts and a total of 20 Acts on the 3 floors..
Be there to party all night at the 1st of the year!
The new location offers enough room so we decided to not sell pre sale tickets..
Start rocking at 11:30 pm during the live set of MORTEN GRANAU..
Entry like all LNL 30 min before with the legandary chill in..
Come In get your drink.. and pleeeeaseee SHUT UP... and DANCE!!!
Getränke Specials by Catonium
All Links:
[facebook.com]
[elbdance.de]
loaded & lifted - the 9th p...
12 - 13 Jan '13 · Indoor · Hamburg, Germany

Line Up:

From Denmark: **** Phaxe Live **** **** Morten Granau Live **** From Germany: **** Klopfgeister Live **** **** -Z- (alph...Alpha Mullekular (Kularis) Melburn DJane Kimie Joel Rowdy (Denmark) DjA-Teck (Question of Time) Da Sound & Dust (Ragnum)...


Info:

**ASMARA FIRESHOW // MINIMAL FUSIONS KULTUR (TECHNO) FLOOR // 3 Areas // 7 Live // 20 Acts // Best Progressive Beats //...


Loc:

Catonium Försterweg 163 22525 Hamburg S-Bahn Stellingen
Added by Elbdance · Update

8y 18d

·

5,254

· Over:

8y 2d
[facebook.com]
soundcloud
[facebook.com]
soundcloud
[facebook.com]
soundcloud
[facebook.com]
soundcloud
[facebook.com]
soundcloud
[myspace.com]
[facebook.com]
soundcloud
[interzone-pa.com]
[click here]
[facebook.com]
soundcloud
[facebook.com]
soundcloud
[facebook.com]
soundcloud
[facebook.com]
soundcloud
[facebook.com]
soundcloud
[facebook.com]
[click here]
[facebook.com]
[facebook.com]
soundcloud
[facebook.com]
[facebook.com]
soundcloud
[facebook.com]
Location
Location
Catonium Försterweg 163 22525 Hamburg

S-Bahn Stellingen