✺Liquid Soundshine - Full Moon Gathering✺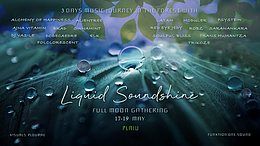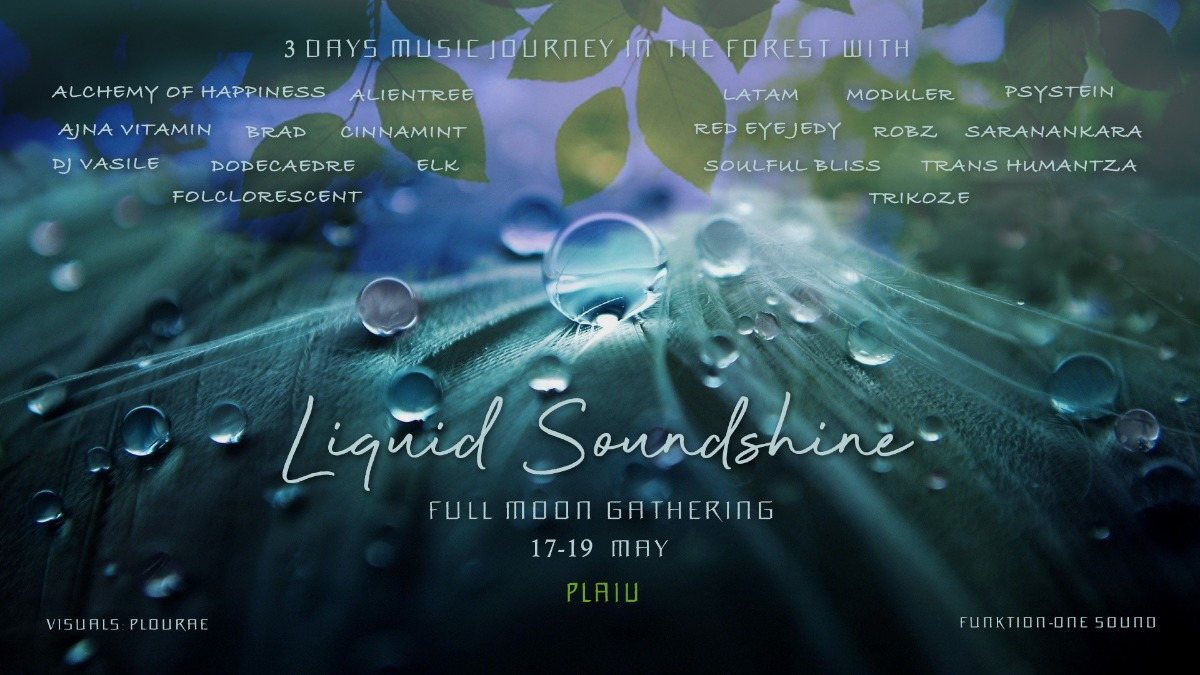 Info
We invite you to write a new chapter of our community story and to live together these 3 days of peace and music in a wonderful natural place, surrounded by a huge fresh forest and a beautiful water stream that will set free our minds.
Peace may sound simple - one beautiful word - but it requires everything we have, every quality, every strength, every dream, every high ideal.

The Sound is pure vibration, perceived as a creator of space for our soul to freely manifest.

Rhythm is a means of organizing sound into specific energy formulas to harmonize us. It is an ancient technology for directly synchronizing the mind/body complex, creating perfect conditions for our Well Being.

The sacred Sounds and Rhythms will enable us to move through to higher frequency levels of consciousness, to begin to engage in sacred interactions within these expanded dimensional vistas.

The liquid music journey will be guided by some of the most experienced Romanian and Bulgarian artists. From live acts to special vinyl sets, we will listen and move through psychedelic chill-out sounds, organic techno, deep house, and dub-tech music during the daytime, to hypnotic, zenonesque and deep-space-forest sounds during the nights. In this way, all the people present at this gathering will have the opportunity to hear and dance on their new and old favorite music. We will also have daily 1-hour breaks to enjoy the silence and the pure forest sounds.

Some of the artists are already confirmed and there are more heads to be announced :)

❅ Funktion-One Soundsystem by Soundscape
☄ Liquid Visuals by Plourae
❀ Deco and Arrangements by Nature's Art
웃 Children Playground
∆ Free Camping and Caravan Places
⊛ Juice, Fruit, Veggie and Chai-Bar - Donation Based
Location
Provita de Sus, 111 km north of Bucharest. From Provita de Sus take the left road to Sultanu, pass Adunati, go straight and after 3 km of "snakey" asphalt road, down the hill there will be a stone and dust road going up in the forest.
Entry fee
Entry fee
‱ We kindly ask for your support:
* 70 RON - until 10 May - by Swift Transfer into Revolut account Vlad Cojocaru with IBAN: GB06 REVO 0099 7006 8467 13 and BIC REVOGB21 ->>> IMPORTANT: In the transfer description write your Full Name and e-mail for the list and receive your confirmation. Your bracelet will wait you there.

or

* 110 RON - On the entrance.
Organizer
Organizer
Soundscape Romania, Str. Micsunelelor 25, Breaza
Added

3y 9m

· Update

3y 9m

·