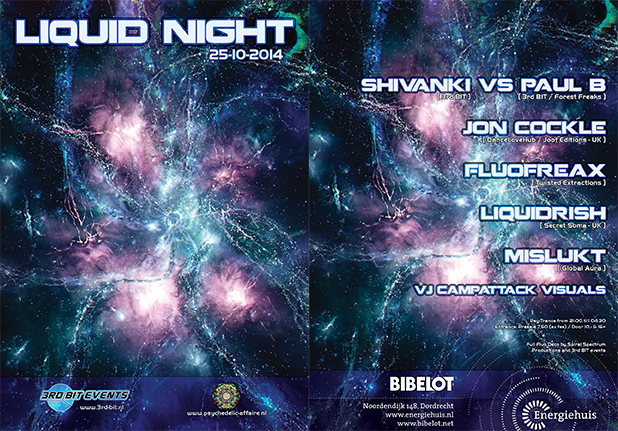 Line Up
Line Up
Jon Cockle [ DanceLoveHub / Joof Editions - UK ]
LiquidRish [ Secret Soma - UK ]
Fluofreax [ Twisted Extractions ]
Mislukt [ Global Aura ]
Shivanki [ 3rd BIT ] vs Paul B [ 3rd BIT / Forest Freaks ]
Deco
Deco
Full fluo deco by: Spiral Spectrum Productions and 3rd BIT events
Visual projections by: VJ CampAttack Visuals
Info
Info
Following the first 2 editions in March and May, Psychedelic Affaire and 3rd BIT Events will organise the third edition on the 25th of October. The organisation has as purpose to continuously develop the event to give you the best GOA / Psy-Trance.

For this edition of Liquid Night we did everything to bring you yet another solid line-up. Together with DanceLoveHub we will bring the sound of the London underground to Liquid Night. Jon Cockle and LiquidRish will pleasure our ears with lovely Progressive Psy-Trance. After a great set during our first edition of Liquid Night, Fluofreax shall once again take place behind the decks. With his funky sound he will spice up the dance floor. Mislukt, well known for his Global Aura parties, will also bring his Melodic Night / Full-On sound to extensively test the sound system of the Power Stage. Last but not least, we will serve you a Back2Back set of our resident DJ Paul B together with Djane Shivanki from Rotterdam. Together they will rock the dance floor with their freaky Forest tunes!

Also we will do all we can, to visually surpass the last editions. This will be done by the heavy psychedelic visuals by VJ CampAttack Visuals and astonishing lycra installations by Spiral Spectrum Productions.

All together there are many reasons to return to Energiehuis for an unforgettable night!
Location
Location
Bibelot, Noordendijk 148
Entry fee
Entry fee
Presale 7,50 (ex fee) / Door 10,- & 16+
Organizer
Organizer
3rd BIT Events & Psychedelic Affaire