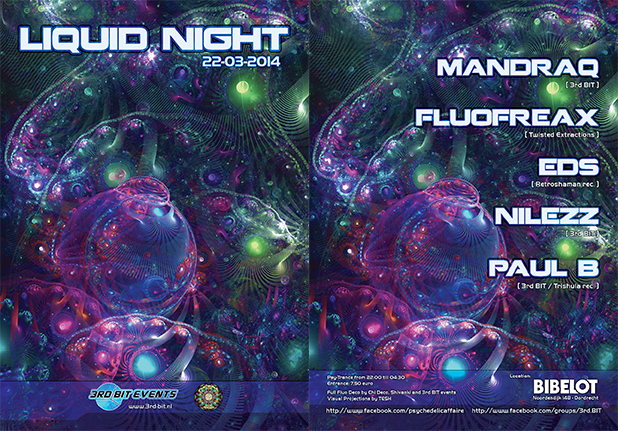 DJs
ManDraQ [ 3rd BIT ]
Fluofreax [ Twisted Extractions ]
EDS [ Retroshaman rec. ]
Nilezz [ 3rd BIT ]
Paul B [ 3rd BIT / Trishula rec. ]
Deco
Deco
Full fluo deco by: Chi Deco, Shivanki and 3rd BIT Events
Visual projections by: TESH
Info
Info
Positive vibes, heavy beats and psychedelic sound effects. That's what awaits us at Liquid Night. During the first GOA party in Bibelot the stage will be transformed into a colourful area, where blacklights, UV colours and bright backdrops predominate.

GOA music emerged in the late eighties and early nineties in the Indian state of Goa. The Psychedelic Trance (GOA) of, among others, Nilezz and Rotterdam rave scene hero Fluofreax will fill the Power Stage with their electronic music, which may vary heavily in rhythm.

The Psychedelic Trance scene in the Netherlands isn't very big (yet) and untill now maintains its underground image in the lowlands. For both the real GOA connoisseurs as all other lovers of complicated and layered synthesizer sounds, we want to bring a recurring party to Bibelot. Using deco and psychedelic sounds, we are going to make an as hypnotic and intense possible evening.
Location
Location
Bibelot, Noordendijk 148
Organizer
Organizer
3rd BIT Events and Psychedelic Affaire