LIQUID LOVE & UEP presents Juno Reactor & Outsiders in Athens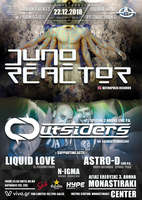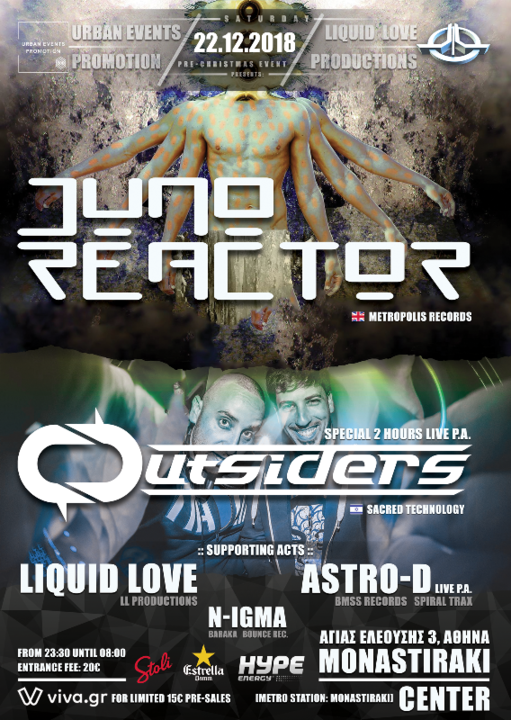 Line Up
JUNO REACTOR
[facebook.com]
[junoreactor.com]
Juno Reactor AKA Ben Watkins, is a pioneer of the Trance scene, who now ranks as an essential innovator of electronic music.
From Hollywood to Tokyo, Scoring blockbuster films ( Matrix Trilogy) to Japanese Anima Juno Reactor have now produced 9 studio albums, "Transmissions" being the first in 1992.
June 2018 - Juno Reactor releases "The Mutant Theatre" Album, accompanying it with a psychedelic Las Vegas style show like no other, a unique stage performers from around the world. An interactive live show, where theatre, dance, live music, wifi control L.E.D. costumes, gas guns, ray guns, confetti guns en-trance the audience into a fantasy world of adrenalin fuelled dreams, hard wired adventure, a Sci Fi invasion of the mind and body,
Pans Labyrinth meets Barbarella.
One of the most interesting, diverse, eclectic and eye-popping live shows happening right now in electronic music...
– DJ Mag Sept 2017
"Return of the Pistolero" and "Alien" are featured on Playstation's Grand Tourismo. "The Mutant Theatre" hears Juno Reactor firing directly to the dance floor a heavy beat driven psychedelic prism of the world we live in.
From DJ shows to the full Mutant Theatre show Juno Reactor have performed stunning live performances around the world at major music festivals, Burning Man (USA),Glastonbury (UK), Roskilde (Denmark), Fuji Rock (Japan), The Glade (UK), Boom(Portugal), Ozora (Hungary), Summer Sonic (Japan) BoomTown Fair (UK), Psy Fi(Netherlands), Weekend Festival (Finland & Estonia), Universo Paralello (Brazil), Orion Festival (Brazil), Solstice Music Festival (Japan), Emmaboda (Sweden), World of Trance(France) and to the world's top dance clubs such as Brixton Academy, AgeHa, Zepp Tokyo and many more.
OUTSIDERS LIVE
[facebook.com]
Outsiders is the exciting project of two significant producers based in sunny Israel - Haim Lev & Guy Malka.
The Outsiders name has been fast developing and their releases have been backed and supported by an impressive number of international covering pretty much of the the top international circuit.Outsiders have released a bundle of successful original releases and a bountiful collaboration & remix tracks from the likes of Tristan, Laughing Buddha, Avalon, Electric Universe, Rinkadink, Burn In Noise, to name few.
The Outsiders sound is always evolving and is highly influenced by the duos global interactions.
NIKOS LIQUID LOVE (dj)
[facebook.com]
Nikos Liatsikas aka Nikos LL was born in Athens and he is a pioneer of the greek psytrance scene & organizer of "Liquid Love" parties. His first party, on 1994, was with Dj from (TIP records) and was the beginning of the psy-trance scene in Greece!! Since then he organized hundreds of parties and he is a well respected Dj, promoter and producer for almost 25 years now. Nikos LL has played in Greece, India, Holland,UK,USA(Psytribe),Romania and more countries, in various underground parties and festivals. As a Dj and producer Nikos LL desire for interaction with the crowd allows him to combine his own sound and style, entrancing and often surprising the dancefloor.
Astro-D : BMSS Records , Spiral Trax
[facebook.com]
soundcloud
Astro-D is a Greece based multi genre music project helmed by Dimtris Bletsas. With several full length albums and tons of singles and EPs released this world trotting act continues to gain momentum across the planet with solid productions, memorable anthems, and top collaborations and remixes with many of the worlds leading bands and labels.
N-igma (dj) Baraka Trance Athens - Official
[facebook.com]
soundcloud
Having over fifteen years DJ career, N-igma is considered to be one of the leading trance DJs and promoters in Greece. Konstantinos Tsiatsios, aka DJ N-igma, was born in Athens and since his teenage years got hooked up to psy-trance parties
Info
Περιορισμένη Προπώληση : 15 EUR
Είσοδος : 20 EUR
* Προπώληση διαθέσιμη σε όλα τα VIVA Spots & Online :
[viva.gr]
* Σημεία προπώλησης
Πανελλαδικά: Καταστήματα Seven Spot, Reload stores, Ευριπίδης βιβλιοπωλεία, BP, Shell, EKO, Media Markt, My Market, Metro cash & carry, Αθήνα: Viva kiosks (Πλατεία Συντάγματος & Τεχνόπολη) & Τηλεφωνικά: 11876
* VIVA Spots
[vivawallet.com]
Table reservations at 6974588299
Location
Monastiraki Center (Αγία Ελεούσης 3, Στάση Μετρό Μοναστηράκι), AΘΗΝΑ.(ATHENS-GREECE)
Entry fee
Entry fee
Περιορισμένη Προπώληση(PRESALE): 15 EUR
Είσοδος : 20 EUR
Organizer
Organizer
LIQUID LOVE PRODUCTIONS & URBAN EVENTS PROMOTION