LIQUID LOVE Presents @ Simply Bar-Club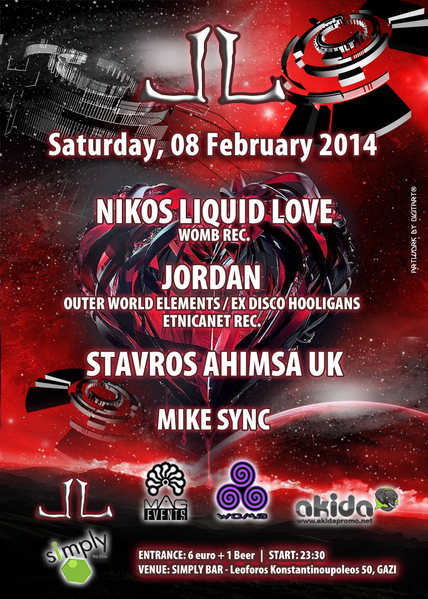 LIQUID LOVE @ Simply Bar-Club
SATURDAY 4 JANUARY 2013
NIKOS LIQUID LOVE
WOMB REC
[facebook.com]
[facebook.com]
Nikos Liatsikas aka Nikos Liquid Love was born in Athens and he is a pioneer of the greek psytrance scene & organizer of legendary "Liquid Love" parties. His first party, on 1994, was with Dj Andre (TIP records) and was the beginning of the psy-trance scene in Greece!! Since then he organized hundreds of parties and he is a well respected Dj, promoter and producer for almost 20 years now. Nikos LL has played in Greece, India, Holland, UK, Romania and more countries, in various underground parties and festivals. As a Dj and producer Nikos LL desire for interaction with the crowd allows him to combine his own sound and style, entrancing and often surprising the dancefloor.
JORDAN ( Outer World Elements / ex Disco Hooligans ) Etnicanet records
soundcloud
His very first musical influences were hip hop, raw rap and acid house in the late 80s. In the early 90s he was introduced to the psychedelic trance scene in London and was immediately hooked. By 1995 was DJing professionally and within two years I was playing parties around the world and joined the Etnicanet label in 2000. In 2008 co-founded the band Disco Hooligans where They toured internationally as well as released two successful albums and 4 EPs. To further develop his technique and produce more refined forms of psychedelic tracks, took the production course at SoundFarmStudios in Ibiza in 2012. Is currently releasing one track on a VA compilation called Totemism 2 and one 4 track EP called the Descent presenting his new band, Outer World Elements, both to be released in the beginning of 2014 on Etnicanet records.
STAVROS AHIMSA UK
[facebook.com]
MIKE SYNC
[facebook.com]
ENTRANCE:6euro + 1 Beer
START: 23:00
VENUE: SIMPLY Leoforos Konstantinoupoleos 50, GAZI (METRO KERAMEIKOS)
Deco
Deco
LL celtic flourovisions
Info
Info
ENTRANCE:6euro + 1 Beer
START: 23:30

VENUE: Leoforos Konstantinoupoleos 50, GAZI
Location
Location
VENUE: Leoforos Konstantinoupoleos 50, GAZI (METRO KERAMEIKOS)