LIQUID LOVE Presents Psy Carnival @ Simply Bar-Club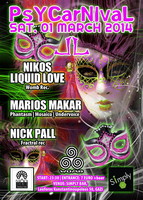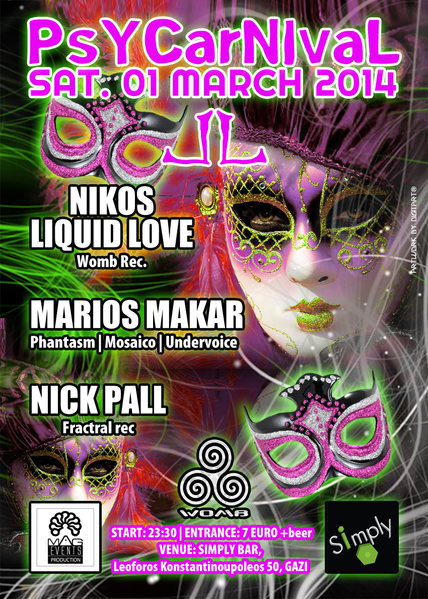 --NIKOS LIQUID LOVE
WOMB REC
[facebook.com]
[facebook.com]
Nikos Liatsikas was born 1972 in Athens(GREECE). My love for the music was there from my teenage years playing as a DJ at school events. Subsequent round 1988 was interested in electronic music,the history of Liquid Love began in1992 with a journey to Goa, and after to London in 1993.At this time psychedelic trance was already making an impression on the electronic dance scene, but in his homeland of Greece, the sound was still unknown.
On the 28th January 1994 the first Liquid Love party took place, in Alepohori at Indios beach club with the first international guest to bring psy-trance music to Athens,Dj Andre (TIP records).This party was a great success,and was the beginning for Liquid Love and the psy-trance scene in Greece.Within the year to follow, Liquid Love was host to some of the most acclaimed Djs and artists such as:James Monroe,Dominic Lamb,George Barker (Flying Rhino),Max and Mauri (Etnica-Pleiadians) ,Graham Wood,Andre,Dimitri Nakov(TIP records),Joti Sidhu (Psychaos),Riktam & Bansi (G.M.S.),Serge Souque (The Antidote-Total Eclipse),Franco (Lotus Omega),Gabe (Wrecked Machines),Sid shanti,Kristian Thinning Andersen(Elysium),Juno Reactor, Mark Allen,Xavier Morel,Dino Psaras,Sven Looping,Mack Yosh,Pan Papason,UX and many more. The parties were growing and with them,the message of peace,love and unity was spreading…From the beautiful islands of Crete,Poros,and
Myconos,Paros,Antiparos,Santorini,Agistri,Corfu,Tzia,Ikaria to the magical forests of Mt Parnasos (TIP party),Skotina Pierias Sola Luna Fest 2002,Twilight Zone Fest 2004 Serres kerkini,Free Earth Festival,Varimbobi,Patra,Thessaloniki, Farm Oinofita,Koropi,Alepohori,Halkidiki and Drama Paranesti,to the underground nightclubs of Athens- Loft,Camel,Alsos,Aerodromio,RODON LIVE,NR6,GAGARIN 205,Nea Deilina,U-matic,ARK Trance Alliance ,Battery,Gialino Moysiko theatro,Goya +Plus(x Blend),TITANIC,INBOX e.t.c….
As a Dj and producer Nikos desire for interaction with the crowd allows him to combine his own sound and style , entrancing and often surprising the dancefloor.Also credited as an international Dj ,Nikos has played in India (Goa See breeze),Chennai,Holland,England and Romania (Eclipse Party), in various underground parties and festivals.
Nikos Liquid Love is a well respected Dj promoter and producer , for almost 20 years now and he has brought out spectacular nights of Psy Trance and Dance and he continues to do so….
--MARIOS MAKAR-PHANTASM/MOSAICO/UNDERVOICE
MARIOS - MAKAR - THE GRAIN SOCIETY - SAMOTHRAKI D.F.- EKHOLAB PR - DICE RADIO - PHANTASM RECORDS - MOSAICO RECORDS - UNDERVOICE RECORDS
[facebook.com]
Born in Athens in 1973, he was first involved with the music scene around mid 80's. He started as a bass player on a greek punkrock band called "Viscious Circle". At that time his major influence were Punk+Psychedelic from the 60's, bands like Hawkwind, Can, Tangerine Dream, (the) Stranglers, MOB, Killing Joke, Black Flag, Joy Division, between others. His first sonic attack by eletronic music happened on his first travel to Goa back in 1992. Since then he is playing, organizing and participating in parties and festivals all over the planet. He was involved in the organization of many parties such as "Rhodes of Arts and Ecstasy", between the years 93/94, "Marakame" between 94/96, the notorious "Bluebuzz" parties by 97/2000 and Samothraki Dance Festival" from 2001 to 2003. He was also involved in the organization of many outdoor parties that were happening from the first electronic party season in Greece (1990) and Thailand (Kohphangan island 94/97) as well. The year 2000 finds him ready to follow the waves of the new millenium as an Etnicanet dj (label team/Ibiza). At that time he has already performed dj sets all over Europe, Africa, South America and Asia, from small outdoor parties to big festivals. His favorite style is Full On, Psy Trance and Tech with lot of different waves but always powerful music for night time blasts or daylight stories. He has been also producing music under the names L-FOIDS (Greece 98) and LAMAT (France 99). After surfing a decade of experiments, dancing and dreaming the evolution of eletronic music he met with his ex partners and together they made true a dream called "Samothraki Dance Festival", a multidimensional world gathering made by numbers, music, colours, harmony and a lot of love! In 2002, the next step was Octava Records, a label that came from this gathering. The point of this label was to present the music from Samothraki dancefloor to the rest of the world. At the present time, after 18 years of "Playing and Creating"on the planet, he is focusing on his latest project: the "Ekholab Studio Project", a full professional studio for produce and master with multidimensional activities in many levels on the Audiovisual world. Inside of this music temple a new trance project was born: "THE GRAIN SOCIETY" & "MAKAR".
THE GRAIN SOCIETY is an experiment with sounds of our solar system mixing with the 4 elements and his musical background described before, 145-148 BPMs right in the electrical field of the night,,
&
,,MAKAR is his daylight psychedelic stories in a more melodic mood. Each tune is a diferent story, full of channelings, emotions and great messages from the future but also from an ancient source. Including collaborations with many artists, this projects are going to fly your minds to a higher frequencie and blast the dancefloors with absolute psychedelic energy, supernatural effects and extraordinary sounds.
Some of his Highlights...
Full Moon Partys Khopangan Thailand
Millenium Vortex/Etnicanet/South Africa 2000
Samothraki Dance Festival(GR)
Solipse Zambia(ZA)
Vortex Eclipse(S.A.)
Celebra Brasil(BR)
Vision Quest(JP)
Universo Paralello(BR)
Trancedence(BR)
SONICA Festival(IT)
Alien Safari(SA)
Origin Festival Nano Records(SA)
OZORA Festival(HU)
SOL Festival(SP)
TERRA EM TRANSE Festival(BR)
soundcloud
--NICK PALL
FRACTAL RECORDS
[facebook.com]
soundcloud
Dj Nick Pall, born in Athens in May 1978, at the time he is an official member of the Amorphia team. His knowledge in different types and shapes of music was the birth tool that gave the extra push that he needed to start his productive experimentations. Always been moved with the enthusiasm of a classic elements he develop a unique style of his own. Been buzzed and adored by electronic as possibilities he dove in to reinterpret and re invent new ways of sequencing and sampling. In addition and attempt to understand even more the scene he started a long lasting collaboration as a resident or guest dj to a vast number of Athens clubs which he is still devoted until this very day.
He has worked with many known artists and played along side. Great names like Atmos, Vibrasphere, Protonica, Galactica, Dj Martin, Liquid Soul, Sirion, E-Clip and many more successful dj's and producers.
He has also traveled to different places and played on events and festivals.
One thing is for sure, my love for music is undisputed.
Info
Info
LIQUID LOVE Psy carnival @ Simply Bar-Club
SATURDAY 1 MARCH 2014

ENTRANCE:7euro + 1 Beer
START: 23:30

VENUE: Leoforos Konstantinoupoleos 50, GAZI
(METRO KERAMEIKOS) ATHENS-GREECE
Location
VENUE: Leoforos Konstantinoupoleos 50, GAZI
(METRO KERAMEIKOS) ATHENS-GREECE
Entry fee
Entry fee
ENTRANCE:7euro + 1 Beer