LIQUID LOVE Anniversary 21 Years (1994-2015) SPACE TRIBE LIVE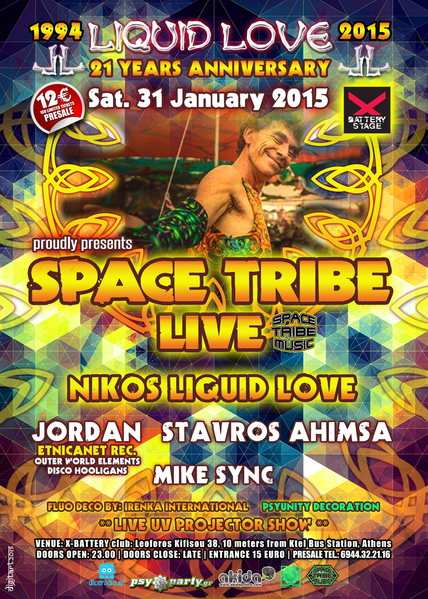 Line Up
LIQUID LOVE Anniversary 21 Years (1994-2015)
SAT 31 JAN 2015
SPACE TRIBE (SPACE TRIBE MUSIC) – UK
[spacetribe.com]
[facebook.com]
Olli Wisdom is the man behind the psychedelic phenomenon that is Space Tribe and its more than just music. Olli is now based back in London, after 15 years living in Australia. Olli has been a pioneer of Psychedelic Trance for many years & Space Tribe is one of the most well known names in the psychedelic scene thanks to his incredible energy in bringing us all things fun, exciting, tripped out and inspiring. Be it clothing, music, parties or just great vibes. For over 20 years he's been globe trotting in his most unique of styles. Full fluoro outfits and mind bending, ear tickling, soul stretching music have been his trademark for longer than most people have been dancing.
In the early 80s Olli was the singer in the theatrical Goth/Glam band "The Specimen", & founded the famous London goth club " The Batcave ". After the band split up in 1986 Olli went traveling in Asia and in 1988 came to Koh Phangan in Thailand where he first encountered the fantastic electro-driven wild psychedelic parties on the beach. Instantly hooked, he immersed himself into the music and has never looked back. He stayed there for 2 years, DJing, and set up a small studio and making tracks for the parties, before moving to Goa, India. Over the next 4 years, Olli spent his time mostly in Goa, but now starting to travel around making parties in other places (San Francisco, Switzerland, UK, Japan), spreading the word and turning people on.
In 1993, Olli, his brother Miki, and fellow space cadet, Richmond, started Space Tribe clothing in Bali. The fractal fluoro party gear was an instant success, and now you can see it at parties all over the planet.
In 1995, the first Space Tribe tracks were hatched in the Butterfly studios with Simon Posford (Hallucinogen/Sphongle), and everything flowed from there. Olli moved out to the rainforest in Byron Bay in Australia, and set up the Rainforest Space Base studio. Space Tribe released the first album, 'Sonic Mandala' on Spirit Zone in 1996, and since then Space Tribe has released at least an album a year. In 2004 Space Tribe Music was set up as a record label providing an outlet for Space Tribe releases & compilation albums. Space Tribe are also making many tracks in collaboration with other artists – GMS (Alien Jesus), X-Dream, Menog, CPU, Psywalker, Electric Universe (ESP), Tristan, Dick Trevor (Green Nun's of the Revolution) & MadMaxx. Since 2008 Jon Klein (Specimen, Siouxsie & the Banshees, Sinead O'Connor) has been bringing his sublime guitar skills to Space Tribe live shows & in the studio…
Today, Space Tribe continue to travel all over the world, playing live at parties and bringing joy to the thousands of dancers who know exactly why they are there.
Space Tribe parties have lifted the spirit and tweaked the synapses all over the planet from Burning Man to Voov Experience, from the mountains in Japan to the beach in Goa.
Nikos LL (LIQUID LOVE)
[facebook.com]
[liquid-love.eu]
NIKOS LIQUID LOVE aka NIKOS LIATSIKAS.
Nikos Liatsikas was born 1972 in Athens(GREECE). My love for the music was there from my teenage years playing as a DJ at school events. Subsequent round 1988 was interested in electronic music,the history of Liquid Love began in1992 with a journey to Goa, and after to London in 1993.At this time psychedelic trance was already making an impression on the electronic dance scene, but in his homeland of Greece, the sound was still unknown.
On the 28th January 1994 the first Liquid Love party took place, in Alepohori at Indios beach club with the first international guest to bring psy-trance music to Athens,Dj Andre (TIP records).This party was a great success,and was the beginning for Liquid Love and the psy-trance scene in Greece.Within the year to follow, Liquid Love was host to some of the most acclaimed Djs and artists such as:James Monroe,Dominic Lamb,George Barker (Flying Rhino),Max and Mauri (Etnica-Pleiadians) ,Graham Wood,Andre,Dimitri Nakov(TIP records),Joti Sidhu (Psychaos),Riktam & Bansi (G.M.S.),Serge Souque (The Antidote-Total Eclipse),Franco (Lotus Omega),Gabe (Wrecked Machines),Sid shanti,Kristian Thinning Andersen(Elysium),Juno Reactor, Mark Allen,Xavier Morel,Dino Psaras,Sven Looping,Mack Yosh,Pan Papason,UX and many more. The parties were growing and with them,the message of peace,love and unity was spreading…From the beautiful islands of Crete,Poros,and
Myconos,Paros,Antiparos,Santorini,Agistri,Corfu,Tzia,Ikaria to the magical forests of Mt Parnasos (TIP party),Skotina Pierias Sola Luna Fest 2002,Twilight Zone Fest 2004 Serres kerkini,Free Earth Festival,Earthdrop Festival,Varimbobi,Patra,Thessaloniki,Farm Oinofita,Koropi,Alepohori,Halkidiki and Drama Paranesti,to the underground nightclubs of Athens- Loft,Camel,Alsos,Aerodromio,RODON LIVE,AREA 19 ,NR6,GAGARIN 205,Nea Deilina,U-matic,ARK Trance Alliance ,Battery,Gialino Moysiko theatro,Goya +Plus(x Blend),TITANIC,INBOX e.t.c….
As a Dj and producer Nikos desire for interaction with the crowd allows him to combine his own sound and style , entrancing and often surprising the dancefloor.Also credited as an international Dj ,Nikos has played in India (Goa See breeze),Chennai,Holland,England and Romania (Eclipse Party), in various underground parties and festivals.
Nikos Liquid Love is a well respected Dj promoter and producer , for almost 20 years now and he has brought out spectacular nights of Psy Trance and Dance and he continues to do so….
Dj JORDAN - Etnicanet Records (Outer World Elements / Disco Hooligans)
will be presenting tracks from his new Ep Outer World Elements - The Descent . Released on Etnicanet records on Jan 4th 2015
soundcloud
soundcloud
His very first musical influences were hip hop, raw rap and acid house in the late 80s. In the early 90s he was introduced to the psychedelic trance scene in London and was immediately hooked. By 1995 was DJing professionally and within two years he was playing parties around the world and joined the Etnicanet label in 2000. In 2008 co-founded the band Disco Hooligans where they toured internationally as well as released 2 successful albums and 4 EPs. To further develop his technique and produce more refined forms of psychedelic tracks, he took the production course at SoundFarmStudios in Ibiza in 2012. Is currently releasing 1 track on a VA compilation called Totemism 2 and one 4 track EP called the Descent presenting his solo project Dj Jordan and new band, Outer World Elements, both to be released in the beginning of 2015 on Etnicanet records.
STAVROS AHIMSA UK
[facebook.com]
MIKE SYNC
[facebook.com]
LIVE PROJECTOR VJ
Fluoro paintings by irenka international
and PsyUnity Decoration
12 EURO PRESALE TICKETS
12 EURO ΠΡΟΠΩΛΗΣΗ ΣΤΟ ΤΗΛΕΦΩΝΟ 6944322116.
ENTRANCE FEE:15 EURO
X-Battery Stage
Leoforos Kifisou 38, Next to KTEL Station
[xbattery.gr]
[facebook.com]
>>> Πρόσβαση στο Club :
***ΛΕΩΦΟΡΕΙΑ:
Από Ομόνοια:
-051 Ομόνοια - Σταθ. Υπερ. Λεωφ. Κηφισού
Από Πειραιά:
-420 Πειραιάς - Αγ. Ανάργυροι (Μέσω Κηφισού)
***ΜΕΤΡΟ:
-Σταθμός "ΕΛΑΙΩΝΑΣ" (10 λεπτά περπάτημα από Ιερά Οδός - Κηφισός)
-Σταθμός "ΜΕΤΑΞΟΥΡΓΕΙΟ" και στη συνέχεια λεωφορεία Α15 ή Β15
- Σταθμός Μετρό Αγίου Αντωνίου, Περιστέρι
No illegal substances will be tolerated,respect the hospitality of the venue and help us to protect our scene.
Management reserves right to refuse admission. Age Limit 18
Deco
Deco
Fluoro paintings by irenka international
and PsyUnity Decoration.


LIVE PROJECTOR VJ
Info
>>> Πρόσβαση στο Club :

***ΛΕΩΦΟΡΕΙΑ:
Από Ομόνοια:
-051 Ομόνοια - Σταθ. Υπερ. Λεωφ. Κηφισού
Από Πειραιά:
-420 Πειραιάς - Αγ. Ανάργυροι (Μέσω Κηφισού)

***ΜΕΤΡΟ:
-Σταθμός "ΕΛΑΙΩΝΑΣ" (10 λεπτά περπάτημα από Ιερά Οδός - Κηφισός)
-Σταθμός "ΜΕΤΑΞΟΥΡΓΕΙΟ" και στη συνέχεια λεωφορεία Α15 ή Β15
- Σταθμός Μετρό Αγίου Αντωνίου, Περιστέρι
Location
Location
X-Battery Stage
Leoforos Kifisou 38,ATHENS GREECE Next to KTEL Station
Entry fee
Entry fee
12 EURO PRESALE TICKETS
12 EURO ΠΡΟΠΩΛΗΣΗ ΣΤΟ ΤΗΛΕΦΩΝΟ 6944322116.
ENTRANCE FEE:15 EURO