Lift up - psytrance chillout gathering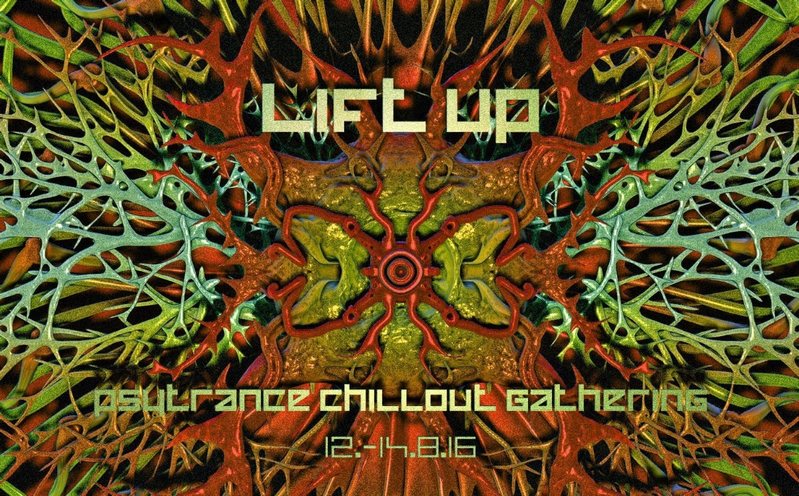 Line Up
❦ BUSH up STAGE ❦
♫-Live-♫
▾▾▾▾▾▾▾▾▾▾▾▾▾▾▾
∎STEREOFELD (DE) ◀ 4 hours set ►
- Sunstation Records
soundcloud
[ektoplazm.com]
∎SOLAR SOUND NETWORK (DE)
soundcloud
∎ŘEMDIH
[remdih.cz]
∎BREKEKE
[ektoplazm.com]
soundcloud
∎RAAYA
soundcloud
[ektoplazm.com]
∎ASTROLAB
♫-Dj's-♫
▾▾▾▾▾▾▾▾▾▾▾▾▾▾▾
∎Djane BARBARELA
∎CLTR
∎CUKY
∎dr.SPOO
∎ENKI
∎GOATONI3000 (DE)
∎JANDIS
∎JENDA LEGENDA
∎JERZI
∎MARIO
∎MIKE VOM MARS (DE) ◀ 4 hours dj set ►
∎mr.TEACHER
∎NEUROSPONGE
∎NEWTECK
∎PSYCHOZIX
∎ROZ-HLAS
∎THX
∎ZELA
♫-Vj's-♫
▾▾▾▾▾▾▾▾▾▾▾▾▾▾▾
∎KOZA, SIGGY, TOFU
❦TEA STAGE ❦
♫-Live-♫
▾▾▾▾▾▾▾▾▾▾▾▾▾▾▾
∎SHAPERZ
[shaperz.cz]
∎JIŘÍ CVEJN
♫ -Dj's-♫
▾▾▾▾▾▾▾▾▾▾▾▾▾▾▾
∎OPA
∎ONDREX
∎JABKO (trumpet guest)
∎HELMUT (DE)
∎line up open...
Info
◀ ◀ ◀ ◀ INFORMACE O LOKALITĚ ► ► ► ►
∎ UBYTOVÁNÍ:
-Přímo v remejzu bude zhotoven kemp (na místě odlehlém od muziky, tak aby se dalo v klidu spát)
-Další možností je pronajmout si chatku v nejbližší rekreačce, která se nachází přímo pod Sloupským hradem.(od remejzu cca 2km polní cesty)
[ubytovani.net]
[levneubytovani.net]
∎ SOC. ZÁZEMÍ:
-Cca 5min cesty z remejzu se nachází krásná spřátelená hospůdka ve které můžete využít veškeré soc.zázemí občerstvit a osvěžit místním pivem pojmenovaném Klíč po dominantě Lužických hor.
Přímo v remejzu bude latrína a voda z říčky protekajíc lokálem
3 min. cesty je rašelinový rybník s blatodárnými účinky vhodný ke koupačce
∎ PARKING:
Na remejz je velice obtížné dojet autem , natož tam parkovat.
Parkoviště bude cca 3 minuty cesty.
Ovšem velice fandíme lidem, kteří na party dorazí alternativní dopravou )
∎ JÍDLO BAR:
Jídlo a bar je základní stavební částice financování celého setkání
proto také budem velice rádi za vaši podporu zakoupením jidla a pití na baru.
Očekávej klasickej chalstovej repertoár a místní pivo.
Co se týče občerstvení, každý den bude jedno vege a jedno nevege jídlo,
nějaké choutky na grilu a možná Vám holky prípravěj i nějaké raw. pecky!
V Chill outu pak bude podáván čaj který přiveze čajový klub ve vlnách cz
[facebook.com]
∎ ETIKA:
Jsi na úžasném místě obklopen šetrnou přírodou, chovej se podle toho tak!
Nerozdělávej oheň (jeden centrální postačí)
Dobře zvaž, zda-li je pro tebe vhodné brát psa, všude je lesní zvěř, myslivci z brokovnicema a téměř stoprocentní šance že ti čoklik veme roha.
Navíc v nejbližším stavení má místní kamarád a majitel remejzku domácí chov, kde by si pes už vůbec neměl dělat choutky třeba na selátka.
S místními obyvateli nechť tě provází úsměv.
∎LÍSTKY:
Někteří hosté to mají pěknej kus cesty a pro některé se i bukujou letenky,
ovšem kvalitní line up je pro nás základem.
Předprodej lístků probíhá převodem na učet :c.u: 211 815 795 / 0600 do poznámky připiš LIFT UP jméno a počet lupení.
Lístek pak dostaneš přímo na bráně.
Předprodej:
DO 1.8. CZK 100,- / € 4,-
DO 10.8 CZK 150,- / € 6,-
Na místě CZK 200,- / € 8,-
DEUTSCH:
INFORMATIONEN ZUM ORT
UNTERKUNFT:
- Direkt auf dem Gelände wird es einen Zeltplatz geben (abseits der Musik, so dass man in Ruhe schlafen kann)
- Als weitere Möglichkeit könnt Ihr eine Hütte im nahe gelegenen Erholungsgebiet mieten, das sich genau unter der Burg Sloup befindet (vom Gelände etwa 2km Feldweg)
[ubytovani.net]
[levneubytovani.net]
SANITÄRANLAGEN:
- Etwa 5 Minuten vom Gelände befindet sich eine schöne, befreundete Kneipe, in der Ihr sämtliche sanitäre Anlagen benutzen und Euch an einem lokalen Bier namens Klíč, unter dem Wahrzeichen des Lausitzer Gebirges, laben und erfrischen könnt
- Direkt auf dem Gelände wird es eine Latrine und Wasser aus dem Flüsschen geben, der den Ort durchfließt
- 3 Minuten vom Gelände ist ein torfiger Teich mit Schlammpackungs-Wirkung, geeignet zum Baden
PARKEN:
Auf dem Gelände ist es sehr beschwerlich zu fahren, geschweige denn zu parken.
Der Parkplatz wird etwa 3 Minuten zu Fuß entfernt sein.
Selbstverständlich sind wir große Fans von Leuten, die mit alternativen Transportmöglichkeiten zur Party kommen.
ESSEN BAR:
Essen und Bar sind grundlegender struktureller Bestandteil zur Finanzierung des gesamten Treffens, darum werden wir sehr froh sein, wenn Ihr uns dadurch unterstützt, dass Ihr Essen und Trinken an der Bar kauft. Erwartet das klassische Repertoir und lokales Bier. Was den Imbiss betrifft, werden wir jeden Tag ein vegetarisches und ein nicht vegetarisches Essen haben, Leckereien vom Grill. Im Chillout wird Tee verkauft, den der Tee Club ve vlnách mitbringt
[facebook.com]
ETIK:
Du bist an einem Ort umgeben von geschonter Natur, benimm Dich dementsprechend!
Mach kein Feuer (ein zentrales genügt).
Überleg Dir gut, ob Du Deinen Hund mitnimmst. Überall sind Waldtiere, Jäger mit Schrotflinten und die fast hundertprozentige Wahrscheinlichkeit, dass Dein Hund die Biege macht. Außerdem hat ein Freund und Besitzer des Geländes in nächster Umgebung eine Tierzucht, wo sich der Hund erst recht keine Leckerbissen holen sollte, wie z.B. Ferkel.
Schenke den örtlichen Bewohnern ein Lächeln.
KARTEN:
Einige Gäste haben ein hübsches Stück Weges vor sich und für manche werden sogar Flüge gebucht, selbstverständlich ist für uns die Qualität des Line-Ups die Hauptsache.
Der Vorverkauf läuft per Überweisung auf das unten stehende Konto.
Location
Location
in the bush, near Chotovice. GPS: 50.7354447N, 14.5565228E
Entry fee
Předprodej: do 1.8. 100,- Kč, do 10.8. 150,- Kč, na místě 200,- Kč
(č.ú: 211 815 795 / 0600 - pozn. LIFT UP, jméno, počet lístků)

Vorverkauf:
Bis 1.8. 100,- CZK / 4,- €
Bis 10.8. 150,- CZK / 6,- €
Am Festival-Einlass 200,- CZK / 8,- €

Presale tickets
Bank account: 211815795/0600 - note: LIFT UP, your name, number of tickets
IBAN cz 4406000000000 211815795
BIC agba cz pp

Thanks for your support!