Backend
Life is a beach - Askari's B-day bash < TROPICAL BLEYAGE LIVE >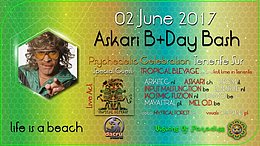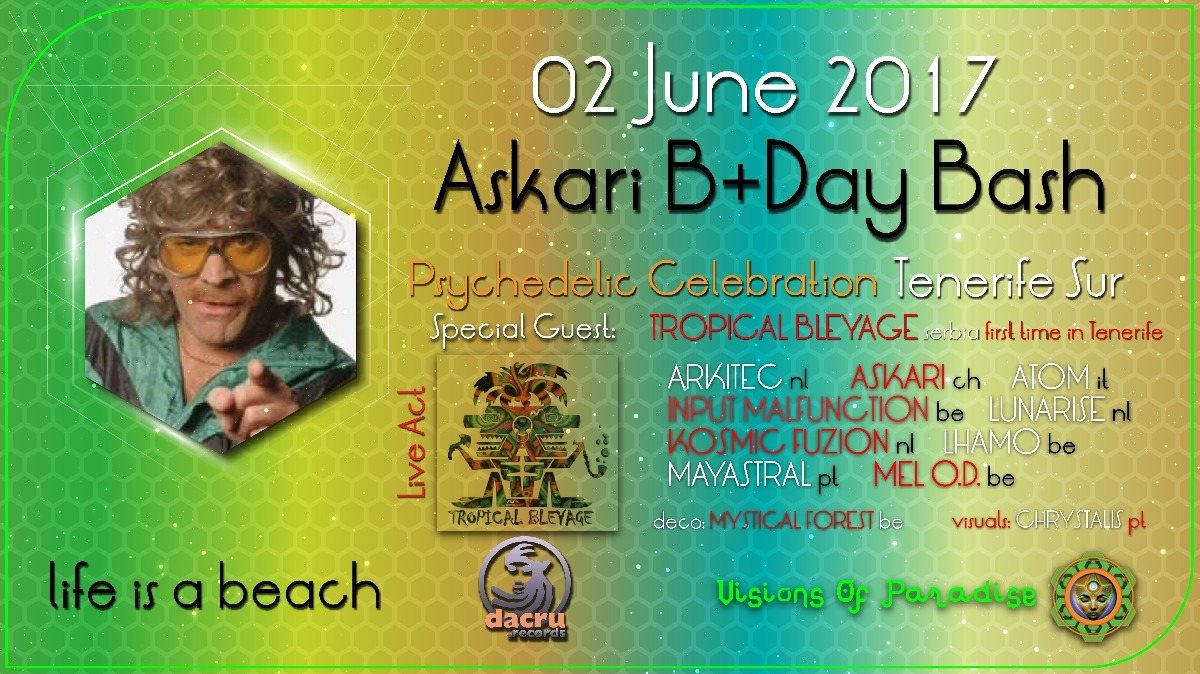 Line Up
Special guest!!!
For the first time in Tenerife ♥

>>> TROPICAL BLEYAGE LIVE <<<
----> (Dacru Records - Serbia) <----


- ARKITEC (NL)
- ASKARI (CH)
- ATOM (IT)
- INPUT MALFUNCTION (BE)
- KOSMIC FUZION (NL)
- LHAMO (BE)
- MAYASTRAL (PT)
- MEL O.D. (BE)
- LUNARISE (NL)
Deco
- MYSTICAL FOREST (BE)

Visual:
- CHRYSTALIS (PT)
Info
Because "life is a beach" and Askari is celebrating his b-day we felt it was time for another visit to the magical island to trance with our tropical family. For this occasion we decided to keep things strictly private and with reservation only to guarantee a harmonious gathering amongst family, friends and foes where we can be who we are...

♥ PSYCHEDELIC ♥




- Secret location!
- All info in good time!
- Limited capacity... PM to Visions Of Paradise for a reservation!
- No booking requests please!

We expect our friends to respect the organisation, location and mother nature and leave no trace or negative vibe! Stay away from drugs, look after each other and embark on this psychedelic journey in peace together with us, free from the bounderies of the everyday world ;)

Namasté :)
Location
[google.es]
From the motorway TF-1 arriving to LAS CHAFIRAS Take exit TF-65
Take the road TF665 direction GUARGACHO / LAS GALLETAS ( Aprox 1,5km) Turn Left
keep going for Aprox 2,5km and turn Left Direction COSTA DEL SILENCIO
Kepp Going until you pass a small Industrial Zone Aprox, 1,2km
Just before a few bumps and a group of houses turn left to the dirt road ...
and go right direction to the sea ....
fallow the green dots after that point ...
Desde la autopista TF1 salida las chafiras (TF-65) tomar la carretera TF665 direccion Guarchacho/Las Galletas(Aprox 1.5km) gira a izquierda y continua aprox 2.5 km y gira a izquierda direccion costa del silencio. Continua hasta ke pases una pequeña zona industrial 1.2 km aprox justo antes de un grupo de casas hay ke meterse a izquierda por un camino de tierra y seguir este camino hacia la derecha (direccion mar). A partir de aqui seguir las señales.
HAVE A SAFE JOURNEY AND SHARE THE REBIRTH IN PEACE AND HARMONY WITH US
Organizer
Organizer
Visions Of Paradise