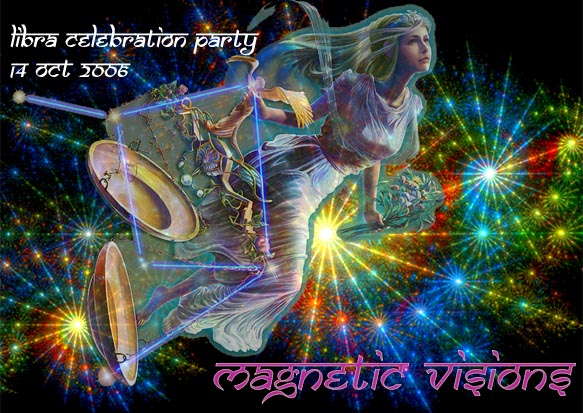 Live
Line Up
Yab Yum (peak records)
Cradle of Beats (frakasound)
Melodix (frakasound)
Midimal (smilinc, ZH)
DJs
Pinch (TI)
Gaspard (peak records)
Nygma (frakasound)
Mercury Fall (frakasound / magnetic visions)
Ramon (frakasound)
Deco
Deco
Ramon & Friends, Frakasound Crew, Magnetic Visions

Projections on double screen by The Dragon Guys (www.dragonguys.ch)
Info
Time for Magnetic Visions Party once again!

After the public success of our Virgo Black Moon open-air party last year, we bring you the

Libra Celebration Party on the 14th of October 2006!

It will take place near Aigle (Vaud), in a privately rent refugee. If weather permits, it will be an open-air party, if not it will be indoor.

October 14 is celebrated as Interplanetary Confederation Day, in order to recognize the other planets with which Earth shares the Milky Way Galaxy. Moreover, there will be a conjuction of the Sun, Venus and Mars in Libra.

Happy Birthday Ramon and all Libra People! May you have a year blessed with Energy and Magnetism! Private birthday party, no dogs and no kids please!
Location
Location
From Aigle (VD): --> Ollon --> Exit village dir.Villars --> Panex --> Balloons --> Party
Organizer
Organizer
Magnetic Visions
Web
magneticvisions.tripod.com