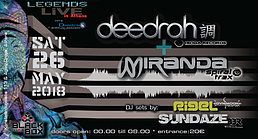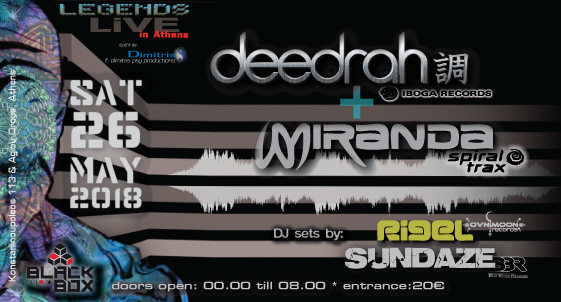 Line Up
ॐ DEEDRAH (FR)
ॐ Iboga Records
:
[facebook.com]
-----------------------:
Dado aka Frederic Holyszewski repeatedly woos crowds and longtime fans to the beat of his new productions.
Ranging from solo projects as Deedrah, as he is known in the circuit since 20 years now,
or the most recent band formed little over 7 years ago, the KromeAngels, ,
he stands to face anywhere between 5 to 30 thousand eager fans on gig!!.
Once in the scene in the mid 90's as a self-made rock band,
Vision Quest,
Dado met Christophe Drouillet with whom he would form the legendary group Transwave.
In only 2 years they reached mind blowing success releasing 4 full length albums in total.
The duo gained first hand experience selling and producing the entire CDs themselves from creating the sleeves,
recording the albums, and even directing the first video for the international trance hit "Land of Freedom".
The band, more active than ever, performs relentlessly in front of music thirsty dance floors!!
All this experience eagerly propelled Dado to create his first ever studio in a Paris basement.
In '97 he created QuestionMark records to form a structure for French and international artists providing not only a label for promotion
but also supporting a recording and production system. The first Deedrah album "Self-Oscillation" was released under this label,
as well as 3 compilations "The Groovebox", " Anologique" and "Digitale".
The first album "Cypher" was released with the cooperation of TWISTED Rds. UK. Under QuestionMarks label
Dado worked alongside artists like TSUYOSHI, SUZUKI, ASTRAL PROJECTION, TALAMASCA, GMS, TOTAL ECLIPSE
and remixed for bands like THE DELTA, HALLUCINOGEN , ASTRIX ,KOXBOX and KILLING JOKE.
As if not enough, Dado created another alias "SYNTHETIC" first releasing the fantastic Metalgear with TWISTED Rds,
then releasing the first album on SOLSTICE MUSIC.
Synthetic being now the alias of choice for more techno 125 bpm oriented recordings ( on labels like IBZ recordings or Mago Mago RDS )
The Dado snowball picked up momentum growing like an avalanche and he,
together with DMT NAKOV and SERGE SOUQUE of Total Eclipse came together to form GBU (The Good, The Bad & The Ugly )
still playing at the most important festivals of the techno scene: Sonica, The Glade Mother and Solstice Music Festival in Tokyo.
Dado kept busy through contracts with Sony to compose the opening tune and sound effects of the ps2 game Grand Turismo3.
Parts of his studio activitIes being nowadays designing loops and sounds for IOS applications ( alongside japanese company "total immersion" based in tokyo )
Instantly his presence became known through his sexy melodic beats,
Dado inevitably began attracting world-wide attention to his DJ sets and Lives in destinations all over the world,
gaining the opportunity to work alongside different talent who still regard him as a master in the engineering and technical aspect of music production….
His talent and knowledge of music is wide spread as his versatility in style. This is reflected in his multiple groups or 'personalities'!!!
Soon to be released this year a series of Synthetic ep s with is mate Matt king
and and the long awaited second opus from 'Federico Baltimore' alter ego!!
Loyal fans can be pleased to know that he is hard at work with new and fith Deedrah album to be released april 2014
on top trance label UNITEDBEATS records .catch him around the word during kromepressings label parties or during this summer biggest festivals !
Description:
DEEDRAH is the main name Frederic dado Holyszewski is using for his
PSYTRANCE productions, together with other nicknames/alias like SYNTHETIC ,GBU ,TRANSWAVE .....
ॐ<><><><><><><><><><><><><><><><><><><><><><><><>ॐ
ॐ MIRANDA (SW)
ॐ Spiral Trax
:
[facebook.com]
-----------------------:
Linda Miranda Silvergren, or more commonly simply Miranda (born March 18, 1973)
is a Swedish goa and psy trance artist and producer from Stockholm
Started to make music 1994 and playes as a liveact aswell.
I think my biggest hit is Gnocchi, all people think diffrent but for me that track was the break-trough.
Asynja, Rerecorded, Real Rush, Phenomena, Asylum: Brain Check After Dinner, Future Space Travellers E.P
Matsuri Productions, Koyote Records, FROM SCRATCH RECORDS, Substance, Why Not Records'
ॐ<><><><><><><><><><><><><><><><><><><><><><><><>ॐ
ॐ RIGEL (GR)
ॐ Ovnimoon Records
:
[facebook.com]
-----------------------:
Shining with approximately 40,000 times the luminosity of our Sun,
Rigel is the brightest star in our local region of the Milky Way and the eponym of psy-prodigy Vasili.
In his early teen years Rigel experimented with electronic kits, constructing flip-flop circuits, lfos, etc.
Once he got his hands on fast tracker and his first soundcard, the avid juggler Rigel quickly moved to juggling audio in the computer.
Focusing on soft modular synth tweakage, he began producing in various styles of electronic music.
With a vast variety of musical influences - from techno & trance to jazz & funk, from chill to dnb -
he funneled his character into a charismatic and eclectic psychelectronica sizzling with freshness.
During the following years, he attended multimedia studies,
won computer music competitions and made himself a solid name playing live and as dj in various clubs and on open air festivals,
as well as with writing and producing for tv and radio commercials, theater plays, circus shows, remixes and more.
Since then Rigel has evolved to a full fledged powerhouse and legitimate bearer of his monicker.
ॐ<><><><><><><><><><><><><><><><><><><><><><><><>ॐ
ॐ SUNDAZE (GR)
ॐ Beat Block Becords
:
[facebook.com]
-----------------------:
aka Dimi Goulas from Greece
is djing since 1992 around the clubs and gigs.
His influences is electronic sounds such as
Ambient, Chill Out, Deep House, Progressive House, Progressive Trance,
music you will find on his sessions .
Dimi is Manager PR for Beat Block Records label
also a duo from Quantus band with Volkan Erman
a project of deep progressive, & tech house
having the first 2 massive releases for
Ovnimoon Records and Spiral Trax on 2015
Kinetic Energy EP & Helium EP.
You can find his work resident episodes called
OmTree at Radio Q37
ॐ<><><><><><><><><><><><><><><><><><><><><><><><>ॐ
MORE INFO SOON !!!
Added

4y 9m

· Update

4y 9m

·