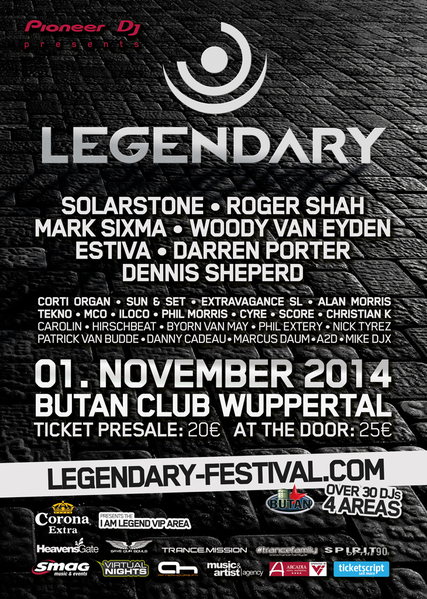 Line Up
SOLARSTONE [UK]
(Black Hole Recordings / Pure)

ROGER SHAH [DE]
(Armada Music / Magic Island Records)

MARK SIXMA [NL]
(Armada Music / Captivating)

WOODY VAN EYDEN [NL]
(HeavensGate / VANDIT Records)

CORTI ORGAN [DE]
(HeavensGate / FENology Records)

TEKNO [DE]
(High Contrast Recordings / Save Our Souls)

CYRE [DE]
(Black Hole Recordings / Trance.Mission)

ESTIVA [NL]
(Enhanced Recordings)

DENNIS SHEPERD [DE]
(High Contrast Recordings / A Tribute To Life)

EXTRAVAGANCE SL
(HeavensGate / VANDIT Records)

SUN & SET
(HeavensGate / FENology Records)

PHIL MORRIS
(Black Hole Recordings / Save Our Souls)

MCO
(Save Our Souls)

ILOCO
(Save Our Souls)

BYORN VAN MAY
(Trance in Düsseldorf)

DARREN PORTER [DE]
(Tytanium Records / Monster Tunes)

ALAN MORRIS [DE]
(Enhanced Recordings / Transistic)

CAROLIN [NL]
(FENology Records)

CHRISTIAN K.
(Trance.Mission)

SCORE
(Trance.Mission)

PATRICK VAN BUDDE
(Save Our Souls / Sensor)

A2D
(Save Our Souls / United Nature)

DANNY CADEAU
(Trancefamily Germany)

MARCUS DAUM
(Spirit of the 90s / Farbwelten)

MIKE DJX
(Spirit of the 90s / Farbwelten)

NICK TYREZ
(Progressive Atmosphere / Dance 4 Love)

HIRSCHBEAT
(Spirit of the 90s)

PHIL EXTERY
(Spirit of the 90s)
Deco
Deco
Save Our Souls Events
Info
LEGENDARY. Die neue Eventmarke mit Fokus auf elektronischer Musik startet durch und besticht durch ein qualitativ hochwertiges Lineup, exklusive Kooperationspartner und revolutionäre Ideen.

Die deutsche Trance- und Progressive-Szene vereint erstmalig ihre Kräfte! Das Team um LEGENDARY wurde von den Machern etablierter Events ins Leben gerufen, die sich seit einigen Jahren erfolgreich für elektronische Musik einsetzen:

► HeavensGate (Herne)
► Save Our Souls Events (Köln)
► Trance.Mission (Ludwigsburg)
► Spirit Of The 90s (Wiesbaden)
► #TranceFamily Germany (Halle)

Mit LEGENDARY steht somit eine von Synergien strotzende Eventmarke in den Startlöchern. Die Premiere findet am 01. November 2014 im legendären Butan Club in Wuppertal statt und markiert ein in dieser Form nie dagewesenes Happening: auf vier Floors werden sich die heißesten Namen der Szene zusammenfinden um ein Event der superlative zu zelebrieren.

Getreu dem Motto "From Legends for Legends" werden die Grenzen zwischen den international bekannten Künstlern und Besuchern des Festivals verwischen und gewähren so intime Einblicke in Performance, Ablauf und Organisation. Auch angehende DJs und Produzenten sollen laut den Veranstaltern gefördert werden und erhalten im Rahmen eines Newcomercontests die Chance, auf dem Event ihr Können unter Beweis zu stellen.

Abgerundet wird das Konzept durch einen Live-Broadcast beim größten elektronischen Radio-Sender Afterhours.fm, der vor allem mit Liveinterviews und Gewinnspielen besticht und weltweit Zuhörer finden wird.
Location
Location
Butan Club, Wuppertal
Organizer
Organizer
Music&Artist 360 League