late summer love dance 3 a psychedelic home-comming present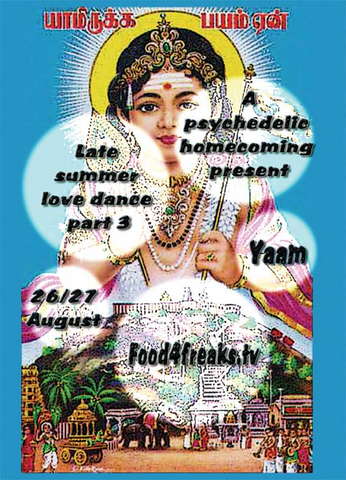 Live
Line Up
1,5 hour live set by
ozmali live ozmali rec.netherlands
[ozmali.com]
2,5 hour life set
flootinggrooves peak rec.s.a.
[myspace.com]
flootinggrooves peak rec.south-africa
[myspace.com]
dj nyima
[myspace.com]
steven ozmali rec. netherlands
[ozmali.com]
cape tom IS IF south-africa
sven looping berlin germany
apache berlin germany
suprise act from finn(oskar)land to be ann.23/8/09
garden and beach fee free open line up. dj sets to all who want and play ambiental trancy chilly lifting up world up to 136 bpm. mail us ,we want 2 make a line up to thank all visiting us for a nice season and reload for waht is comming more......,
first to pick a place was ;
dj raviv berlin germany
so were are joe?
Dj Goldini & meine
Myspace Addresse ist
[myspace.com]
next please;-)
zw. 22 und 2 uhr wäre möglich, vielleicht auch nur 2h, jenachdem wie es euch passt;)
sommer, sonne, sonnenschein
der grottenolm a.k.a. dj pinoccio
get ja gut freu freu
dj jarilo
Info
Info
for all in berlin, comming-back ,staying here,passing and going there.2 day psy fun@the beach to meet ,great,stamp youre feet...chill-out and fill-up
home comming gift with free flee night- and day-market,afro-delic food,top music,deko and placed at the river with berlins best beach
stay tuned for more infos we have just started and will come back soon....don`t behave youelves!!!
foodfreak
Location
Location
Yaam
[yaam.de]
StralauerPlatz 35
10243 Berlin
030 6151-354
Entry
Entry
garden and beach open party 12.00 till18,00 free
garden and beach fee 2,--€ from 18.00-14.00 next day
dance floor,art gallerry fee 8,-- € from 12.00 till 1400 next day
Added

11y 10m

· Update

11y 9m

· 1 ·