Backend
LASTxMANTRA | two floor psychedelic expirience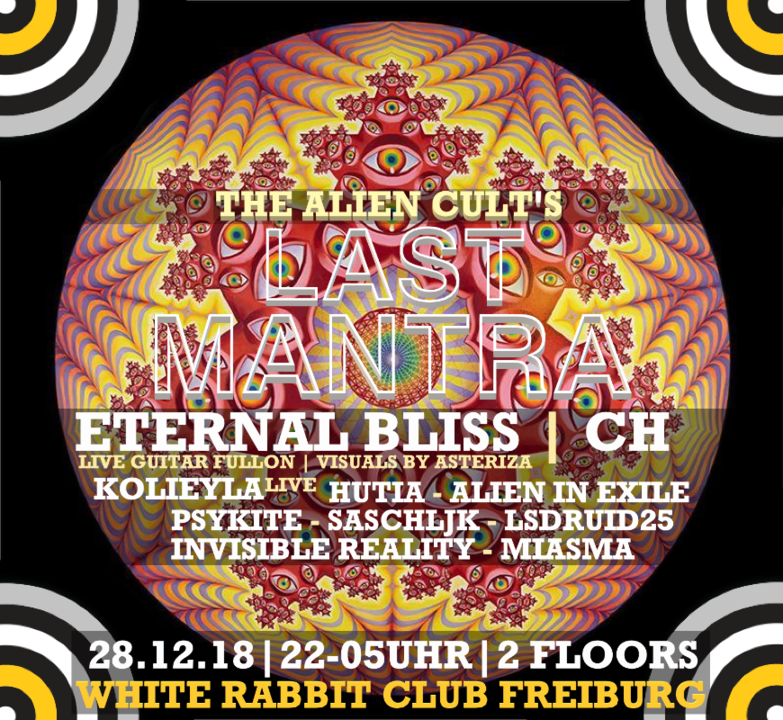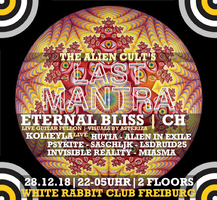 Line Up
WHITE RABBIT SOLIPARTY #Hasebleibt
🌕 FULLON | GOATRANCE | NIGHTPSY
🌑 FOREST | EXPERIMENTAL | HITECH
The Alien Cult's
▬▬▬▬▬▬▬▬
LΛST MΛNTRA
🌘🌑🌒🌓🌔🌕🌖🌗🌘🌑🌒🌓🌔🌕🌖
PSYCHEDELIC EXPIRIENCE ON 2 FLOORS
🌘🌑🌒🌓🌔🌕🌖🌗🌘🌑🌒🌓🌔🌕🌖
Hallo Wanderer,
der 28.12.2018 wird ein ganz besonderer Tag für uns sein.
Zum einen wird es das letzte Event des The Alien Cult - Karlsruhe sein der sich 2019 auflösen und neu formieren wird und zum anderen ist es gleichzeitig eine Rettungsaktion für den White Rabbit Club der vor der Schließung steht. Somit sind wir sehr gewillt mehr Energie, Herz und Leidenschaft in diese Nacht zu stecken als jemals zuvor. Mit einem ganz besonderen Deko-Künstler und unseren besten Acts sind wir nach Freiburg gekommen um gemeinsam mit euch zu zelebrieren wie wichtig es ist Orte zu erhalten, an denen die Musik uns Erdenbewohner verbindet.
AUF EIN VORERST LETZTES MAL MIT EUCH!
▬▬▬▬▬▬▬▬
Namasté
DJs & Acts ::…
▬▬▬▬▬▬▬▬▬▬
🌕 LUCID FLOOR 🌕 ::… *.¸¸.•*¨`•»—
▬▬▬▬▬▬▬▬▬▬▬▬▬▬▬
22:00 🌔🌕🌖 00:00
INVISIBLE REALITY // The Alien Cult | AURA Records
soundcloud
FullOn | Lahr
00:00 🌔🌕🌖 01:30
ETERNAL BLISS
Live Guitar Act | Live Visuals by Asteriza
[spotify.com]
youtube
FullOn/Goatrance | Swiss
01:30 🌔🌕🌖 03:00
ΛLI☰N IN ☰XIL☰ // The Alien Cult
soundcloud
Goatrance | Freiburg
03:00 🌔🌕🌖 05:00
PSYKITE // BAM.- Records
soundcloud
[binaryaudiomachinery.de]
FullOn | Freiburg
▬▬▬▬▬▬▬▬▬▬
🌑 DARK FLOOR 🌑 ::… *.¸¸.•*¨`•»—
▬▬▬▬▬▬▬▬▬▬▬▬▬▬▬
22:00 🌘🌑🌒 00:00
LSDruide25 // The Alien Cult
soundcloud
Darkprog/Forest | Sinsheim
00:00 🌘🌑🌒 01:30
KOLIEYLA Live! // Ankanate
soundcloud
Forest // Karlsruhe
01:30 🌘🌑🌒 03:00
HUTIA // Otterspace Project
soundcloud
Forest | Freiburg
03:00 🌘🌑🌒 04:00
SASCHLJK // l f t
[click here]
Hitech | Karlsruhe
04:00 🌘🌑🌒 05:00
MIASMA // Rootcaller.eV
Experimental | Freiburg
▬▬▬▬▬▬▬▬▬▬▬▬▬▬▬
Deco
DEKO & LICHT 🔮 ::… *.¸¸.•*¨`•»—

Auf eines freuen wir uns sehr!
Mit einem Künstler von weit her,
das White Rabbit zu wandeln,
in einen Ort von dem man sagt
es muss sich um ein Wunder handeln.

·´¯`·­» Mushuman ::… *.¸¸.•*¨`•»—
Info
Info
____
INFO 🌑 ::… *.¸¸.•*¨`•»—

Seit elf Jahre bietet das White Rabbit einen Ort, an dem quasi kein Musikschaffender aus Freiburg vorbeikam. Open Stage, Konzerte, von lokalen Bands - zu fairen Konditionen selbst veranstaltet: Dem allem droht nun das Aus: Klar ist, der Hase braucht eure Unterstützung.
Wir freuen uns, dass sich zahlreiche Bands bereiterklärt haben, diesen Zweck mit Ihrer Teilnahme zu unterstützen.
Je nachdem, wie der Prozess um die Räumung abläuft, soll von dem Geld die Prozesskosten mitfinanziert, oder die Fortführung des Hasen, womöglich in einem neuen Konzept, anschubfinanziert werden. Wir wollen alles daran setzen, dass diese wichtige Kulturfläche nicht verloren geht. Musiker*innen brauchen genau solche Bühnen, um irgendwo loszulegen, weiterzukommen oder letztlich im Musikbusiness erfolgreich anzukommen.
#hasebleibt

Wir danken euch! ♥
Location
White Rabbit Club
Leopoldring 1, 79098 Freiburg im Breisgau
Entry
Entry
Der Eintritt beläuft sich auf 10 Euro. Wer mehr geben möchte ist herzlich dazu eingeladen den Hasenbau zu unterstützen.

DIE GESAMTEN EINNAHMEN UNSERES LETZTEN MANTRAS GEHEN AUSNAHMSLOS AN DAS WHITE RABBIT UND SEINE ORGA UM FÜR DESSEN ERHALT UND SOMIT DEM ERHALT UNSERER SZENE ZU KÄMPFEN!
Organizer
Organizer
👽 THE ALIEN CULT 👽
ANTI KOMMERZ GOA
▬▬▬▬▬▬▬▬▬▬▬▬▬▬▬
stay healthy, stay vegan!
[facebook.com]