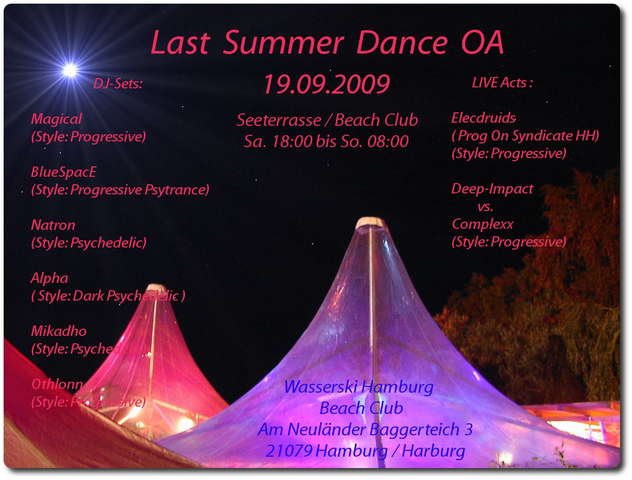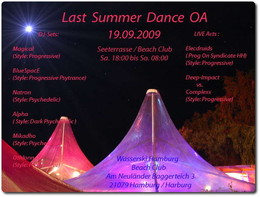 Live
Line Up
Deep-Impact
vs.Complexx
(Style: Progressive) (
[myspace.com]
)
Elecdruids
(Style: Progressive) Prog On Syndicate HH (
[myspace.com]
)
Chill
Genügend Sitzmöglichkeiten, teilweise Überdacht, Dancefloor überdacht, Heizstrahler vorhanden.
Berichte vom letzten Mal...
goabase
Deco
Deco
Deko by Umbul and Nat Ure

FAT Audio Sound System and moving light FX powered by ITS-Taurus
Info
ACHTUNG:
Private Location, es gibt eine BAR mit fairen Preisen. Bitte KEINE eigenen Getränke mitbringen!
Jägi Faktor bei 1,50

Parkplätze:
Bitte nutzt die Mülltüten oder nehmt euren Müll wieder mit !

Umliegende Parkflächen am Neuländer Baggersee:
Bitte keine offenen Feuer und auch hier gilt nehmt euren Müll wieder mit
oder entsorgt ihn in Müllbehälter / Tüten !

Wegbeschreibung ab Bhf Harburg:
Am 20.09. könnt ihr kostenlos den HVV nutzen ;-
Ankunft Bhf Harburg -> Ausgang Neuländer Platz / Großmoordamm -> Immer geradeaus an der Post vorbei (links halten) -> Großmoordamm immer geradeaus -> Unter der Autobahn/Schnellstraßenbrücke (B75) durch -> Am Obi Baumarkt vorbei - > Hinter Obi links der abknickenden Vorfahrtsstraße folgen auf den Grooßmoorbogen -> An der Teppich-Domäne vorbei -> Hinter MediMaxx rechts ab (Am Neuländer Baggerteich) -> 100 Meter geradeaus und Ihr seid auf der Party (direkt an der Wasserskianlage) ... ca. 20 Minuten Fussweg!

Oder mit dem Bus:
Ab Harburger Bhf:
Buslinie 149 (Richtung Over, Abfahrtszeiten: 19:08 Uhr, 20:38 Uhr, 22:08 Uhr, 23:20 Uhr)
Buslinie 349 (Abfahrtszeit: 17:23 Uhr, 17:43 Uhr, 22:35 Uhr) Bis Haltestelle Opel Dello/Großmoorbogen (Fahrtzeit 3 Minuten)
Location
Location
Seeterrasse / Beach Club
Wasserski Hamburg
Am Neuländer Baggerteich 3
[wasserski-hamburg.de]
!! Wetter Schutz vorhanden !!
Hotline
Lesen hilft, Denken auch ;-)