Backend
LA VIA DELLA PSY 2 - OPEN AIR w/ ASSIOMA (Looney Moon) & Gabb (Pixan)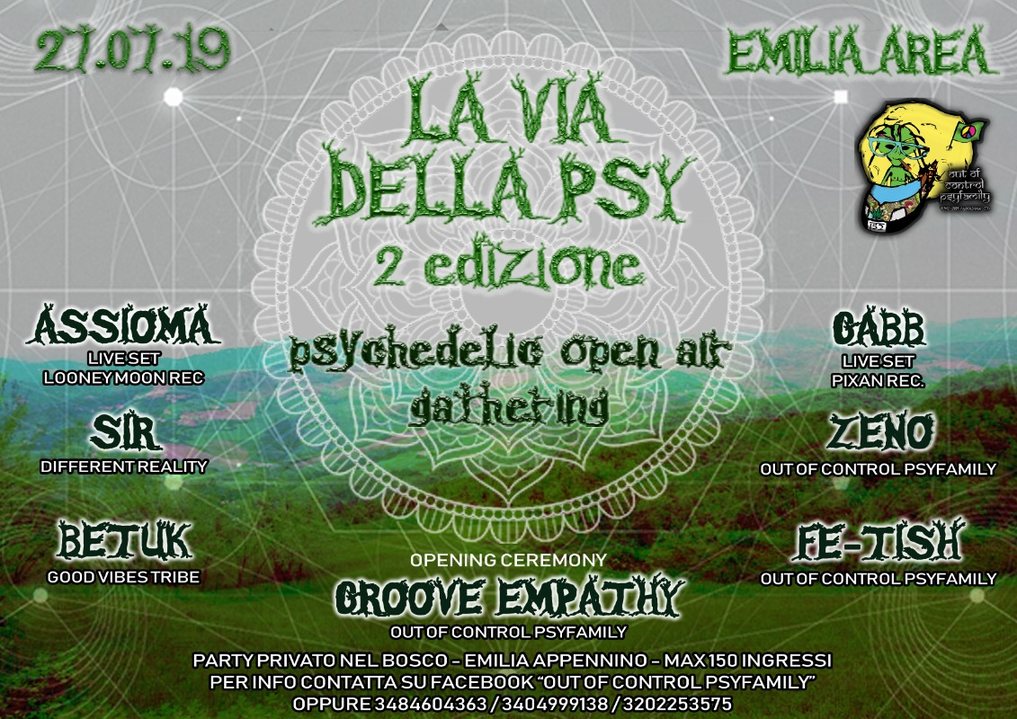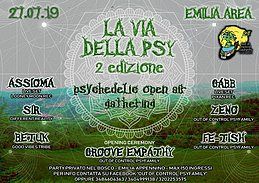 Line Up
Out Of Control PsyFamily è lieta di presentarvi:
ॐ La Via della Psy #2 ॐ
☮ 15hrs Psychedelic Open Air Experience ☮
PRIVATE PARTY - INGRESSI LIMITATI
A grande richiesta e con immensa felicità, stiamo per riproporre la bellissima collaborazione che l'anno scorso ha fatto ballare i colli bolognesi in una calda serata di luna piena. Molti di voi sanno già di cosa stiamo parlando, per tutti gli altri ripetiamo che per preservare lo spazio che ci accoglierà abbiamo deciso di limitare l'ingresso a 150 persone. Non saremo infatti in una semplice proprietà privata, ma in un vero e proprio museo a cielo aperto, circondati da numerose opere d'arte visionaria in mezzo al bosco. Difatti, per arrivare alla location servirà percorrere circa 800 mt sulla Via degli Dei, il celebre trekking appenninico Bologna-Firenze... avete capito bene, 800 mt a piedi dal luogo in cui vi faremo parcheggiare!
A tempo debito vi daremo tutte le informazioni necessarie su come raggiungerci e sulle modalità di partecipazione, nel frattempo vi lasciamo agli artisti che daranno voce a questa magica esperienza.
🎶 MAIN STAGE (Dark psy, Forest, Twilight, Dark Prog, Full on) 🎶
✖ ASSIOMA ✖ LiveSet (Looney Moon Rec.)
►
soundcloud
✖ GABB ✖ LiveSet (Pixan Rec.)
►
soundcloud
✖ SIR ✖ djSet (Different Reality)
►
soundcloud
✖ BETUK ✖ djSet (Good Vibes Tribe)
►
soundcloud
✖ GROOVE EMPATHY ✖ djSet (Out of Control)
►
soundcloud
✖ ZENO ✖ djSet (Out of Control)
►
soundcloud
✖ FE-TISH ✖ djSet (Out of Control)
►
soundcloud
VISUAL STAGE MAPPING:
Paolo Visual Rail
DECO:
Different Reality & Out Of Control PsyFamily
🎶 ALTERNATIVE STAGE (techno, psytech, chill-out, downtempo) 🎶
◈ To be announced ◈
►
◈ To be announced ◈
►
꧁ VISIONARY ART GALLERY ꧂
Con entusiasmo e profonda gratitudine verso gli Artisti presenti, che vi riveleremo a tempo debito qui sull'evento, annunciamo che sarà presente un'art gallery all'interno di questo luogo incantato.
Avrete l'occasione di vedere esposte opere di una bellezza unica, psichedeliche e vivide che renderanno la vostra esperienza personale e collettiva ancora più magica e multiforme.
Artisti fra loro diversi ma legati da una intima comune necessità di esprimere il loro Io attraverso la pittura vi guideranno per mano in questo viaggio.
"Per molti la via della bellezza è proprio questo: una ricerca della percezione pura di ciò che è, un tentativo di essere nudi di fronte al reale."
P. Ferrucci, Esperienza delle Vette
◈ To be announced ◈
►
◈ To be announced ◈
►
⛰ LOCATION - COME PARTECIPARE ⛰
Emilia in da wood - NO INFO PUBBLICHE.
Scrivi a Out Of Control PsyFamily per metterti in lista e ricevere tutte le informazioni necessarie.
ℹ INFO ℹ
⚠ Ingresso limitato a 150 persone - Party Privato
🌕 Open Air Psychedelic Party
🔈 Big and High Quality Soundsystem
✨ Psy Uv Decorations
👣 Secondo stage Alternative / Chill - music & relax
🍺 Bar Popolare
🎨 Indoor Visionary Art Gallery
🌳 Outdoor Visionary Art Gallery in the nature
🍕 Food - Breakfast - Hot Drinks H24
👍 Friendly Security
🌎 EcoTeam
🍭 Psy Lottery
🍁 Grow Shop & CBD Point
🚫 Assolutamente no cani, non gradiscono la musica (e abbiamo gatti in location!)
🚫 No vetro - NO GLASS
♻ IMPORTANTE: CONDIVIDI LA TUA AUTO, NON C'È TROPPO PARCHEGGIO E SI INQUINA MENO ♻
☮ CODICE ETICOCOMPORTAMENTALE ☮
❗ Non violenza
❗ Umiltà
❗ Rispetto per se stessi e gli altri
❗ Massimo rispetto per la pulizia del posto, non gettare niente a terra, usa i sacchi neri che troverai nell'area.
IL BOSCO È DI TUTTI, DIAMO IL BUON ESEMPIO.
❗ Severamente vietato (e soprattutto pericoloso) parcheggiare in location, scrivendo alla pagina Out of Control Psyfamily riceverai tutte le info necessarie su dove parcheggiare e come arrivare!
❗ Antirazzismo - Antisessismo - Antifascismo
❗ Peace, love & PsyTrance! ॐ
La nostra idea di trance party: una situazione di consapevolezza interpersonale, fuori dal controllo delle rigide regole sociali, nel rispetto di sé stessi, dell'altro e dell'ambiente.
Se vuoi fare festa con noi, segui queste semplici regole, per ogni evenienza o problema durante lo svolgimento dell'evento contatta gli organizzatori o i membri dello staff, l'organizzazione si riserverà il diritto di allontanare dall'area chi avrà comportamenti non in linea con i nostri valori.
🚗 COME RAGGIUNGERCI 🚗
METTITI IN LISTA MANDANDO UN MESSAGGIO ALLA PAGINA Out Of Control PsyFamily O CHIAMA 3484604363 348406437E VERRAI RICONTATTATO UNO-DUE GIORNI PRIMA DEL PARTY CON LE INFO.
NON CI SARANNO INFO PUBBLICHE.
Thanks to:
Looney Moon Records
Pixan Recordings
Different Reality
Good Vibes Tribe
Location
EMILIA AREA - APPENINO - PRIVATE LOCATION.. PER INFO MANDA UN MESSAGGIO SU FACEBOOK A "OUT OF CONTROL PSYFAMILY"