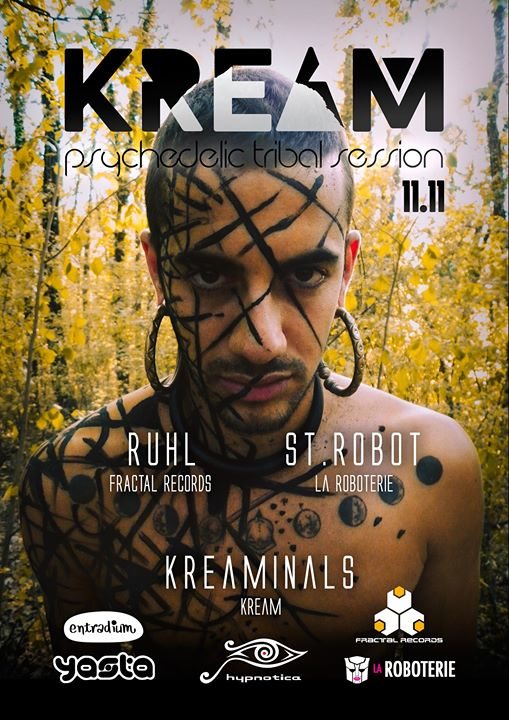 Line Up
¡Volvemos, tribu! ¡Este 11 de Noviembre vuelve la KREAM para viajar con vosotros a través de nuestra música, visuales, decoración… Preparaos para la noche de los estímulos y los colores, para vibrar a ritmo de #PSYTRANCE
Esta vez contamos con RUHL, un gran DJ de psytrance de nuestro país que pertence a Fractal Records. Tiene una gran trayectoria a los platos que comenzó en los 90, y cofundador de Sinergia Madrid Psytrance y miembro de ODC.
٠٠•● Ruhl sets:
soundcloud
●•٠٠
Por otro lado, para abrir esta edición contamos con St.RoboT, directo desde Italia. Es el fundador de LaRoboterie un proyecto de #techno que os dejará boquiabiertos. A su música no le gusta definirla bajo una etiqueta, prefiere describirla como géneros que combinan violencia y melodía, profundidades y sugerencias melancólicas, silencios repentinos y poderosas explosiones
٠٠•● St.Robot sets:
soundcloud
●•٠٠
Y completamos nuestra noche con #Kreaminals, la formación de nuestros DJ residentes Alviker y P.T Raw. Esta vez con más fuerza y más sorpresas que dar, pero siempre con su sonido característico.
Como siempre nuestro templo será Ya'sta Club , bien ambientado entre colores, luz UV y mucha psicodelia, y reventando los graves a base de sonidos electroorganicos, música #tribal y sobre todo MUCHO #PSYTRANCE ;)
٠٠•● LINE UP ●•٠٠
00:00 ✺ -opening-
00:30 ✺ St.RoboT (LaRoboterie)
02:45 ✺ Kreaminals (KREAM)
04:15 ✺ RUHL (Fractal Records/Sinergia Madrid Psytrance)
٠٠•● MAPPING & MAIN VISUALS ●•٠٠
Hypnotica visuales "El Arte de lo Efímero".
٠٠•● UV DECO, SIDE VISUALS & PERFORMANCES ●•٠٠
Nuska Legañuska & KREAM Tribe
✺✺✺ ENTRADAS ANTICIPADAS / PRESALE TICKETS ✺✺✺
- 12€ SPECIAL PROMO with 2 DRINKS/3 BEERS/refreshments
Buy ticket here -->
[entradium.com]
*Accesso directo sin hacer la cola general.
*Direct access without waiting in the main line.
✺✺✺ PUERTA / DOOR TICKETS - Precios CON LISTA**/Prices with GUEST LIST** ✺✺✺
>> FROM 00h TO 03h
• 10€ with 1 DRINK or 2 BEERS/refreshments
• 15€ with 2 DRINKS
>> FROM 03h TO CLOSING
• 12€ with 1 DRINK or 2 BEERS/refreshments
✺✺✺ LISTAS / GUEST LIST ✺✺✺
**PIDE YA TU LISTA (nombre + nº de acompañantes) EN EL EVENTO O POR MENSAJE PRIVADO.
LAS LISTAS CIERRAN A LAS 22:30H
Precio SIN LISTA 15€ con 1 copa o 2 cervezas/refrescos.
**GET NOW ON THE GUEST LIST (name + no. in accompanying party) BY POSTING ON THIS EVENT OR BY PRIVATE MESSAGE TO KREAM.
GUEST LIST CLOSES AT 22:30H.
Price OUT OF GUEST LIST is 15€ with 1 drink or 2 beers/refreshments.
JOIN THE KREAM TRIBE! ;)
Location
Location
KREAM
Calle Valverde, 10
28004 Madrid